The following post is from Shaina of Food for My Family and Olmanson Photography: Honey-Sweetened Coconut Macaroons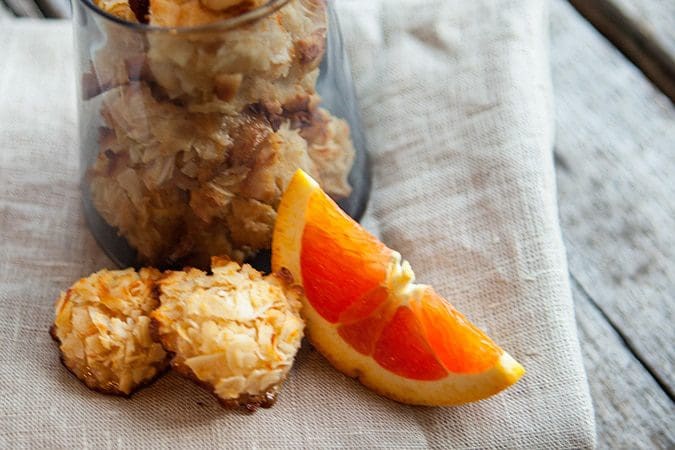 Confessions: One of my favorite cookies to eat is also one of the easiest to make. Coconut macaroons are these chewy treasures. For years, I treated myself to them from my favorite bakery before finally getting in the kitchen and discovering how simple they were to bake at home.
This particular recipe is sweetened with honey, as I wanted to try my hand at a natural sweetener. Your sweetener of choice easily replaces it. Baking times may vary slightly, but the ideal macaroon is crunchy on the outside and chewy in the center.
With only four ingredients, they come together quickly and pay off with a satisfying chewiness and just the right sweetness. They are great for Passover due to their lack of flour, and they also make a delightful Easter treat. See the notes for variations.

Honey-Sweetened Coconut Macaroons
Author:
Shaina Olmanson | FoodforMyFamily.com
Ingredients
2 large egg whites
¼ cup raw honey
1 teaspoon vanilla or orange extract
3 cups finely shredded unsweetened coconut
Directions
Preheat your oven to 400º F and line a large baking sheet with parchment paper.
In a large bowl, whisk together the egg whites, honey, and extract until blended. Stir in the shredded coconut until completely coated with the egg white mixture.
Scoop the coconut mixture onto the lined baking sheet with a small cookie scoop, creating 1.5″ balls.
Bake for 10-15 minutes until the coconut starts to turn a golden brown on the edges. Remove from the oven and cool completely.
Notes
Variations: Add a few teaspoons of orange zest or lemon zest; dip macaroons in chocolate or drizzle over the top; make nest-shaped macaroons and secure pastel Easter egg candies with a bit of melted chocolate for a fun Easter treat. Sweeteners: Substitute honey with ½ cup granulated sugar, coconut sugar, or other sweetener of your choosing. Coconut: Use finely shredded coconut for the best results. Coconut flakes won't stick together in ball form as easily as its finely shredded counterparts.
Have you ever made macaroons at home before?
Shaina Olmanson is the freelance writer, photographer, and home cook behind Food for My Family. Cooking daily with and for her four kids and husband, Ole, drives her desire to inspire other families to do the same. Shaina is also the author of Desserts in Jars and regularly contributes to various online sites and traditional print magazines.