The following post is from Amy of Simply Sugar & Gluten-Free: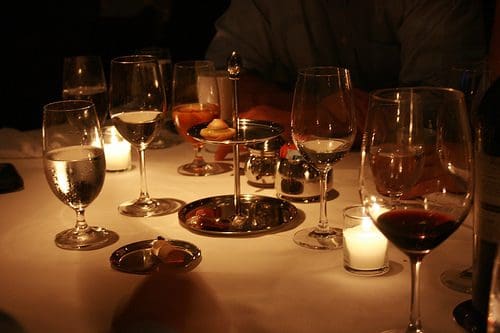 I've been eating a gluten-free and refined sugar-free diet for over 9 years and to date.  Only two people aside from my husband have cooked meals for me that I can fully partake in. Am I upset about this? No. But, if everyone had the experience of being at a dinner and only being able to eat meat and lettuce, they might do things differently. Heck, I've even been at dinners when all I could have was water and coffee.
Cooking for someone on a special diet can be intimidating, be it vegetarian, vegan, gluten-free, dairy-free or egg-free. The ingredients might be different. The flavors might be slightly new. And, let's face it, depending on the severity of your guest's intolerance or allergy you just might make them sick.
Should you throw in your apron? Absolutely not! Throw your Aprons For Men on and get right back into the kitchen!
I'm here to help make this very simple. Here are five easy ways to make a meal for your friend or family member regardless of what they can or cannot eat.
1. Ask your guest what they can eat.
This takes the guesswork out of planning the menu. Share with them your plans and ask if it's suitable for their diet. Your guest will be able to tell you what they can eat. They may even offer to bring a dish or two that will work for their diet.
2. Make substitutions to your recipes.
With all of the fabulous allergy-friendly products on the market today, it's so easy to swap out cow's milk for coconut milk or SunButter for peanut butter. No, the result won't be exactly the same, but it will be really close. Refer to this Substitution Chart to make the job simple.
3. Cook with whole foods.
Eating whole foods instead of processed foods is healthier all-around. But, it's especially helpful when cooking for someone with food allergies. Heavily processed foods are often the biggest offenders and are full of the top 8 allergens. Here are some tips that will help you cook with whole foods.
4. Find reliable allergy-friendly recipes.
Not all recipes produce stellar results, regardless of the ingredients used. When cooking gluten-free or allergy-friendly it's even more important to find a recipe that works. Look for recipes from reputable sources. If you have time, test the recipe beforehand so you can be confident in the results.
5. Use pre-packaged, allergy-safe foods.
We recently celebrated my son's first birthday party and one of our guests had a severe peanut allergy. I wanted to include her in the festivities but didn't feel comfortable making cupcakes for her from scratch. I found a certified gluten-free, peanut-free cake mix and tested it ahead of time. The cupcakes were fabulous! I made a batch of them on the day of the party and everyone raved. No one suspected they were allergy-friendly. And, everyone at the party got to eat cake.
Have you ever cooked for someone on a special diet? What did you do to include them in the meal?

A stay-at-home mom, wife, and passionate cook, Amy strives to make each meal healthy and delicious. When she's not doing laundry, dishes, or caring for her son, she plays around with food in the kitchen developing new recipes, which she shares at Simply Sugar & Gluten-Free. Amy also publishes The Balanced Platter and authored the book Simply Sugar & Gluten-Free: 180 Easy & Delicious Recipes You Can Make in 20 Minutes or Less.