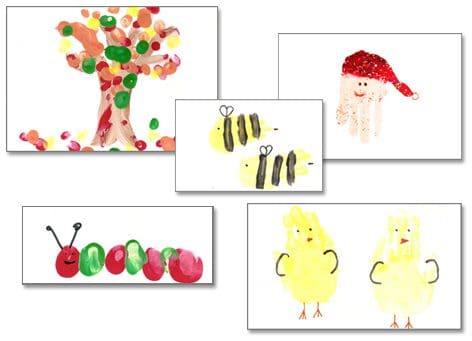 Although we haven't done one in a couple of years, one of the most popular gifts we've given our parents and grandparents were these handprint calendars. With 4 little ones and 8 sets of grandparents/great-grandparents, they became a little too time-consuming to keep up with every year, but I think we'll probably do them again next year because I know they're treasured!
Although they're a bit of work, this is a really special gift, and I've put together a 2012 calendar template that's ready for your child's handprints as well.
Click here to download or print your calendar template.
Grab one of the handprint poems for the front page of your calendar. There's space at the bottom of each for you to add names and the date!
Then browse through this list of handprint ideas, each with a picture and description, to choose the ones you'll use for your calendar:
If you're looking for more ideas, I've pinned a ton of handprint and footprint ideas on Pinterest as well!
A few tips from our experience:
Have your children wear smocks or old clothes. Clip hair back away from the face.
There's beauty in imperfection, so don't worry about smudges or other "mistakes".
We usually do only one or two different designs at a time rather than trying to work through all 12 pages at once.  Washing hands in between each one gets a little tiresome!
When using multiple colors, it's always easier if you let the bottom layer dry first, but it's not necessary for most of these.
Join us as we celebrate 101 Days of Christmas with new DIY projects, gift ideas, traditions and more every day from now through Christmas!