Aren't these hanging pinecones amazing? I think they're such a simple, elegant, and inexpensive alternative to a wreath. If you're able to gather pinecones rather than purchasing them, it costs even less! And it takes just a few minutes to make.
My mom made this to hang on her front door, and I snapped a few pictures yesterday to share with you.
Wouldn't they be cute with bells or silver balls like Myra's pompom pinecones too?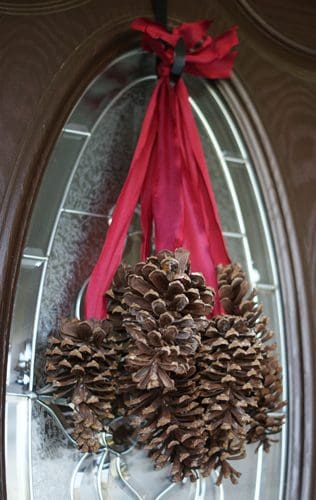 Supplies:
8 pine cones (the bigger the better!)
1-1/2″ wide ribbon, cut into 8 two-foot pieces
hot glue gun
Directions:
Attach the end of each ribbon to a pine cone with hot glue. Repeat for each pine cone.
Gather the loose ends of the ribbons together and adjust them to stagger the pine cones. Tie a knot to secure the ribbons and then hang them to a hook on the door.
You can even add some glitter to your hanging pinecones to make them sparkle.
Hint: After we took this picture, we decided to loosen the knot and slip it over the end of the hook to hide it, and we really like the way that looks!
Try these:
Join us as we celebrate 101 Days of Christmas with new DIY projects, gift ideas, traditions and more every day from now through Christmas!