Sure, a colorful Buddha bowl looks beautiful, but is it just a gimmick? We don't think so! These high-protein, plant-based meals are much more than just a pretty face – they pack a massive nutrient punch and taste great, too. 
We're not saying that every trendy food is worth trying. But over the last five years, the Buddha bowl (or power bowl, macro bowl, or hippie bowl) has proven itself time and again as one of the rare restaurant foods we should eat.
The Buddha bowl has it all – nutrient-dense veggies, high-quality carbs, and lean, plant-based proteins, all wrapped up in a beautiful package.
While plenty of restaurants offer great Buddha bowl options, these things are straightforward to make yourself at home to eat at the kitchen table or pack and go for a busy day ahead.
And they're a delicious option for breakfast, lunch, or dinner. We've built a simple recipe for you to try with crispy baked tofu and black beans, fresh veggies, and quinoa – a vegan protein triple-threat!
What is a Buddha Bowl?
A Buddha bowl is a cold vegetarian meal served in a wide, flat bowl with various ingredients. The components are kept separate within the bowl, so the person eating can choose exactly how to combine them. These bowls first became popular around 2013 and are even more widespread today – almost every health-based, vegetarian, and vegan restaurant carries some version of a Buddha bowl on their menu.
A Buddha bowl's ingredients can be almost anything, but there are generally a few essential components – a nutritious grain, fresh sliced veggies, vegetarian protein, and a dressing or sauce. Think of it as a hearty salad that's fit for an entire meal.
How to Make a Vegan Plant-Based Buddha Bowl
Makes 2 bowls/servings
Ingredients
1/2 cup uncooked quinoa

1 can of black beans

1 tsp paprika

1/2 tsp garlic powder

1/4 tsp chili powder

1 package firm or extra-firm tofu

1/2 c. pickled red cabbage

1 red pepper, thinly sliced

1/2 cucumber, thinly sliced

1 handful of fresh cilantro, chopped

1 avocado, pitted and sliced

chili sauce, to serve

1 lime, sliced, to serve
Marinade
1 Tbsp soy sauce

1 Tbsp lime juice, fresh-squeezed

1 Tbsp toasted sesame oil

2 tsp pure maple syrup

1 tsp chili sauce

2 tsp natural peanut butter, smooth or chunky
Directions
Preheat the oven to 390°F and line a baking sheet with parchment paper.

Remove the tofu block from the package and place it into a tofu press for 15 mins*. Remove, then place the drained tofu on a cutting board, slicing it into 1-inch cubes.

In a medium-sized mixing bowl, whisk the marinade ingredients together – the soy sauce, lime juice, sesame oil, maple syrup, chili sauce, and peanut butter. Once thoroughly combined, add the tofu cubes. Toss the cubes in the marinade until coated, then set them to the side.

Meanwhile, add the uncooked quinoa to a saucepan with 1 c. of water. Bring the quinoa pot to a boil, then simmer for 40 mins, or until the quinoa is soft.

Place the marinated tofu cubes on the pre-lined baking tray. Bake the tofu cubes in the preheated oven for 25 mins.

Remove your baked tofu from the oven and add the black beans to the baking tray. Season the black beans with chili powder, paprika, and garlic powder, then bake them for another 5 mins with the tofu.

Remove the tray of tofu and beans from the oven and set them aside.

Start to assemble your bowls by splitting the tofu, quinoa, black beans, red cabbage, red pepper, and cucumber between two large bowls.

Top each Buddha bowl with half of the sliced avocado and serve with a big squeeze of lime, a drizzle of chili sauce, and a generous spoonful of the leftover marinade.
*The pressing step is a necessary part of the tofu preparation. You can get a press from Tofubud or press the tofu between two heavy cutting boards, which will take 2-3 hours longer.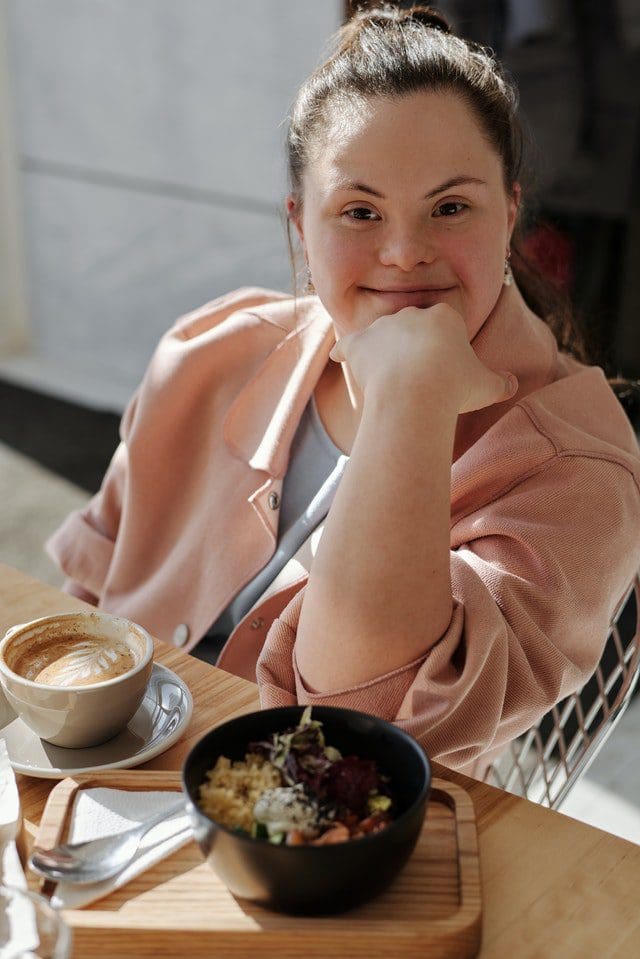 Final Notes: Switching Up Buddha Bowls
While we love this plant-based version of a Buddha bowl, this is also a great starting point to build your own bowls.
Use this recipe to branch out as you'd like – swap out different proteins, try new veggie combos and mix up the spices.
Experiment to make every version as unique as you'd like, and tired weekday lunches will be a thing of the past!
Featured Photo by Adalia Botha on Unsplash