The following post is from Jessica of GoodCheapEats and LifeasMOM: Make Your Own Marinades: Orange-Ginger Marinade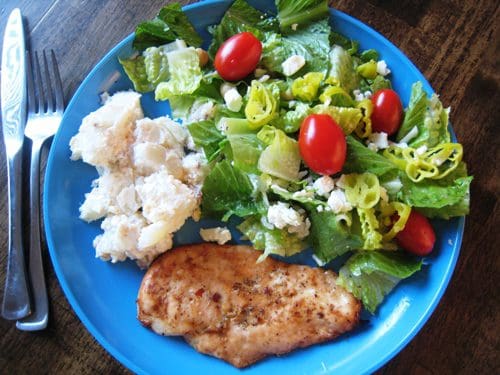 With summer upon us, grilling food outdoors appeals more and more. Not only do we avoid hot kitchens, but we also get a change of atmosphere and a breath of fresh air. Dining al fresco makes the experience even more pleasurable.
Making my own marinades has been something I've been doing for years. I customize them with my own ingredients and save money since spices, vinegar, and oils cost much less than bottled marinades and sauces. Sure, you can get some of those items inexpensively by combining sales and coupons, but quite honestly, homemade tastes so much better!
This orange-ginger marinade is super easy to pull together. Combining sweet orange juice, salty soy sauce, tangy ginger, garlic, and red pepper — this marinade will take your grilled meats to new heights.
We loved it as a chicken marinade, but you could also try it on pork chops, beef, or even fish.
Orange-Ginger Marinade
1/4 cup freshly squeezed orange juice
1 teaspoon chopped garlic
1/2 teaspoon minced ginger
1/4 teaspoon black pepper
1/4 teaspoon crushed red pepper flakes
In a small mixing bowl, combine the orange juice, soy sauce, garlic, ginger, black pepper, and red pepper flakes. Whisk to combine. Use as a marinade for chicken, pork or fish.
Do you make your own marinades? Or do you prefer the bottled varieties?
A foodie at heart, Jessica Fisher has learned to reconcile a tight budget with her love for great food. As a busy mom of six voracious eaters, she regularly shares healthy, delicious and budget-friendly recipes at GoodCheapEats. She also writes at her parenting blog, LifeasMOM.
Featured Image by Pavel Subbotin from Pixabay