And Do These 5 Things to Prepare Beforehand
Whether you're going it alone or traveling with a carload, road trip vacations are great getaways. Of course, you could toss some clean underwear in a bag and hit the highway. But a little preparation can go a long way toward making your road tip an adventure more fun.
Solid prep can take much of the guesswork and stress out of traveling. After all, the point is to enjoy the time away and relax. So take a little time beforehand and develop a plan.
Here are five things you can do to ready yourself before you hit the road.
1. Give Everyone Who Needs It a Heads Up
For security reasons, you don't want to broadcast to the world that your house will be empty for several days. However, there are some people you need to notify.
For starters, contact your bank or debit card company to let them know when you'll be traveling and where. Otherwise, when you use your card at a gas station 500 miles from home, there could be a security alert. Security flags are great if someone steals your card, but not if you're the one trying to use it.
Unless you have someone emptying your mailbox for you every day in your absence, notify the USPS. You can ask them to hold your mail for up to 30 days and pick it up when you return. Request a hold online or at your nearest post office.
If you have a trustworthy neighbor, tell them you'll be gone and ask them to keep an eye on your house. Odds are, they know who normally comes and goes from your home or how often your motion lights go off. They can report anything suspicious to the police.
2. Get Your Car Road Ready
Before setting off, schedule your vehicle for the once-over with your local service station. Get the oil changed, fluids topped off, belts checked, and tires fully inflated. Ensure your spare tire is ready should you need it and that all parts of your jack are accounted for.
Let your mechanic know if you'll be driving in mountainous terrain, particularly if you're a native flatlander. They'll need to make sure your brakes and pads, which take the brunt of downhill driving, are in tip-top shape. Throw a jug of coolant in the back and know where to pour it if needed for an overheated engine. 
It's also a great time to give the car a good cleaning out. It will doubtless require it again when you get home, but you'll be starting fresh. You will need plenty of space to load up with snacks and other road trip necessities.
Finally, if you aren't already a subscriber to some roadside emergency service, become one. You never know when you might need a jumpstart, a tow, or a rental car. You don't want a flat tire or breakdown to spoil your trip.
3. Plot Your Course
Half the fun of a vacation is planning it. You don't need a schedule for every minute of the trip, but a general plan with some flexibility is smart. If this isn't a solo journey, give everyone a chance to weigh in.
Plot your route—research sites, events, restaurants, and lodging along the way. Determine a realistic timeline for getting from point A to point B.
It's a good idea to make lodging reservations in advance, especially if you're traveling during a busy season. Certainly, if you're shopping for a fair, festival, or another event, you'll want to have booked a place to stay. Likewise, buy tickets ahead of time for any place or event that might otherwise sell out.
Plug addresses into your smartphone or navigator, so they're easy to find when you need them. And don't forget the good old-fashioned paper maps. If your connection fails, you can still find your way.
4. Secure Your Home
Home security has never been easier to install than it is now. Devices are inexpensive, wireless, and user-friendly. The Internet of Things makes them easy to access from anywhere.
Start with doorbell cameras at all entrances. They will send alerts to your smartphone every time someone gets within range. That said, make sure you adjust them, so they don't alert you every time a car drives by. 
Battery-powered motion lights are quick and easy to install. So are timers that turn certain interior lights on and off automatically. Consider a programmable thermostat so you can check home temperatures from the road and adjust accordingly.
If you're going to be gone a week or longer, you might want to ask someone to check your house. They can walk through to make sure pipes aren't leaking, or a toilet isn't running. Double-check that all windows and doors are locked, and the garage door closes before you drive away.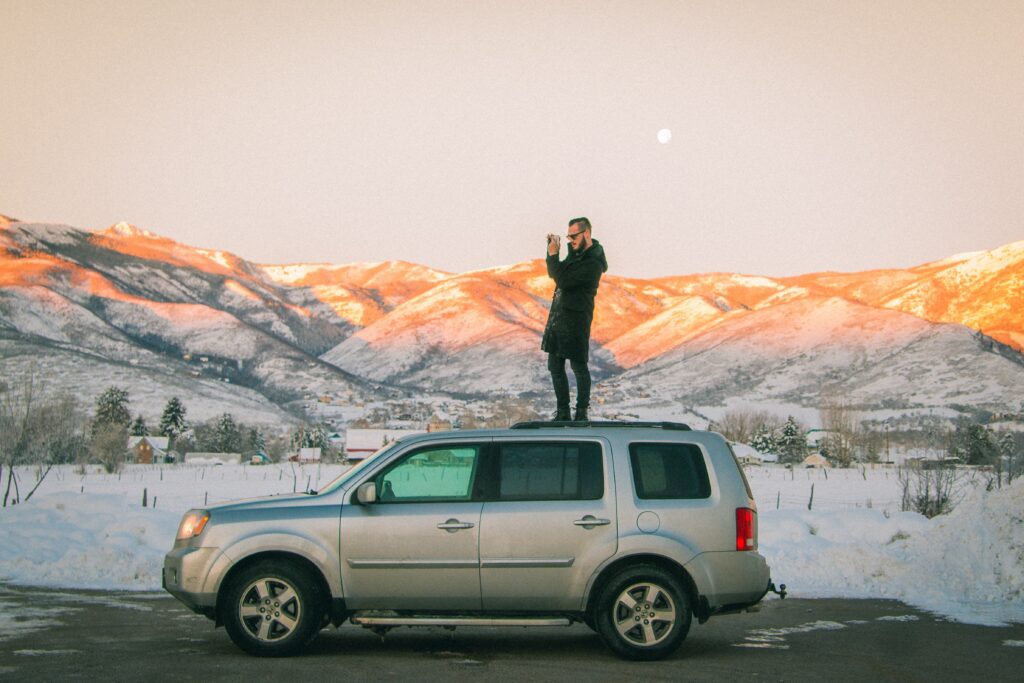 5. Pack It Up
Overpacking is a universal tendency. The first thing to consider is that unless you're driving somewhere extremely remote, there will be stores along the way. If you forget or run out of something, buy it on the road.
Check whether any places you're staying on your trip have laundry facilities. You can pack half the clothing if you can wash a load midway through. Just remember to throw in some of your usual laundry soap if anyone has sensitive skin or allergies.
Buy a first aid kit for the car or assemble your own. Bandages, antihistamines, antibiotic creams, aloe vera, EpiPens, and more will cover you in an emergency. And don't forget to include hand sanitizer and face masks, as you may still need them in some places.
Finally, pack up plenty of snacks, beverages, books, games, tablets, and DVDs if you have a mobile movie system. You can avoid a lot of stops and extra expenses by taking your own. Just make sure that someone can easily access your snack and entertainment stash when you load up the car.
Hit the Road
Once you've done all the planning, prep, and packing, you're ready to hit the road. Check weather reports, so you know what to expect and fill the gas tank. Make sure you have all tickets and reservation confirmation numbers handy.
These days, a final tech check is a good idea. Make sure everyone has charger cords for their devices. You might want to toss a portable battery charger in the glove box just in case, next to that old-fashioned flashlight.
As you leave, text that neighbor who's keeping an eye out to remind them today's the day. Now that you've done all your pre-trip prep, you can kick back and enjoy the ride.
Featured Photo by Caleb George on Unsplash