I've been sharing my love of tea this year — both for the caffeine as a busy nursing mom and for the pleasure of snuggling up with a warm cuppa in a variety of flavors — and several of you have asked how I organize my tea collection, so I thought I'd give you a peek inside my tea cabinet!
We have two cabinets with rolling doors in our kitchen that we refer to as the "garages" (which works since we don't have a real garage), and last year I got rid of several small appliances and designated one of the shelves as the coffee shelf. Over Christmas break, I took that a step further and cleared another shelf for teas, and I love having them all organized right next to the stove.
Actually, for a while, I just had the cardboard boxes of teas stacked precariously on the shelf, but that got old quickly as they inevitably toppled over while digging through them. It also made it hard for my sweet big girls to make me or themselves a cup of tea, so I started searching for ways to organize them, and I finally settled on these gorgeous (and affordable!) bamboo boxes for my collection.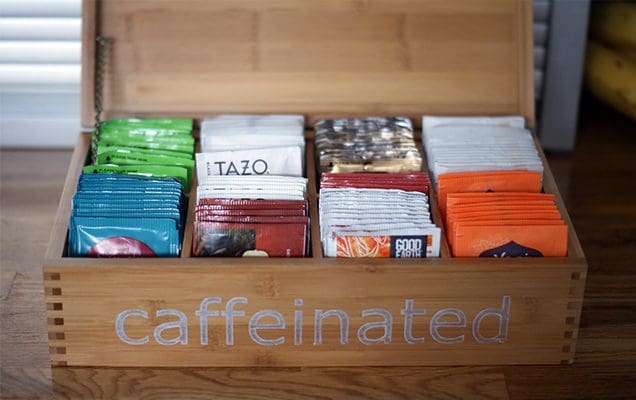 I thought one would be enough, but it quickly became obvious that I have a problem they don't hold as much as I hoped, so I decided to divide my caffeinated (black and pue-rh teas, mostly) and herbal teas between two boxes.
A couple of weeks ago, we finally got around to printing out a couple of vinyl stencils on the Silhouette, and I painted labels on the boxes. (I'm trying really hard to use the supplies we have rather than buying new ones for projects like this, so I painted them with shimmery white paint we had gotten for  the girls' pinewood derby cars!)
Besides the boxes, I have several jars, bags of loose teas, and a few tins of tea sachets.
Technically, loose tea should be kept in a dark container, but I have a couple of jars in there that I think are probably okay since we keep the door closed. My plan is to cover the tins in pretty patterned paper and use those for loose teas once the sachets are gone.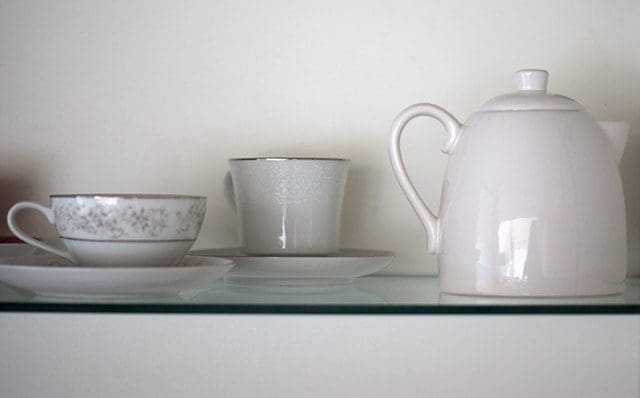 We also have a shelf in our dish cabinet for this pretty teapot that Shannon gave me as well as the tea cups I got for the girls at a local thrift store. They love to have tea parties with various herbal teas (Tazo Passion is their favorite), but I prefer my tea in a big mug as opposed to a delicate tea cup!
How do you organize your tea collection?