Rugs are an ideal way to add some personality and warmth to your home interior. Naturally, you want the rug of your dreams, but how do you know if it's perfect for you? There are many vital decisions to make when it comes to picking out a rug for your home. There are so many gorgeous designs and colors from which you can choose, not to mention sizes! You'll want one that is the perfect size for your space, as well as one that complements the color scheme of the room. But most importantly, you'll want a rug that will last through all those spills and accidents that inevitably happen around the house. This blog post will lay out some tips on how to bring home the perfect rug – or at least come close!
Check the Rug Fabric
The first and foremost important factor in choosing a rug for your home is the fabric or type of fiber used to make it. The best rugs are made from natural materials such as wool and cotton because they're naturally durable. These fibers can stand up well against spills and stains, making them perfect for homes with kids or pets who may be more prone to accidents. You can select the suitable material from the best area rugs. You can choose the best one. The practical fabric used in your rug will also help determine the right size for your home.
Check the Rug Size and Shape
The next step to bringing home your perfect rug is checking its size and shape before taking it home with you. Be sure that the room's measurements fit perfectly into what will work for a rug, and make sure that there isn't too much excess space between where the rug ends and the walls or other furniture pieces begin. The proper size and shape will make the rug look great in your home. Also, when choosing a rug, keep in mind not to cover the floor completely. You want to leave a little bit of the floor showing, so the rug doesn't look too much or completely take over. Like size, the shape of the rug is just as important. You want to make sure that you have a good balance between what size and shape of your rug. For example, if you have a huge room, it would be best to use long or oval shapes rather than circular ones because they will help keep the space open and not too closed in so it doesn't look like the rug is taking over. When choosing the size of your rug, consider what you will be using it for and who will be using it.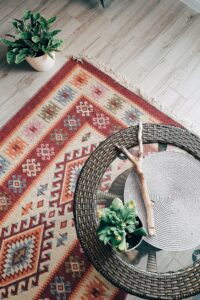 Check the Rug Pile Height and Thickness
Secondly, an essential factor in choosing your rug is its pile height. The pile height is how much space between each thread of fabric or fiber makes up the rug. On average, the higher this number, the better it will prevent stains because liquids have more difficulty seeping through the rug. The thickness of your rug should also be considered because it will help determine how comfortable and soft you want to feel when walking on top of it with bare feet. This is especially important for kids' rooms or spaces where many people move around, like family rooms, living rooms, etc. A rug's thickness or pile height has a big effect on the way a room looks. Rugs that lay higher tend to have a more formal look and feel, while rugs with lower pile height give off the feeling of comfort. There are three main types of rug pile heights: low, medium, or high. It is essential to determine the type of rug you will be getting because it affects how much traffic a room sees and what activities are in that space. If your home has lots of high-traffic areas, then going for low pile rugs is best so they wear evenly over time and do not show too many signs of usage. However, if you live in a less traffic space, there are high pile rugs to choose from.
Check the Design of Rug
The design and style of the rug are just as important when it comes to bringing home the perfect rug. There are so many rug designs that you can choose from, but some of them do not fit well with your interiors. You should always look at the color palette in a room before deciding which kind of design will work best for the space. For example, if you are going for specific motifs in the room, such as chevron or geometric-looking designs and patterns, it is best to choose rugs with the same design as geometric rugs.
First, select a design that will work well with your interiors; for example, if your home has intense colors like reds and oranges, choose rugs with red or orange in them. The style of the rug should also be taken into consideration; if your home has modern decor, then it is best to choose rugs with geometric patterns and designs. Always look at the colors in a room before deciding which kind of design will work well for the space.
Natural or Synthetic
Are you a fan of natural fibers or synthetic fibers? There are many options of rugs that you can choose from; one is a natural fiber, and the other option is synthetic. Natural fibers tend to be used more often, but they do need constant maintenance. Rugs made of this type tend to fray in high-traffic areas, so it requires frequent repairs, which consumes your time and effort.
Synthetic fibers are longer lasting, and these rugs do not require much maintenance. They can be used in any house room, but they tend to hold heat more than natural fiber rags, so you should avoid placing them over furniture or near people's feet as this will cause discomfort. Both types of rugs have pros and cons, but it is up to you to decide which rug type is perfect for your home decor.
Hand-Woven or Machine-Made
The weaving style of your rug is going to determine how long it will last. Machine-made rugs tend to be less expensive than hand-woven ones, but they are not as durable and cannot hold up well in high-traffic areas or those that need frequent cleaning because of spills and accidents. Hand-crafted rugs on the other side are sturdier and can hold up better. This is an excellent choice for kids since they are more durable and can withstand frequent use, but it might not be the best option for high-traffic areas where spills could often occur as these rugs tend to cost more than machine-made ones.
On a Final Note
We hope that we've given you some new ideas for your home and helped make the process of decorating a bit easier. Take these tips with you as inspiration to refresh your own space or use them as an opportunity to give someone else in your life a helping hand. Whether it's on their floor, on their couch, or beneath their feet, adding rugs is always a good idea! To buy beautiful handmade bokhara rugs online from RugKnots today, head over here now.
Featured Image by Vedran Brnjetic from Pixabay