As mentioned earlier, animal skins have been used by people for a very long time before they insulated their homes, used them as beddings and blankets, hung on walls, and covered various interior items with skins. Practically every corner of our planet uses and continues to use tanned skins of domestic animals, as well as trophy skins of wild and exotic animals. Natural skins were widely used to decorate the premises of cold castles in the Middle Ages, in the elite palaces of kings and sheiks, and in simple houses (especially if the owners bred pets or were hunters).
Nowadays, cowhide rugs sewn from natural skins remain just as popular due to their versatility: they can be used in classic interiors and modern, minimalist, Scandinavian, etc. Skins are widely used to decorate living rooms, bedrooms, offices. You can find a large selection of natural cowhide rugs on Leffler. They are made of different shapes, sizes, and colors allow you to choose the best option for almost every zone of any interior.
Cowhide rugs in the interior
Until recently, fur carpets made of leopard, zebra, and astrakhan fur were considered the most popular. However, today this list has been supplemented by carpets made of pony and cow fur. The relevance of the latter is fully justified. Firstly, the price category is much lower, which allows a larger circle of people who want to purchase them. Secondly, cow fur is the most resistant to wear. Therefore carpets made of this fur are much more practical and have a long service life. Their advantages are that the fur of a cow and a pony does not absorb extraneous odors.
The latest fashion trend is carpets made of squirrel, fox, sable, mink, chinchilla, and rabbit fur. Products made according to the well-known patchwork technique look original. They are unique compositions created from various pieces of fur. The lightness and softness of these carpets will bring splendor, a unique sense of style, and individuality to the interior. Such carpets are suitable for a sophisticated interior. Representatives of the exotic will like carpets made of snow leopard and tiger skins. Fur rugs come in various pile lengths, from very short and almost smooth to incredibly long.
Cowhide rugs will be a delightful addition to any interior solution. A carpet of the correct geometric shape in natural colors or, on the contrary, bright, catchy will complement the interior, decorated in the avant-garde style. Strict forms and warm colors will bring comfort and warmth to the cold hi-tech or dilute strict minimalism.
It is not surprising that such interior decorations, like natural skin, are never left without attention. Whether neatly hung on a wall, laid on the floor, or casually draped over the back of a sofa, it magically adds a special atmosphere to the environment. Strength and certain aggression combine with softness and warmth, awakening feelings and emotions.
A cowhide rug is a useful and beautiful piece of furniture designed to highlight your excellent taste.
Do not place in a sunny place, as heat and light will dry out the skin, causing it to crack; Do not place them on the floor in areas with high traffic. This will lead to quick mashing; Do not place carpet hide in damp or humid areas. Too much moisture can lead to mold growth.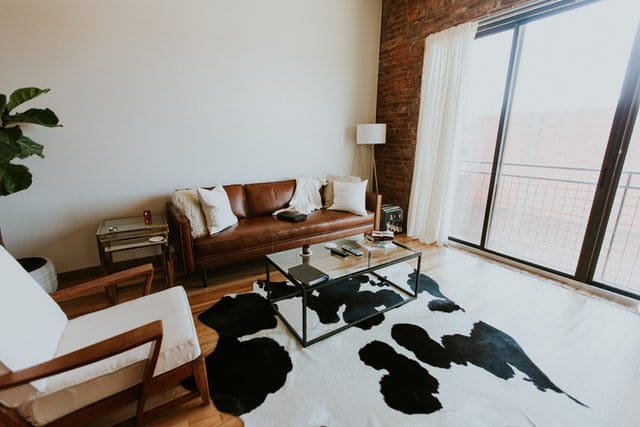 Ideas for using cowhide rugs in the interior
Here are some ideas for where to put your cowhide rug:
In the bedroom next to the bed. When waking up, step on a warm and soft carpet instead of a cold floor;

In the living room on the sofa to make the interior unique;

Also in the living room on the wall as a trophy decoration or in front of the fireplace;

Put a rug in the nursery so that children can play comfortably and softly on the floor.
The wall can be decorated with the skin of an animal, a carpet, or a panel made of skins. With the help of laser processing, cutting, and coloring, the "rug" can have a stunning look. They are the main accent in the interior with a sheared pattern and even trimmed with gold and silver. Few of the host or guest of the house does not want to touch the skin: stroking it with your hands or standing on it with bare feet – it all depends on where such a "rug" is.
Another common use of hides is for upholstered furniture. Quite often, you can find upholstered furniture upholstered in cow or zebra skin. But a sheep wool lampshade or a mirror frame upholstered in hiding is not often found. However, this method of using the skin also has a place to be.
The bottom line
In conclusion, we would like to note that decorative animal skins and carpets made of skins are classics. They always remain fashionable and in demand in the interior. While it does not matter whether natural or artificial skin is used, the main thing is that it is chosen with taste. We hope the recommendations on the selection and care of carpets in the form of skins were useful. We leave our feedback and advice on using various animal skins on the floor and not only in the comments to the article and share it on social networks if you find it interesting.
Featured Photo by Lina Kivaka from Pexels