The following post is from Emily of Live Renewed: How to Deep Clean Your Kitchen the Green Way
It's spring time, and spring makes me think about spring cleaning. Some people like to spring clean by doing a general clean-up all around the house, or decluttering certain areas of the house. But when I think of spring cleaning, I think of deep cleaning – all the little, or sometimes big, cleaning tasks that need to be done, but in reality don't get done all that often.
And there seems to be a lot of these tasks in the kitchen. We clean our kitchen up on a regular basis; wash dishes, wipe the counter, sweep the floor. Honestly, though, the deep cleaning doesn't happen as often at our house as we just try to keep up with the daily maintenance. Click here to get some more exclusive ideas.
So, this week I'm working I'm tackling some of these spring cleaning tasks in my kitchen. And I wanted to share how I deep clean without resorting to toxic chemical cleaners, but instead using green and natural cleaning products that are still super effective.
Sink Cleaner
Why someone ever thought it was a good idea to put a white sink in the kitchen is beyond me. I really do not like our white sink, and while we're hoping to update our kitchen at some point, it's just not in the budget. So, for now, I have to scrub out our sink that gets so stained, dirty, and gross from normal everyday use.
We had a stainless steel sink at our previous house, and I think this method would work great for cleaning and shining a stainless sink as well.
Supplies: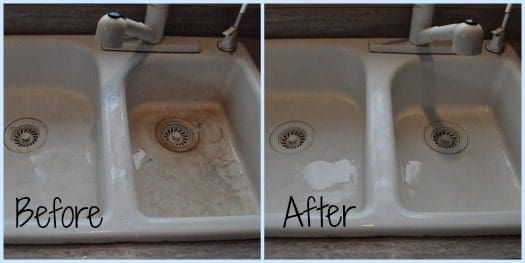 Here's the real life – our before sink was gross! This is what happens when we just wipe it down with cleaner, but don't actually scrub it. Life has been super busy lately, and my hubs has mostly been doing the dishes, which I appreciate, but he's not always great at the deep cleaning part! But honestly, it just get's this way so quickly because it's white.
Method:
Sprinkle baking soda around your sink basin and squirt the lemon juice around on top of it. It will fizz up a little. Using a green scrubby pad, scrub all around your sink to get the stains and grime off.
If you have stubborn stains, or if your sink is really dirty like mine was, you might want to shake some cream of tartar with the baking soda. Cream of tartar is a natural whitening agent, so it works especially well to clean white sinks. Also, if you want more cleaning and disinfecting power, you can spray your sink with your vinegar and water cleaner before wiping it down.
Rinse the baking soda and cream of tartar residue off and enjoy your clean and shiny sink!
Dishwasher Cleaner
Our dishwashers can get pretty gunky inside with regular use and often need a good deep cleaning so they can run more efficiently and get our dishes cleaner. This method for deep cleaning the dishwasher from Katie at Kitchen Stewardship is the same one I use for deep cleaning my dishwasher.
Range Hood Deep Cleaner
Whether you have a range hood or a microwave above your stove, they both can get super grimy and greasy. I have found that vinegar is a super de-greaser and dish soap adds extra cleaning and de-greasing power for cleaning this stubborn area.
Supplies: 
Vinegar
Natural Dish Soap
Water
Method: 
My vinegar and dish soap cleaner is perfect for cleaning the range hood, or just a bowl of warm water with a couple of glugs of vinegar and squirts of dish soap will do the trick!
Spray or wipe on with a clean rag and let it sit for 10-20 minutes. Come back and spray or wipe on more cleaner and then wipe off with a clean rag. You may need to repeat this process a few times depending on how greasy your range hood is.
Stovetop
I have a glass stovetop and one of the things that I like the most about is how easy it is to wipe up spills and keep it clean on a regular basis, no electric burners, and drip pans, or gas burners, to scrub and scrub. But, inevitably, food spills or pans boil over and burn on the stovetop, requiring a scrub down every once in and awhile.
Supplies:
Baking Soda
Water
Steel Wool Pad (optional)
Make a paste of baking soda and a little water and spread it over the dirty and burnt spots on your stovetop. Let it sit for 10-20 minutes, and then gently scrub with a green scrubby pad, or steel wool pad if it's really burnt on, but be careful because the steel wool can scratch the surface.
For those of you with electric or gas stoves, tell us in the comments how you deep clean your stovetop naturally!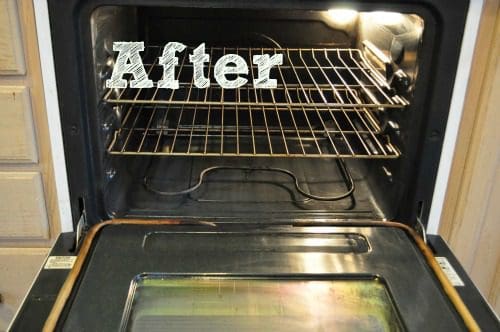 Clean Oven without Toxic Chemicals
Finally, there's the oven, and unless you're a super clean freak, this is a chore that probably doesn't get done often enough and then you start to really dread doing it, and put it off, and put it off, and put it off… Not that I would know anything about that! Ahem.
When I finally cleaned my oven for the first time since moving into our home 3 years previously, I was determined to do it without the harsh chemical oven cleaners. This method for cleaning my oven naturally gave me great results, and now I'm not so intimidated by cleaning my oven to let it go for so long before cleaning it again!
Happy Green Spring Cleaning!
What's your favorite method or cleaner for deep cleaning in the kitchen?
Emily McClements strives to live with compassion and caring for creation in a way that will impact the world. She is a blessed wife and mama to three young children, and blogs about her family's journey toward natural and simple living at Live Renewed.