A business card is like a mini-introduction to yourself and what you do. The card helps you make a good first impression on anyone you interact with and communicate with within professional settings.
Your business card design plays an essential role in defining who you are. The way it is made, how the space occupied should be so attractive that the other person is tempted to call you.
Don't know what information should be on your card? Let us help you decide!
The Appropriate Format
We understand that designing can be overwhelming, and sometimes the excitement gets the best of us. However, try not to overcrowd your business cards with useless information.
Logo

Contact Info

Job Title/Occupation

Company Name
 Business cards are meant to be crisp, simple, and to the point.
You only need to include relevant information if the viewer needs more details – the card should have strategically printed details that reroute them to the appropriate channel. 
The Key to Displaying Mobile Numbers on Business Cards
While you may think that it's just a number, who cares how it is placed? Let us tell you, many people do. The layout is a significant part of the business card design.
While there is no set way of displaying mobile numbers on business cards, here are a few best practices:
Try to use the '+' sign and avoid the '00' to specify your country's code.

Keep the brackets for your area and country code only.

To make numbers easier, you can separate the groups with a simple dash. (-)

Try to differentiate between different numbers, use abbreviations or texts for landlines, mobiles, fax numbers, etc.

Similarly, make sure to recheck that the number you are getting printed is indeed the correct one.

Just make sure that you align your mobile number the same as all other content so that there is some form of design uniformity. 
Which Number to Add to Your Business Card?
Whichever number you use the most should be displayed, whether it is a smartphone or a landline.
It is impossible that your cell is available at all times, and you are reachable 24 hours a day. Experts suggest you add another contact method apart from your mobile/landline number. It could be an email, a fax number, or whatever else you want.
Make sure to add the following contact details to your business cards:
Email

Company Office Address (Optional)
How Not to Display a Phone Number on a Business Card?
From a design perspective, there are some things that you should avoid when working on the format of your business card.
No spacing between numbers

Not using a dash to separate numbers

Cluttering everything together

Leaving too much space

Choosing the wrong fonts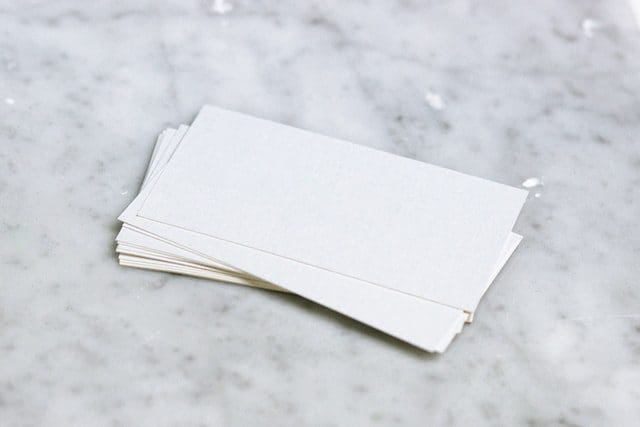 The Bottom Line
We hope that the information in the blog will help you next time you are working on a business card design. Just keep in mind that however you wish to display a phone number on a business card, it should be readable and easy on the eyes. The design should be cohesive overall. Once you achieve that, you are good to go.
Featured Image by mohamed Hassan from Pixabay