New year, new home may be your motto this year. However, that can be easier said than done. Home improvements and renovations can be costly projects and, at times, break the bank. January and February can already be expensive months, particularly when you pay back Christmas debt and expenses and plan holidays and events for the year ahead. But, if your home needs slight spruced up, stay tuned as we provide you with some top tips on how to freshen up your home space in ways that are guaranteed not to break the bank! 
Feature some great scents 
If you know the feeling of tidying your whole room and then finishing the long and hard process by lighting a candle, you will understand the proud feeling of completion. The difference a scent can make to your room space is magnificent. It can lift a room's whole mood and atmosphere, all while infusing a great scent. If you are scared of open fires, not to worry, a diffuser is a perfect alternative, and it can be purchased for as little as a few pounds from homeware stores and even supermarkets! 
Add removable wallpaper 
The newest craze on the market seems to be removable, peel and stick wallpaper. We don't know what's better, the fact that we can ditch the gloopy wallpaper paste or the option to easily switch it up once we get bored of the pattern! Either way, it is a great way to freshen up your home space, particularly if you want to feature an accent wall in a specific room. A living room with patterned wallpaper seems to be a hit these days if you want to inject modernity and contemporary features into your space.  
Wall mount your TV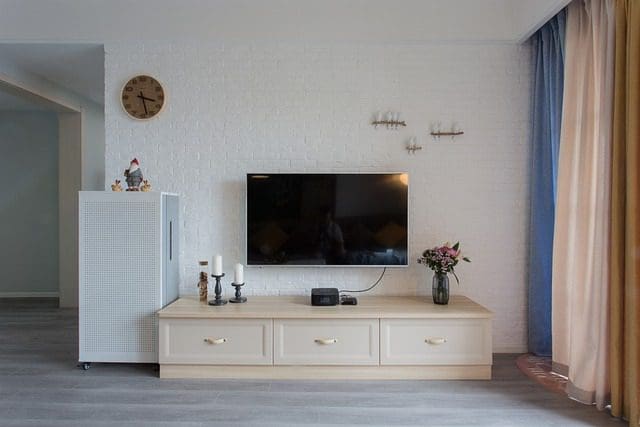 If you are looking to utilize space, floor space, or even surface space on a sideboard, a perfect choice is to wall mount your TV. This will ultimately make the room look much sleeker, and if you are still using an old TV unit, now is your time to dispose of it. Although wall mounting a TV can be considered an easy task for some, sometimes the TV's weight gets the better of the whole process. It may be easier to call in a friend or family member to help, or even a professional service if you need assistance with the bracket type. Click here for TV wall mounting services.  
Inject some greenery 
If you have ever heard of the phrase, "bring the outdoors indoors," now is a perfect time, and it is an extremely effective and inexpensive way to freshen up your home space. Not only has the color green been proven to increase mood and positivity due to the vibrant color, but live plants also have a positive contribution to your health. A win-win, and smaller plants such as cacti, jade, or snake plants can significantly impact a space by adding quirkiness. If live plants seem too much hassle, you can always take the artificial route. You will even get more for your money this way too! 
Rearrange furniture 
When you were a kid, did you ever constantly rearrange the furniture in your room when you were bored and had nothing else to do? Well, apply this concept to your adult life. Sometimes, rearranging furniture gives your home and room space the change required. The best part? You don't need to invest anything but some time! Make sure you take measurements of the larger pieces of furniture; you do not want to start the rearrangement process and then realize that nothing fits.  
Accessorise surfaces 
Bland and empty surfaces really can look doom, gloom, and lifeless. You want to make sure your home looks loved, not abandoned! Freshen up your home space by investing in surface accessories, such as display books, candles, diffusers, vases, plants, or even small ornaments. Take a trip down to the local supermarket or even a discount store like B&M or TJ Maxx. You would be surprised at how cheap you can pick up small accessories! 
Display memories 
Take a scroll through your camera roll and select some of the great times captured with friends and families over the years. Next, visit a local store that features a print in-store instant photo kiosk (you can usually find these in bigger supermarkets), and start printing. Ensure that you have frames available for your pictures. Or if one picture is extra special, supersize it or print it onto a canvas. Once your pictures are complete, dedicate a wall specifically to your memories to add a homely and personal touch to your space. Super warming!  
Featured Image by Rudy and Peter Skitterians from Pixabay