Cuba is a beautiful and exotic country that welcomes visitors from all over the world with open arms. Cuba has so much to offer, such as its rich culture, delicious food, beautiful beaches, and friendly people. It can be hard to know where to start when you first go to Cuba. That's you should read this Cuba travel guide for those of you who are planning on visiting soon!
Give a private jet a chance
One of the best ways to truly enjoy Cuba is on a private jet, as you will be able to travel between regions and see all of the country's amazing landscapes without having to worry about others taking your time or cutting into your vacation. 
You'll have everything at your fingertips, from an onboard chef who can prepare any meal you've ever dreamed up, first-class concierge services for booking reservations before you get there, and more luxuries that are sure to make this one trip turn out better than anything else in the past. Don't forget about the private chartering that will give you more space and an enjoyable flight. You won't have to deal with other passengers, and the crew will only be concentrated on you. 
What to pack
There are things you'll need when packing for Cuba. The first thing is sunscreen because Cuba has a tropical climate, and it can get very hot there. You'll also want to pack a bathing suit so you can take advantage of the beautiful beaches in Cuba. Other important things include clothes like swimwear, shirts, pants, running shoes, or sandals, depending on what activities are on your itinerary while in Cuba (hiking). 
Here's a list to better remember the things you'll need:
sunblock

bathing suit

clothes for Cuba based on activities 

lanyard or keychain to hold onto your passport while in Cuba
Where to stay 
Accommodation in Cuba is affordable, and it has a variety of options. Sometimes travelers find it difficult to predict their Cuba trip budgets, so they make accommodations available for all types of travelers.
Some hotels are more expensive because they offer luxury amenities such as gyms, spas, golf courses, or pools with cabanas. However, most Cubans live in houses that have rooms rented out for tourists. These "Casas particulares" give you the opportunity to interact directly with locals and experience Cuban life firsthand! You can learn about local customs and catch up on what is happening in Cuba from your hosts who may be interested in sharing stories about the revolution, Fidel Castro's niece (Fidelito) being an international swimmer, or how Cuba was before 1959.
What to do? 
Cuba offers a lot of sightseeing opportunities, and Cuba's top-notch baseball stadiums are a must for any sports enthusiast. It also has some of the best beaches in Latin America, as well as beautiful lagoons that can be accessed through boat tours or kayaking excursions. The country is surprisingly bike-friendly, with many roads being completely paved over, so biking from place to place was incredibly easy!
You should also get a hold of Cuban cigars because it is home to some of the world's best. Cuba has also been known as a cigar production center since Christopher Columbus first introduced tobacco to Cuba in 1492! Don't forget about the rum that goes with it.
What places should you visit?
There are many places to visit in Cuba. One of the most popular places in Havana, Cuba's capital city and home to many museums, bars, and nightclubs.
The Museo de la Revolucion offers a history lesson on the Cuban revolution through photos as well as displays from Cuban artisans with links to Fidel Castro, Che Guevara, and revolutionary leader Camilo Cienfuegos.
Across from L'Atelier Hôtel Saint George is El Floridita (Hemingway's favorite bar), which was frequented by Ernest Hemingway during his time living in Cuba. The drink menu includes Papa Doble cocktails made with Bacardi rum, Coladas maduras or "mature coconuts", Cuba Libre (rum and Coke), Cuba Especiales, Daiquiris de Maracuya or "passion fruit daiquiris", Piña coladas and so much more.
Nearby is La Bodeguita del Medio, another Hemingway favorite where you'll find a menu of drinks such as El Floridita's signature daiquiri cocktails made with fresh fruit juices as Cuba Libres made with lime juice.
Safety and health concerns for Cuba travel 
You need to be careful with the food and water when you travel to Cuba. You should be especially careful with eating fruits, vegetables, raw seafood, or undercooked meat because they can contain bacteria that foreigners have not built up an immunity to yet.
You will want to bring some supplies of your own such as over-the-counter medications in case you need them and sunblock if you are going during the summer months.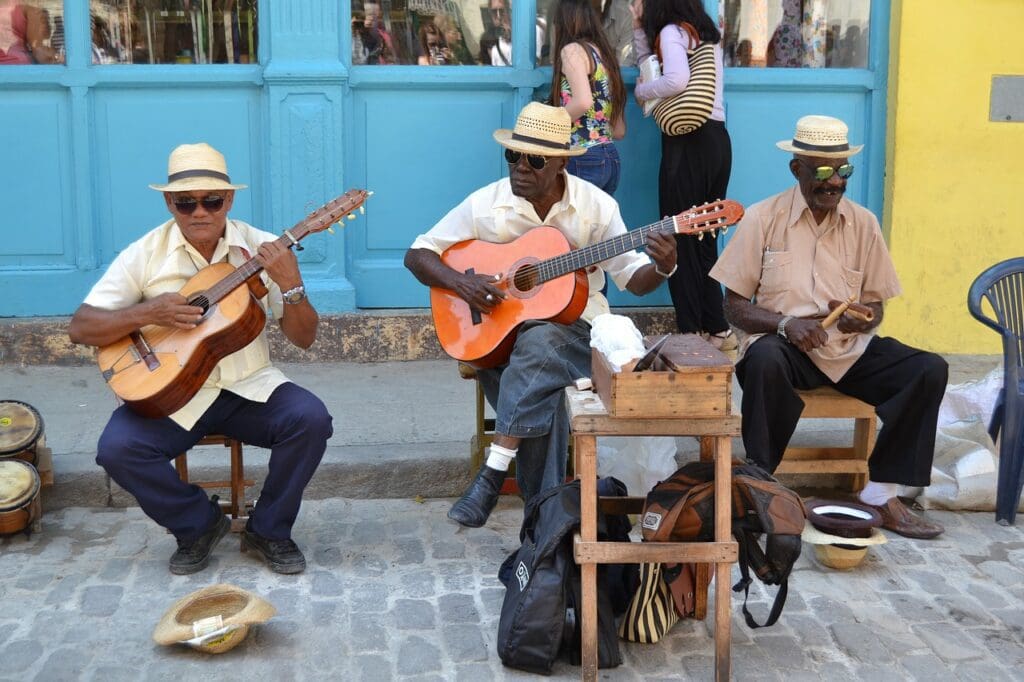 There, now you know how to make your Cuba vacation enjoyable. Private flights and accommodations are best for a calmer trip, while you can always go out and party around Havana. Make sure to know what to do and where to visit because there are lots of places you cannot miss! Be careful and have a nice vacation!
Featured Image by Falkenpost from Pixabay