The following post is from Shaina of Food for My Family and Olmanson Photography: Manchego Olive Freeform Bread
Tangy Manchego cheese and Spanish olives are dotted through this soft freeform bread loaf.
My grey counters are antiqued in a thin layer of white powder. I turn the corner, sweeping as I go, and am greeted by a floured outline of a small footprint on the floor. I pull the garbage alongside me, pushing bits of soft white dust into the bin before shaking the cloth out again to give the counter another pass. Contentment fills my face.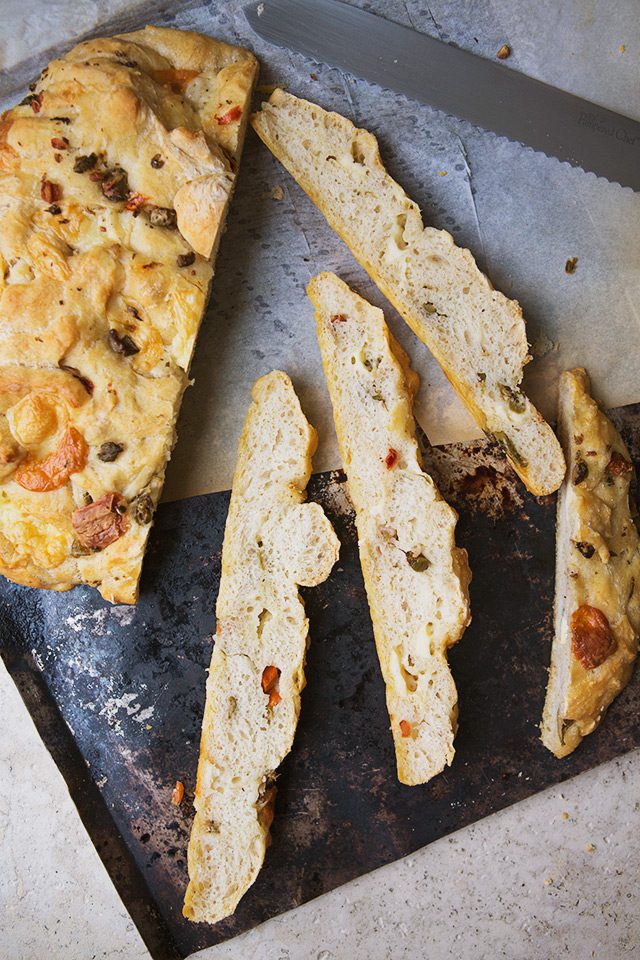 My kids make our bread. Each weekend I set out our kitchen scale, the flour, yeast, water, and a big plastic bucket for them to mix it in. They eagerly tare the scale after each ingredient, sometimes making small mistakes but approaching the task enthusiastically each time. Fingers are covered in flour and then dough before we reach the end. The cleaning is a small price to pay for the smell of fresh bread baking, puffing in the oven, and growing right alongside my kids' self-esteem and sense of accomplishment.
We practice shaping the dough with their small hands, learning to form balls and pinch it here and there for different shapes, and sometimes we fold in ingredients, brush on layers of butter and cinnamon, or try frying it up in a cast iron pan rather than the oven. This past weekend's loaf made with the very last of the week's supply was dotted with the ends of a chunk of Manchego cheese and then accompanied by a handful of Spanish olives, roughly chopped. A healthy sprinkle of oregano and red pepper flakes found the dough before it was plopped soundly on a piece of parchment to rise.
The end result is that of a focaccia-like loaf, soft on the outside with just a thin layer of oiled crust. Slice it in half to use it as sandwich bread, or cut off long fingers of a warm loaf and add them alongside a bowl of soup or a hearty salad.

Manchego Olive Freeform Bread
This loaf uses Zoe Francois and Jeff Hertzberg's Artisan Bread in Five Minutes a Day Master Recipe as a base, expanding on it with additional ingredients and a varied cooking time.
Author:
Shaina Olmanson | FoodforMyFamily
Ingredients
1½ cups lukewarm water no warmer than 100ºF (340 grams)
1½ teaspoons granulated yeast (5 grams)
1½ teaspoons kosher salt (9 grams)
1 teaspoon oregano
1 teaspoon red pepper flakes
3¼ cups all-purpose flour (455 grams)
6 ounces Manchego cheeese, cut into ½" cubes
½ cup Spanish stuffed olives, roughly chopped
2 tablespoons olive oil
½ teaspoon coarse sea salt
Directions
In a large bowl or bucket with a loose fitting lid, mix together the water, yeast, salt, oregano, and red pepper flakes until combined. Add in the flour, stirring until all the flour is incorporated.
Loosely cover the container and let it rise at room temperature until doubled in size, 2-3 hours. Once the dough has risen, it can be stored in the refrigerator with the lid still cracked on the container until ready to bake.
When it's time to bake, preheat the oven to 425ºF with a baking stone in the middle rack.
Lightly flour the dough and remove it from the bucket. Using your fingers, flatten it slightly and sprinkle half the cheese cubes and half the olives over the surface. Fold the dough in half and then in half again. Pinch to secure the olives and cheese inside. Shape the dough into a freeform round and place on a piece of parchment.
Using the tips of our fingers, dimple the dough slightly. Sprinkle on the remaining cheese and olives and press them into the dough to secure. Brush the entire surface with olive oil. Sprinkle with sea salt.
Let the dough rise for 20 minutes. Once risen, slide the parchment with the dough onto the baking stone in the oven. Bake for 25-30 minutes, until the loaf is golden brown.
Remove from the oven and allow to cool slightly before slicing.
Shaina Olmanson is the freelance writer, photographer, and home cook behind Food for My Family. Cooking daily with and for her four kids and husband, Ole, drives her desire to inspire other families to do the same. Shaina is also the author of Desserts in Jars and regularly contributes to various online sites and traditional print magazines.