There's little more confidence-boosting clothing than getting dressed up to the nines in a gorgeous, tailored suit. Whether you are attending a special occasion, celebrating an event, or simply like to make an impact in your day to day work appearance, a suit is a versatile option for both men and women. One of the greatest aspects of wearing a functional, stylish suit is your option to make it your own with elegant jewelry and striking accessories in a careful balance to ensure your look is on point. Your accessories allow you to add some extra 'pizazz' to your appearance, with brightly colored precious stones like men's sapphire cufflinks and tasteful metals, including gold and platinum. With the right styling, your suit jacket will have that unforgettable look.
With the help of our below guide, you can take your smart appearance to the next level and rock the look that'll turn everyone's heads.
Choosing the Right Suit

Choosing a suit is the first step unless you've already got a quality suit that fits you nicely – although you can never have too many suit jackets for the opportunity to mix and match. Find a suit in the color that supports your skin tone. 
Skin Tones
For men, skin tone is measured on the complexion. It is considered high contrast when the gentleman sports a dark hair color with pale skin, low contrast where the skin and hair color are very close in color, and medium contrast, covering the wide spectrum of male complexion in between. 
For women, skin tone is a bit more complicated, requiring consideration of eye color, hair color, skin tone, and vein color but for a simpler option, look at your veins under good lighting. If they look a green/green-blue shade – you've got a warm skin tone, closer to blue or purple, and your skin tone is considered cooler. 
Complementing Your Complexion
One of the main draws of a suit is directing attention to your face, so when matching your suit to your skin tone, you want to choose an option that isn't going to distract from the 'main event.' High contrast complexions want to choose a high contrast look, a dark suit complemented by a light-colored shirt. In contrast, low contrast complexions should look for three-piece suits that offer a more even, monochromatic look. Medium complexions have a bit more freedom with their colors and should make sure to dress up dark-colored suits of navy and black with a black color shirt or bright accessories. 
Women rocking their suit with a cool skin tone will look suitably fashionable in colors of striking blues, minty and natural greens, and berry reds. In contrast, a warmer skin tone should choose more natural colors such as earthy red, burnt oranges, khaki greens, and luxury chocolate browns. 
Picking a Suit Jacket
The most important part of your suit is the suit jacket. There are a few recommendations to follow when choosing your suit, whether as a full set or buying individual pieces – make sure you match the color and material to not look like a patchwork! 
The Fit of your Jacket
Unless you have the cash and know of a good quality tailor, try to avoid buying suits that don't fit or are too large. Adjusting your suit jacket can be an expensive and tricky job that may change what you liked about the jacket in the first place. Remember, a well-fitted $50 suit will look leagues above a $2000 suit that doesn't fit you at all, regardless of colors and brand. 
When trying the jacket on, make sure it fits snugly but doesn't bunch or create an 'x' mark across your torso – this is a sign the jacket is far too tight. Your suit jacket should fit comfortably but not loosely, if you can fit two closed fits in the space between your jacket and your chest – the fit is too large, and it's time to go smaller. 
Suit Sleeves
Regarding your suit jacket sleeves, they shouldn't be comically oversized and reach past your hands but also shouldn't fall halfway up your arms. With your arms down by your sides, your suit sleeves should fall between your wrist joint and the first knuckle of your thumb and not be restricting. With a dress shirt on, your sleeve should reveal between a quarter to a half-inch of your shirt sleeve, which should fit up to the first knuckle on your thumb. 
Suit Jacket Length
Your suit jacket's length is another aspect that needs to be right to ensure a smart appearance. At the back of your jacket, the hem should fall halfway across your buttocks, where the natural curve starts to fall towards the top of your legs. Another way to mark suitable length is with your hands down by your sides, you should be able to cup the hem of your suit jacket in your hand – if you have to reach, the length is too long, or if you have to bring your hand up to cup the hem, your jacket is too short. 
The Quick Smooth and Flat Test
With your suit jacket and shirt on, give a turn in the mirror and take a look for any bumps, rumbles, and bunches in the fabric, twisting in the sleeves, or straining across the front of your torso. These are all easy to notice indications that your suit jacket isn't fitting correctly, and you should find a smaller or larger size. Your suit jacket should look smooth and flattering, especially down your arms and across your shoulders. 
Accessorizing Your Suit Jacket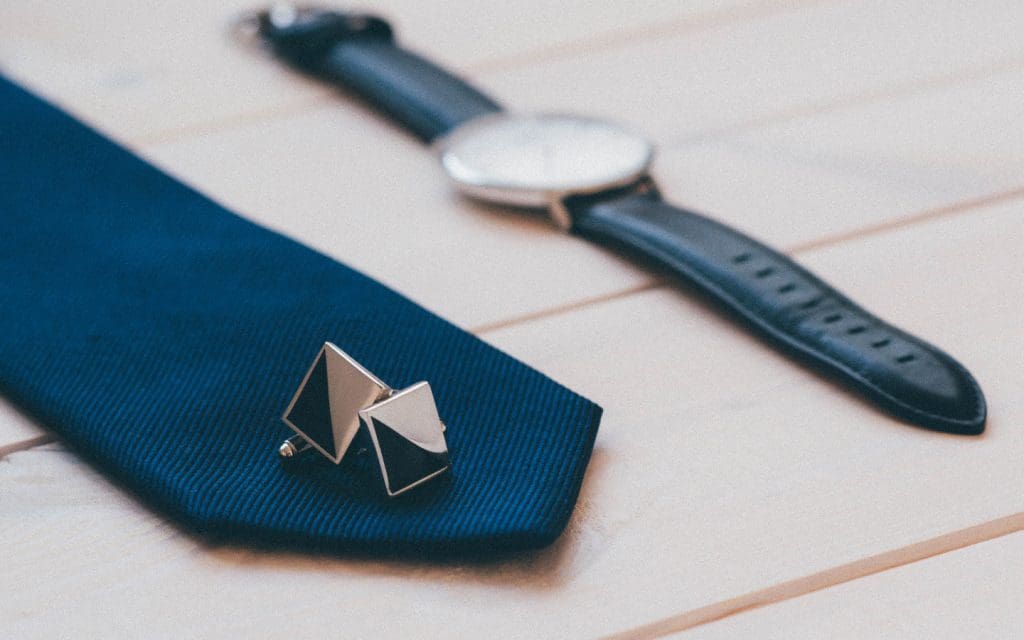 With a suitably fitting suit jacket acquired, it's time to consider the types of accessories you need to accompany your stylish facade. There are several options to include in your look, all of which can bring a flash of color and functionality; cufflinks, tie pins, and shirt studs. You can also choose to wear some classy jewelry, including bracelets and suit pins and add some color to your suit with a suitable tie and pocket square. 
Functional accessories are a bonus to a good-looking suit and can help keep your appearance tidy throughout the night. Cufflinks keep your shirt cuffs tidy together and prevent them from flapping around or landing in your dinner, while a tie pin offers the same functionality for your tie, keeping it secured to your shirt. Shirt studs can normally be bought as a set with cufflinks and occasionally matching tie bars, keeping everything consistent across your look with matching metals and embellishments or patterns. 
Bracelets and suit pins should complement any colors used for your functional accessories, and the same with your tie and pocket square. Complementing colors keep your appearance neat, while carefully chosen contrasting colors can also look incredible. 
The last accessories to consider are your shirt, belt, and shoes, which should always match in color or tone, sticking to black leather or neutral colors. If you are wearing a bag, make sure this matches your shoes too. 
Everybody should have a well-fitted suit that bolsters their confidence and don't forget. You don't have to buy numerous expensive suits to change your look. Still, you can alter your chosen accessories to offer a completely different style! 
Featured Image by Roger Purdie from Pixabay