The following post is from Katie of Kitchen Stewardship: 15 Ways to Reuse Plastic Grocery Bags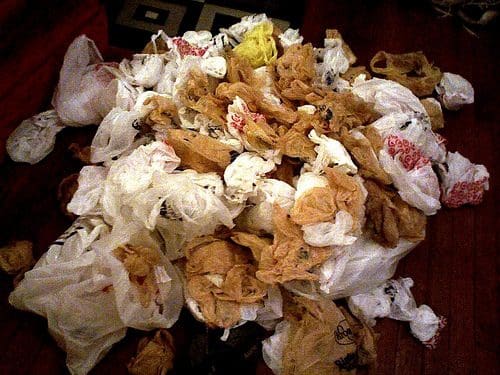 Although we all think about December as a season of giving, more trash will be generated this month than any other time of year. That's not a gift the earth wants to receive.
One simple way to reduce our waste is to reuse what's already here. Although most of us probably are using reusable grocery bags by now, there are still gazillions of plastic grocery bags (technical term) used every day.
Since they're out there anyway, here are some ideas to reuse or re-purpose them.
1. Take a lunch
My husband eschews every cloth lunch bag I attempt to give him; he always prefers a plastic grocery bag (so classy, right?).
2. Garbage can liner and car trash
I know some people let their garbage go "commando" without any liner, but there are some things I don't want touching my garbage can. I'd rather throw away a plastic bag than wastewater and my time cleaning the can every week.
3. To give stuff away
When folks are leaving your house trying to carry a few items they're borrowing, it's helpful to be able to offer a bag for them to toss their things into. The same goes for delivering food or gifts to others' houses.
4. Dirty diapers
I now have a "wet bag" for diapers, which is great, but I used to always have a few plastic bags in the diaper bag. It's much more polite to bag your poopy diapers before tossing them at a friend's house, or better yet, take them home with you. I prefer to use bread or banana bags rather than grocery bags, but in a pinch, they're great. I still keep one in the diaper bag for emergencies when I leave the wet bag at home.
5. Bagging up messy stuff for the garbage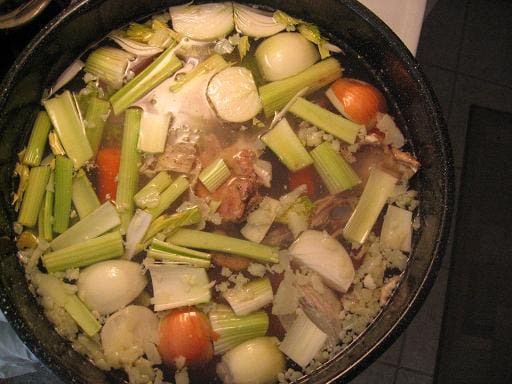 If you make homemade chicken stock, you know the mess that you have to throw away. I find it helpful to contain the juicy waste in a plastic bag to make an attempt at avoiding leaky, greasy messes on the bottom of the garbage can. Sometimes you also just have to take some food waste directly out to the outside garbage and need a container.
6. Produce bags
Sure, you can buy a nice mesh bag with a drawstring made specifically for bagging your own bulk produce, but those beauties are pretty expensive. Until you feel the need to fork over $10 for 3 bags, just reuse plastic grocery bags (or the produce bags themselves) until they get something sticky or gooey on them. At that point, use them for use number 5 before throwing them away.
7. Save paint brushes or rollers for later
Don't you agree that cleaning up can be the longest and most arduous part of painting walls? Between coats or when interrupted by well-meaning children or other responsibilities, just stash your brushes and rollers into a plastic grocery bag, tie the bag handles around the brush handles, and pick up where you left off.
source: Katie Kimball
I can only guess how many gallons of water we saved using this trick when painting a few rooms recently.
Bonus idea: For a free drop cloth, cut open dry cleaning bags and lay them flat.
8. Swimming suits and wet stuff
Unless you have a wet bag of some sort (expensive if you're not doing cloth diapers), there are many occasions when wet swimming suits or other items (winter gloves and hats come to mind) need to be transported. A plastic grocery bag is the perfect disappearing size to have along for any opportunity.
9. Dirty laundry in suitcases
Every suitcase in our house has a grocery bag permanently tucked into the front pocket. Separating dirty clothes before coming home makes laundry so much more efficient.
10. Pet poop
Although I don't have a pet, I see people carrying grocery bags for poop pickup when they walk their dogs. However, it strikes me that that's throwing away a lot of plastic bags. I would hope an eco-friendly family couldn't even generate the quantity needed for a twice-daily dog walk. I'd rather see the bags sit in the car for an emergency stop and use one of those shovel scoopers for regular walks.
11. Separating stuff in the freezer into categories
I have plastic grocery bags in my freezer for smoothie supplies, baby food cubes, shredded cheese, and more. This way I can move items around more quickly (3 or 4 bags to grab instead of 10 or 20 Ziplocs) and keep like things together. My smoothie making has become much more efficient since I started putting all my supplies together, even a little package of kelp powder that doesn't need freezing.
12. Donate to schools, especially kindergarten classrooms
Particularly in urban schools, you'd be surprised how many kindergarten students don't have backpacks. Many teachers I know keep a stash of plastic grocery bags to contain notes and homework when a child is without. Art classrooms can also often re-purpose many "trash" items; just ask your teachers or principal if there's a need.
13. Do crafts with plastic bags
Have you seen plastic grocery bag purses and mats? Some people are so creative. You can weave plastic bags into mats for the homeless, crochet bags into sleeping mats for third world countries, or just make a tote bag or children's play mat for your own home. I saw some sitting mats at our children's museum during an outdoor performance, and let me tell you – they're super cute and functional.
14. Wrap holiday decorations or fragile items for storage
Plastic bags can keep things together and provide some padding when storing holiday items and other pretties you aren't currently using.
15. Instead of packing peanuts for mailing packages
We all know Styrofoam packing peanuts are no good. So, reusing those is the best practice. If you don't have any on hand, plastic grocery bags can keep your packages safe while they travel. Just ask the person on the other end to reuse or recycle them, too.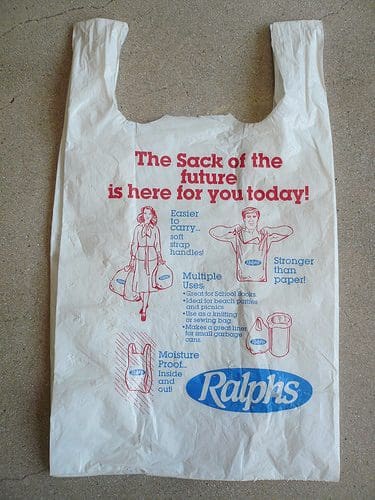 Paper, Plastic, or Neither?
I know a lot of these functions can be accomplished with paper or cloth bags, but as long as plastic bags might come into your house (or you still have a stash from when you used them as I do), you might as well re-purpose them before recycling.
Besides that, they're free.
Other resources:
How do you reuse and repurpose bags that end up in your house?

Katie Kimball has been "green" since 5th grade when she read 50 Things Kids Can Do to Save the Earth. She remains slightly disappointed that she didn't actually save the whole thing back then, but now that she has 3 kiddos counting on her, she keeps plugging away hopefully. Katie blogs at Kitchen Stewardship about real food and natural living and is the author of Healthy Snacks to Go and other eBooks, available for Kindle.