The following post is from Jessica of GoodCheapEats and LifeasMOM: 5 More Easy Pantry Meals for Busy Weeknights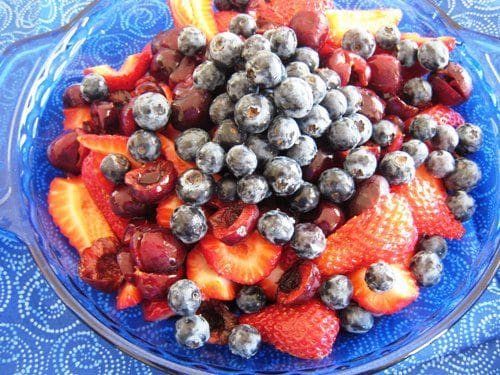 Dinnertime can be a crazy affair at our house. With six kids hungry and a husband, too, I can be pressed to get all the components on the table in short order. I want us to be able to savor mealtimes and not feel rushed. And I love it that we can reconnect with one another after a long day.
One thing that I've found to be helpful in meal planning is to have the meals build on each other throughout the week. In last month's Pantry Meal Plan, leftover meal components from one night enhanced dinner on a second night. Sharing ingredients from night to night not only prevents waste, but it also helps save time. Prep work can be done in advance for a number of meals. Also, once you try, you'll realize how life-changing can be to prep chicken ahead of time.
Bacon and Chicken are two fantastic proteins that go well in a lot of different applications. They are the stars in this month's Pantry Meal Plan, featuring Bacon and Cheddar Quiche, Baked Chicken, Chicken & Rice Soup, Mac & Cheese, and Sandwich Night. You'll find these meals easy to pull together, and several parts of each meal can be prepared in advance.
Solve a week's worth of dinner dilemmas by keeping the fixings for these five easy meals on hand. They're regular pantry and refrigerator staples that can come together quickly for great tasting suppers.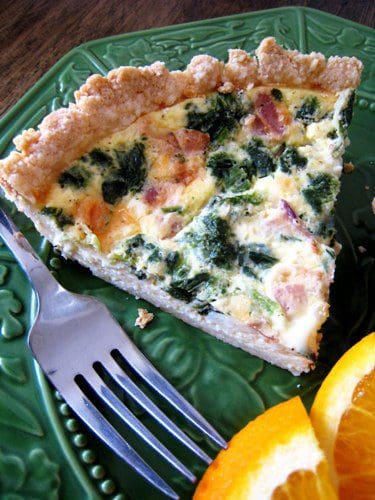 Want to make it even easier? Print out this printable shopping list and stock your pantry this very weekend.
The Staples
frozen or refrigerated pie crust
eggs
cream
butter
cheddar cheese
sour cream
bacon
bone-in chicken breast
frozen, chopped spinach
green beans
carrots
broccoli
lettuce
tomatoes
onion
in-season fruit
rice
chicken broth
macaroni
salad dressing
2-3 rounds focaccia bread
source: Good Cheap Eats
The Meal Plan
This quiche is a quick one to prepare. For this week, use cheddar cheese instead of swiss. While you prep for it, think about the other nights in the week. Cook the whole pound of bacon. Crumble part of the bacon for the quiche and save the other slices for sandwich night. Grate cheese for the quiche, slice some for sandwiches, and cube more cheddar for the Mac and Cheese. As you prepare a green salad, leaf extra lettuce for sandwiches.
Baked Chicken, Rice Pilaf, Steamed Carrots & Green Beans
My children absolutely adore baked chicken. And it's a no brainer. Simply rinse the bone-in chicken breasts, season generously with salt and pepper and bake at 375 ° for about 45 minutes. The rice pilaf comes together quickly for an elegant side dish. Steam carrots and green beans.
But think ahead to the other nights. Bake extra chicken and save 2-3 breasts for the soup and the sandwiches later in the week. Put aside a cup each of the rice, carrots, and green beans for soup.
Chicken and Rice Soup, Focaccia
Soup is not difficult to make from scratch. Chop an onion and saute it in a little butter. Stir in 6 cups of chicken broth. Add the diced, cooked chicken, rice, chopped green beans, and chopped carrots leftover from the Baked Chicken night. Simmer. Season with salt and pepper. And add a few pinches of your favorite herb, like dill weed or thyme. Serve one round of warmed focaccia on the side.
With only five ingredients, this macaroni and cheese is the easiest on the planet. Stir cooked macaroni into a mixture of sour cream, cubed cheddar cheese, salt, and pepper. Bake until hot and bubby. Serve with steamed broccoli and a layered fruit salad on the side.
Chicken, Bacon, and Cheddar on Foccacia, Soup
What could be easier than sandwich night? Having all the ingredients prepped ahead of time! Slice the focaccia rounds horizontally. Layer on shredded chicken, bacon, sliced cheddar cheese, lettuce and tomato. Serve with a cup of leftover soup on the side.
Planning my meals so that they build on one another is one of my favorite short cuts in the kitchen.
Click here to download or print this meal plan and shopping list.
What's a kitchen shortcut that you like to take?
| | |
| --- | --- |
| | A foodie at heart, Jessica Fisher has learned to reconcile a tight budget with her love for great food. As a busy mom of six voracious eaters, she regularly shares healthy, delicious and budget-friendly recipes at GoodCheapEats. She also writes at her parenting blog, LifeasMOM. |