The following post is from Krystal of Krystal Griffin Photography: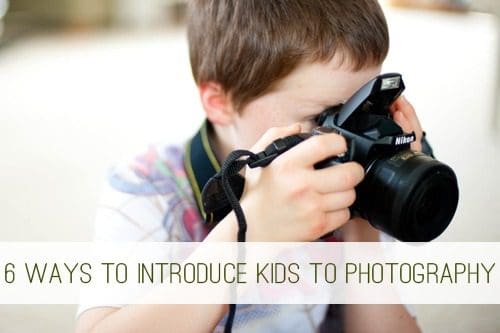 It is said that at their youngest ages a large percentage of children see themselves as an artist.  It's only as they grow older that they begin to doubt themselves and lose their youthful delight in creativity, also losing their identity as an artist.  Photography is a fantastic medium to help our children pursue and retain an interest in the creative arts.
Let me provide six steps to get your kids started with photography.
1. Give them a little information and secure straps
Whether the camera you allow your children to use is the only one you own, a hand-me-down, or your older camera you will certainly want to protect it.  A short conversation with your children about the danger of dropping, forceful banging, and water would be a great place to start – even before they are allowed to touch it. Once you have covered camera safety, make some adjustments to your straps.  If it's a wrist strap you might put a knot in it to fit your child's wrist.  A DSLR strap adjusted to its shortest length should keep it on your child's chest rather than perilously swinging at their waist.
2. Start simple
When it's time to switch the camera on and show them how to use it, start with teaching just a few bits of information.  The On/Off switch, shutter release, and reviewing images might be where you start.  You want to keep the fun in it, not overwhelm them.  I have found that teaching three or four pieces of information is enough for my elementary-aged kids.  Then, I set them off to have fun.
3. Layer the information
While teaching three or four bits of information is a good place to start, you certainly don't want to stop there.  This is where layering information comes in.  Let's say they know how to turn the camera on, review images, and be still while squeezing the shutter.  Next, you might show them how to choose a focus point, shoot from an angle that has the best light, and delete their unwanted images.  Just keep refreshing and layering information each time they get a chance to use the camera.
4. Allow freedom
Once they are off and running (not literally, of course!) with the camera, try to give them as much freedom as you can.  Let them fill the memory card right up!  We are in the digital age. After all, it isn't as though you must print all the images they take.  Although you might have to teach them how to cull through their images, only save the best ones. Betsy McCue Pictures suggests encouraging them to also take candid and unposed photos since these can oftentimes tell powerful stories and be more meaningful than posed shots. The freedom you give them will help them retain the joy as well as allow them to find their own creative voice.
5. Offer a Goal
At times it may be overwhelming for them to get started, and they may be looking to you for direction on a subject to photograph.  This is the time to offer a goal to get them started.  If you are on a nature walk, you might ask them to find three wild animals. Stuck in the house, they could photograph only yellow (or some other color) things.  It could be anything and before you know it, they will have no problem finding things to photograph on their own.
6. Spend time enjoying good photography
One way to help your children recognize quality photography is to spend time enjoying it with them.  There is a plethora of places to find good photography online and in the library.  Just flipping through a book, magazine or website will help them to recognize a quality image when they see it.  You might ask them why they like an image or point out what you like.  Both of you may find patterns to which photographs are favorites.  This kind of "study" will inherently help them to know what to look for in creating their own images.
How do you encourage your children's photography (or other art)?
Krystal is a stay-at-home mom of four children, ages 4-9, whom she homeschools. She is acutely aware of how fast her children are changing and is passionate about keeping family memories alive through photographs. Now and then she gets to help other families bottle up their own memories at Krystal Griffin Photography.