The following post is from Krystal of Krystal Griffin Photography: What I Wish I Knew the First Time I Picked Up My DSLR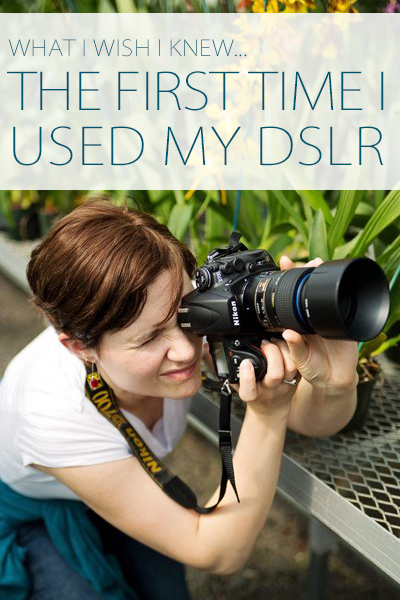 A little over four years ago I picked up my first DSLR.
I owned a few SLR and point-and-shoot cameras, but it hadn't occurred to me that I needed to learn how to use them in order to improve my photos.  I was happy with what they produced – and then I started looking at more photos on the internet.
That changed everything.
I saw beautiful, amazing images.  And I'm not talking about scenes from the tropics or European cities.  What I saw was so close to what I was viewing every day, with my own eyes, in my own home.  These were images of everyday life, capturing the beauty that I saw but didn't know how to create with a camera.  That experience filled me with a hunger to learn how to capture these fleeting moments for myself.
Somewhere in this time span I bought a Nikon D60 (entry-level DSLR) and stumbled around trying to figure out how to make it produce something wonderful.  I hit a period of frustration in trying to learn.  I say "trying to learn" because I couldn't seem to find a great source to learn from.  Sure there were books, but I had no idea what I was looking at or what to buy.   In four years things have exploded in the area of photography education for free or buy.
There are some things I wish I knew back then.  Some books, blogs, and other bits of advice would have been wonderful.  If you are brand new with your DSLR and feeling frustrated, take heart!  The most difficult part is getting started!
Here are 8 things that I wish I had known when I started out with a DSLR:
1. My Three Boybarians 31 Days Series
During that beginning stage of learning, I stumbled on a blog called My Three Boybarians.  Darcy, the author, held link-ups once a week, and I would participate in my effort to grow and learn.
About the time everything started to click and I had a good grasp on the basics, Darcy started her first 31 Days Series.  It covers the basics step by step and I found myself thinking "Oh, what I wouldn't have given to have this months ago!"  The series is broken down into easily digestible chunks, and she does a wonderful job teaching the concepts.
She then came out with a second series that built on the first.  Those 62 posts are the first place I send people when they tell me they want to learn.
2. You don't know what you know until you know it.
As I was trying to absorb the concepts related to exposure in manual mode, I thought I was having a mental block.  I would go over the information repeatedly and from new sources, thinking that I didn't understand it at all.  After looking at one source that spoke to my learning style, it all clicked, and everything I had been studying suddenly made sense.  Here I thought I was totally lost, but it took some time for all the information to stick and then make sense in an applicable way.
3. Digital Photography School
While I was busy Googling my many questions, I spent a lot of time at Darren Rowse's Digital Photography School.  It took me a little time to get past the basic design of the site (it's since been updated), but I soon realized it was the place I most often found my answers.  It wasn't long before I searched there before I turned to Google.
4. The manual, the manual, the manual!
Yes, I know your camera manual seems to speak a totally different language, but it is truly your best friend.  I wish I had spent more time struggling through each section of the manual, getting to know my camera better.  It's a basic foundation to learning your camera, and learning your camera is the foundation for creating great images.
5. Buying more stuff will not help your images.
I was very tempted to buy a nicer camera body early in my learning.  My budget-conscious husband kept me in check, for which I am very thankful.  The average user doesn't need more than they have, they just need to know how to use it.  I think the eye-opener for me was seeing an amazing photo that someone took with my same camera model.  Then I knew that it was the user, not the camera.  Learn from my mistake and put your energy into learning to use what you have, not pining over the equipment you don't have.
6. Two Solid Books
Brian Peterson is a photographer and author who has written a number of books teaching the basics of photography.  I asked around for book recommendations and couldn't find any answers.  If I were asking myself this question today I would recommend two of Mr. Peterson's books to start with, though I have read many of his other titles and learned a lot from all of them.  The two to start with are Understanding Exposure and Learning to See Creatively.
7. Infographics
Oh, how I wish I had seen infographics when I was starting to learn.  You see, I am a visual learner and all the textbook studying in the world wasn't going to be enough.  I looked at a book that diagrammed one aspect of exposure and I finally got it.  Right now you can find dozens of infographics on almost any aspect of photography, especially exposure, a key concept to understand.
8. You CAN do it!
There was a phase when I wondered "What am I doing? Maybe this is too much for me?  I'm not a photographer!"
I had it stuck in my head that there were professionals who took amazing images, and then there were normal people (like me) who took mediocre snapshots and occasionally got lucky with a beautiful photo.  But I'm stubborn, and I wanted my family photos to be amazing; I was going to learn this. 
If you are thinking some of the same things I was or maybe just feeling overwhelmed, I want you to know that you can do it!  You can learn how to use your DSLR camera and take amazing images.  You don't have to be a professional.  Do not be intimidated, just get started!
What photography question do you wish you could get an answer for?  Or have you found it to be your best resource to learn?
Krystal is a stay-at-home mom of four children, ages 4-9, whom she homeschools. She is acutely aware of how fast her children are changing and is passionate about keeping family memories alive through photographs. Now and then she gets to help other families bottle up their own memories at Krystal Griffin Photography.