Over the past few years, as our family has grown and our kids have gotten bigger, our grocery budget has become a source of stress for me. We went from spending $100 a week to barely making $200 a week stretch far enough, and I found myself skimping constantly—using less meat, buying fewer snacks, and running out of produce.
It took me forever to try Aldi because it's so different from what we're used to. It's a tiny store with maybe two brands of each item to choose from…if you're lucky. And I didn't want to make multiple stops to get my groceries each week.
But last year, I decided to give it a chance, and after a few weeks, I was hooked!
These days we make a big Aldi run every two weeks, filling two big carts full of food until our fridge and pantry are overflowing…and we rarely spend more than $300. I buy way more snacks, way more produce, and splurge way more often (like crab cakes for an at-home date night or a hyacinth for the kitchen) and still don't break the budget.
I've gotten good at quickly working my way through the store, grabbing what we need, and making a short "extras" list for Walmart with what I can't find.
That list includes things like light olive oil (although I do find this at Aldi, I stock up!), certain cuts of red meat, and various spices and specialty items they don't carry. It also includes a relatively short list of items where we have brand preferences—hotdogs, chicken, mayonnaise for the family, and lunch meat and bread for my husband.
It took me several months to get familiar with what Aldi does and doesn't carry, but now that I am, I find I can get the bulk of my list there. And we could certainly make do with only the items they carry if I planned accordingly!
On the other hand, there are things we now buy that I would never buy, even at Walmart, because the prices are just too high—things like the aforementioned crab cakes, naan bread for individual pizzas, prosciutto, and yogurt cups.
Even though I've been singing Aldi's praises for a year now, I am still amazed by the prices and how much food I can get every single time I go. It's an incredible feeling to be able to fill your fridge and pantry with good food without stressing about the budget, and it's not a blessing I take for granted!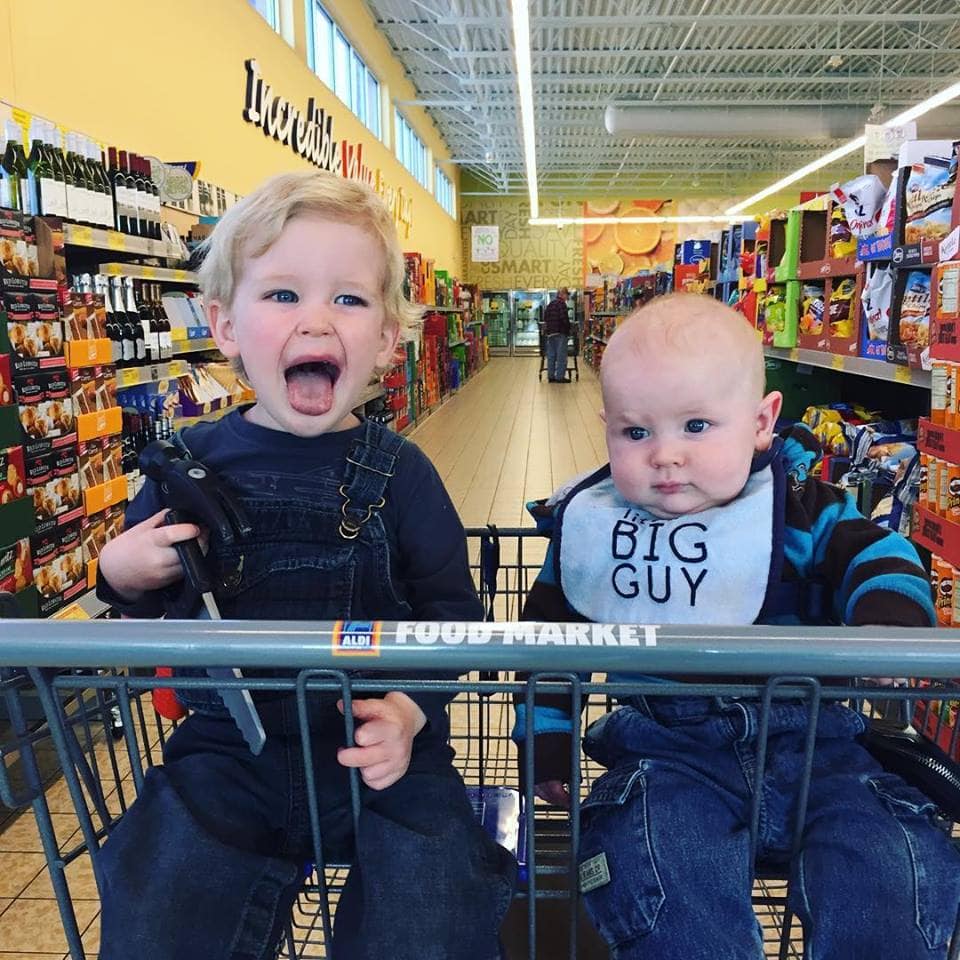 Look at those tiny boys last year! <3
My top tips for shopping at Aldi
As I mentioned, the Aldi shopping experience is much different from that a traditional grocery store. That can be overwhelming at first, but I've come to enjoy the differences.
Here's what you need to know before you go:
1. Bring a quarter. One of the first things you'll notice at Aldi is the only way to get a cart is to insert a quarter into the handle and unlock it. You'll get your quarter back when you put the cart away, which is incredibly effective at keeping the parking lot clean and avoiding the need for an extra employee to chase them down. I try to always have a quarter in my wallet, but when I do forget, I just run in, and a cashier changes a dollar (or smaller coins) for me.
2. Be prepared to bag your own groceries. Another huge difference is that the cashier does not bag your groceries for you. (Another way that they limit the number of employees needed in each store so they can keep prices down.) Instead, they'll scan your groceries and load them back into a cart at the end of the lane. You leave your original cart with the cashier and push the one they've filled to the store counter to bag your groceries. Aldi brand grocery bags are awesome, and at pennies each, I buy them when I need them and reuse them repeatedly.
3. Aldi now accepts credit cards. For a long time, Aldi only accepted cash or debit cards, but they now accept credit cards as well so you're able to choose your payment method for essentials as well as guilty pleasures.
4. Make a list, but know that you won't find everything you need. If I'm not sure whether Aldi contains a specific item I'm looking for, I'll add it to my list anyway. When I'm done, I move over any items I didn't find to my Walmart shopping list.
5. Always stock up on the things that are on special buy. Okay, this is true at any store, but the Aldi sale prices are SO good that I really make this a habit now. I've seen eggs as low as $0.29/dozen (with a limit of 6 per shopper), grapes for $0.99/bag, etc. I stock up on pantry items when they're on sale, but my kids also know that we'll buy extra of whatever produce is on sale each week in addition to the items that are on our list.
 6. Their take & bake pizzas are perfect for after a big haul. By the time we shop for and bag two weeks' worth of food and then come home and put it all away, I'm flat-out exhausted, so we usually pick up one or two of their take & bake pizzas for dinner. They're inexpensive ($4.49-$4.99 for five kinds of cheese!), big, and delicious!
My most recent Aldi shopping trip
And finally, here's what I bought on our most recent 2-week trip, for a total of $294.76!
Bread
2 packs of hotdog buns, 1 pack of hamburger buns, $0.85 each
2 loaves of white Italian bread, $1.39 each
3 loaves of whole wheat bread, $1.39 each
1 pack of naan bread (4 ct.), $3.49
2 packs of flour tortillas, $1.49 each
2 packs of bagels, $1.59
Snacks
20 baby food pouches, $0.79 each
tortilla chips, $0.99
prunes, $3.89
4 packs of fruit cups (4 ct.), $1.69 each
organic all-fruit strips, $3.99
2 boxes of cinnamon graham crackers, $1.49 each
whole cashews, $4.69
salsa con queso, $1.99
2 boxes of round butter crackers, $1.59 each
2 cans of Pringles, $1.45 each
Frozen
Phillips frozen crab cakes (2 ct.), $5.99
seasoned french fries, $1.75
Produce
baby carrots, $0.99
bag of mandarin oranges, $3.99
sweet onions (2 lbs.), $1.99
sweet potatoes (? lbs.), $1.99
grape tomatoes (1 pt.), $1.99
white sliced mushrooms, $1.29
3 cucumbers, $0.29 each
2 packs of caesar salad, $1.99 each
fresh cilantro, $0.99
3 pk. of zucchini, $1.99
celery, $1.29
roma tomatoes (1 lb.), $0.79
3 pk. of romaine hearts, $2.49
cauliflower, $1.99
red onions (? lbs.), $1.49
carrots, $1.29
red grapes, $4.38
fuji apples (3 lbs.), $3.49
gala apples (3 lbs.), $3.49
asparagus, $3.49
flat leaf spinach, $1.79
bananas (9.29 lbs.), $4.62
green beans, $1.49
petite yellow potatoes (? lbs.), $2.99
lemons (? lbs.), $2.99
2 big packs of blueberries, $1.49 each
Canned & Boxed
2 cans of pineapple chunks, $0.99 each
dried kidney beans, $1.99
dried black beans, $1.99
baked beans, $1.39
4 cans of pumpkin, $0.99 each
blueberry shredded wheat cereal, $1.99
multigrain oats cereal, $1.79
honey puff cereal, $1.99
crispy rice cereal, $1.39
Honey Nut Cheerios, $2.64
corn squares cereal, $1.79
2 jars of fruit spread, $1.99 each
pure maple syrup, $6.49
italian dressing, $0.89
2 bottles of organic ketchup, $1.69 each
old fashioned oats, $2.39
organic honey, $3.49
hot cocoa packets, $1.29
2 boxes regular mac & cheese, $0.33 each
6 boxes of organic mac & cheese, $1.29 each*
*I don't normally buy organic mac & cheese, but my kids wanted white cheddar, so we made this one of our splurges for the week!
Meat
ground beef patties, $5.34
2.34 lbs ground beef, $6.44
prosciutto, $2.99
breakfast sausage, $1.99
turkey kielbasa, $1.99
honey ham lunch meat, $2.49
smoked turkey lunch meat, $2.49
chicken thighs (? lbs.), $4.06
pepperoni, $2.19
hickory bacon, $4.49
Dairy
sharp cheddar block, $1.89
2 packs of sliced cheddar, $1.99 each
2 packs of butter quarters, $2.69 each
2 bags of shredded sharp cheddar, $2.69 each
27 cups of yogurt, $0.39 each
4 cartons vanilla almond milk, $1.99 each
2 gallons whole milk, $2.76 each
orange juice, $2.09
6 doz. eggs, $2.94
Miscellaneous
hyacinth in a vase, $2.99
2 take & bake pizzas, $4.49 each
TOTAL: $294.76
And what I bought at Walmart…
When I decided to photograph and record everything we bought last week, my plan was to shop at Walmart two days later and record that list for you as well. Unfortunately, we ended up being hit hard with the stomach flu, and we didn't leave the house for nine days. That also means that we ate much differently while we were sick (we all craved toast and fruit, along with simple foods like eggs), and so yesterday at Walmart I had to pick up a few of our staples as well. It's not quite a typical list, but for the sake of transparency, here's what I bought at Walmart in addition to the Aldi list above:
2 loaves of wheat bread, $2.88 each
1 loaf of white bread, $2.23
2 cans coconut milk, $1.36 each
almond flour, $10.72
coconut flour, $3.28
Hillshire Farm ultra-thin honey ham, $2.97
Oscar Mayer Selects turkey hotdogs, $2.98
Ball Park beef hotdogs, $3.48
1.65 lbs top sirloin steak, $10.46
6 lbs boneless chicken breasts, $11.94
2 bags peeled, tail-off raw shrimp, $4.38 each
fresh rosemary, $1.78
7.36 lbs bananas, $3.61
4.33 lbs pears, $6.37
broccoli crown, $0.69
6 Silk dairy-free yogurts, $1.28 each
3 doz. eggs, $3.46
TOTAL: $91.11*
*I had to calculate this manually because we bought non-food items, so don't hold me to the exact total!
P.S. Want to learn more about how I plan & shop for 2 weeks' worth of food at a time? I'm planning a special webinar to show you exactly how I do it.