Summer is upon us! This glorious fact means no more homework, more time to hang out with friends, beach time, pool time, and it is the perfect time to get tanned. Summer is the ideal time to try something new, even if it means stepping outside your comfort zone and creating unforgettable memories. The stress of ordinary schoolwork does not wear you down throughout the summer. Plus, the weather is ideal for getting out and having some fun in the sun. So make sure to take advantage of the opportunity as fall weather, hoodies, and back-to-school season are only three months away.
We have put together the perfect summer bucket list to help you make the most of your vacation.
Eating Healthy is the Key
It may come as a surprise, but the ideal way is to maintain a balanced perspective to manage summer diets. Select a healthy weight range with the help of a doctor or a dietician, if necessary. Crash dieting negatively influences the metabolism, and whatever weight loss you experience is usually just water loss. In the end, people who do a quick-fix diet gain weight.
Healthy eating requires accessibility. So, stock up on fruits and vegetables in your fridge. Redirect the food budget away from high-cost restaurants and takeout meals toward high-quality fresh items from supermarkets or farmers' markets.
Exercise
When it comes to working out, be flexible. You can develop your home workout system to address and fit your needs. Take the weather into account and figure out when the temperatures will be the lowest that day. You'll need to alter your schedule to fit in exercise during the coolest part of the day, sometimes early in the morning and late in the evening.
Summer is an excellent time to experiment with new sports and forms of fitness. Swimming, surfing, stand-up paddleboarding, and water polo are all great water sports. If you don't like being in the water, you can try volleyball, beach volleyball, tennis, or even yoga.
Learn Something New
Learning new skills does not always follow the same pattern. Learning can take place in various settings. A variety of psychological theories have developed to explain how and when learning happens. One of the most basic methods for people to learn new things is by association.
There is no way of knowing everything, but trying to learn something new every day is a terrific concept. Begin by seeking new ways to learn something new. Books and the internet can be beneficial. You can also choose a unique talent to master and practice daily. Maintain an open mind. You never know when a learning opportunity will present itself.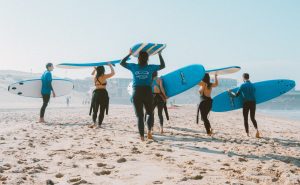 Go on an Adventure
Have fun in the sun! Put yourself in circumstances where things don't always go as scheduled, like going on an adventure trip. It can help you learn to deal with life's unknowns.
Adventures provide us with beautiful lessons and experiences, which we frequently reminisce about, especially now that most of what we are doing seems to pass by without any valuable memory. Reliving our adventures gives us the time and the ability to learn from them.
Enjoy Everyday Pleasures
It is easy to miss out on enjoyment buried in plain sight in the commotion of life. However, you can take advantage of these by improving your self-observation skills. It's critical to pay attention to any positive experiences, like how nice it feels to go for a walk, being in the sunshine, or finally doing something long overdue.
You can also keep a journal to document what you want to remember, especially those that give off positive emotions.
Make New Friends
Making friends and meeting new people might be difficult, but with a bit of effort and a determination to go outside of your usual environment, you can quickly build friendships. Get out there and seek social opportunities, like in a local club or volunteer organization. Take some time to get to know new people and spend time with them once you have started getting to know them.
You know summer is fast approaching when the sun is up and shining, and many of your favorite leisure activities are made possible by the warm, beautiful weather. It is also a great time to get to meet the better version of oneself. Of course, people could get pressured to spend it, but no matter how one chooses to do so, it is greatly important to consider what you want and what makes you happy.
Featured Photo by Elina Sazonova from Pexels