Spring is a great season for brunches. Whether you host one for Easter, a bridal shower for a glowing June bride, or for Mother's Day, brunch has the ability to be just late enough so you can sleep in and just early enough in the day that you can host and still enjoy the sunshine post-party.
Brunch foods are also spring-friendly, often relying on light, fresh early season vegetables in egg dishes or the season's first strawberries. Plus, they look fantastic with the tulips and everyone's white clothes that have been pulled out of storage.
If you're planning a brunch, head to Jessica's post on Brunch inspiration and Planning, and then grab a few of these mouth-watering recipes.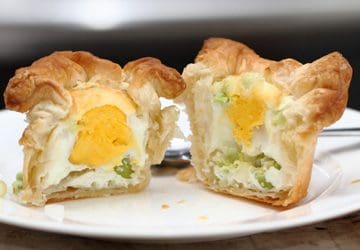 I'm a sucker for baked eggs, and these ones come with a bonus "basket" surrounding them. These are easy to make in your muffin cups and set out on a tray with tongs to serve.
Source: Eggs in a Basket | Love through the Stomach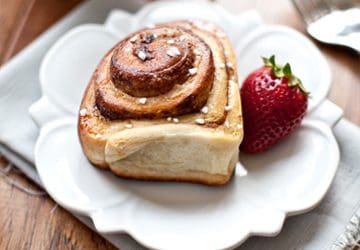 These cinnamon buns are spiced with cardamom and feature a brilliant swirl of filling. Top them with sugar pearls, a light glaze, or bake them in a caramel sauce and flip them out onto a serving tray for caramel rolls.
Source: Cardamom Cinnamon Rolls | Food for My Family

I love the idea of serving the fruit salad in a grabbable cup. For a special twist, give guests a choice of toppings like a fresh strawberry puree or vanilla yogurt.
Source: Waffle Cone Fruit Cups | The Cottage Home

Light, fluffy eggs flavored with leeks and Gruyere cheese sit atop a crisp, flaky crust in this classic quiche. A staple at any brunch, bake it in a pie plate or in an 8×8″ pan to pull smaller square portions from.
Source: Quiche Lorraine | Good Life Eats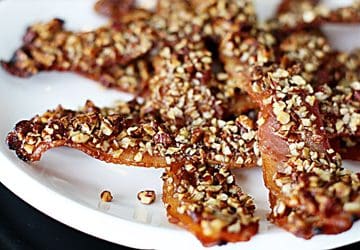 These sweet and salty bacon strips bake in the oven, making them easy to pull off for larger groups.
Source: Maple Pecan Crusted Bacon | Unsophisticook

No brunch is complete without a few refreshments. This citrus cocktail is easy to make with champagne or sparkling grape juice for a non-alcoholic version that pairs well with the egg and fruit dishes.
Source: Sunshine Dazzler | Teroforma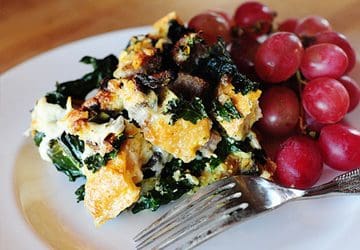 I love breakfast bakes where you can toss everything in the pan the night before and just have to remember to stick it in the oven while you prepare the rest of your meal.
This strata combines sausage, kale, and mushrooms to bring you into the savory side of brunch.
Source: Sausage and Kale Breakfast Strata | The Pioneer Woman

Make croissants easy with puff pastry, and impress your guests with freshly baked pain au chocolat to cap off your brunch fare.
Source: Pain au Chocolat | Mowielicious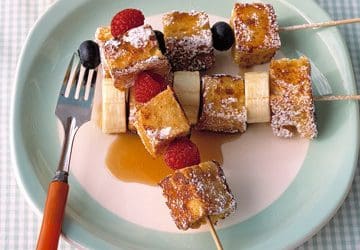 Combining French toast pieces and fresh fruit, these kebabs make it easy to stand and chat with friends and family while still enjoying your food.
Source: French Toast Kebabs | Martha Stewart
Check out more recipes to make with an immersion blender. Create your own recipe cards.
Shaina Olmanson is the freelance writer, photographer, and home cook behind Food for My Family. Cooking daily with and for her four kids and husband, Ole, drives her desire to inspire other families to do the same. Shaina is also the author of Desserts in Jars and contributes regularly to a variety of online sites and traditional print magazines.