The following guest post is from Joanne at About One: Creating a More Effective Home Office
As moms, we juggle more than most, and often our home offices show the strain of our dual role of CEO of the family and our other (slightly more lucrative) jobs. One of the joys of being the founder of a start-up is that I get to do a fair amount of my work at home while I take care of my four boys, but that means that I also need to keep my office hyper-organized in order to be the most productive and effective. Creating a more effective home office is essential.
So how have I done it? Here's a breakdown of what I've done to make my home office not only organized but a great place to get work done.
Quiet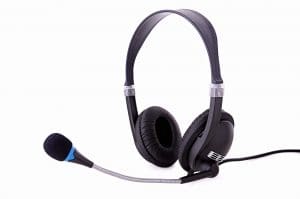 You need to have an office where you can control the sound. I like having a silent office in order to facilitate phone calls and focus, so the number one key is a door that closes. Having four boys means that I can tell exactly what they are up to even with the door closed – yes, they are that noisy. I also ensure that I can easily access my headphones for phone calls (invest in a good pair with a comfortable microphone – you'll be grateful when your conference calls last more than an hour).
Light
It's easy to let yourself work in a space with only a small amount of light, but I suggest that you make the room as light and airy as possible. During winter months you'll find it cheery, and during nicer weather, you won't resent being inside as much. This might mean multiple lamps or windows that are either bare or have the sheerest of curtains. Also, avoid large, dark desk structures; while those shelves above the desk might be nice for organizing, it can get depressing to have a lot of dark wood at eye level. Have the shelves next to the desk rather than on top of it so that your desk is brighter. Working in darkness will only make you want to leave the area as soon as possible, so indulge in making the light beautiful.
Tackle Paperwork as it Enters Your Life
I try very hard to make sure paperwork doesn't pile up. The approach that works best for me is to tackle paperwork as it enters my life. I make a point of scanning and filing it or recycling/shredding it daily because once piles start to build, it's very difficult to regain control. For environmental reasons, I'm also a firm believer in a paperless office, which is why I founded a company that helps you minimize paper filing systems through cloud storage. At my company, we collaborate with digital documents in the cloud, so there is rarely a need to print. Using the cloud for document storage is not only safer than a home filing system; it also allows you the freedom of tossing your filing cabinets so you have more space in the office.
If you use these three tips, you'll be able to get your work done in your home office. Because after all, your ability to get work done is definitely impacted by the effectiveness of your workspace.
Do you work from home? Do you have a dedicated office space?

Featured Image by Candid_Shots from Pixabay
Joanne Lang is a mom of 4 boys, a wife, and the founder and CEO of AboutOne, an online family organizer that turns your phone into a remote control for your life, working with your existing calendar and contact tools so you can automatically organize, store, and share family memories and household paperwork. Through web and mobile apps, AboutOne guides you along the path to organization, rewarding you along the way for meeting your organizational goals.