These felt button trees are one of our very favorite Christmas crafts; we've made them with each one of our preschoolers at least once because they're so simple but so fun.
As our girls are getting older, I decided they needed a more advanced ornament craft to keep them busy. All four of them enjoy sewing projects, and these simple felt ornaments are perfect for kids with beginner and intermediate skills.
I recommend using the large ornament template and a 1/8″ hole punch for younger children to pre-punch the holes, like the classic sewing cards. You could also use a light pencil or pen to mark where they should sew, but the needle can be difficult to get through the felt for little hands, and pre-punching makes it much easier to focus on the sewing and not force the needle through!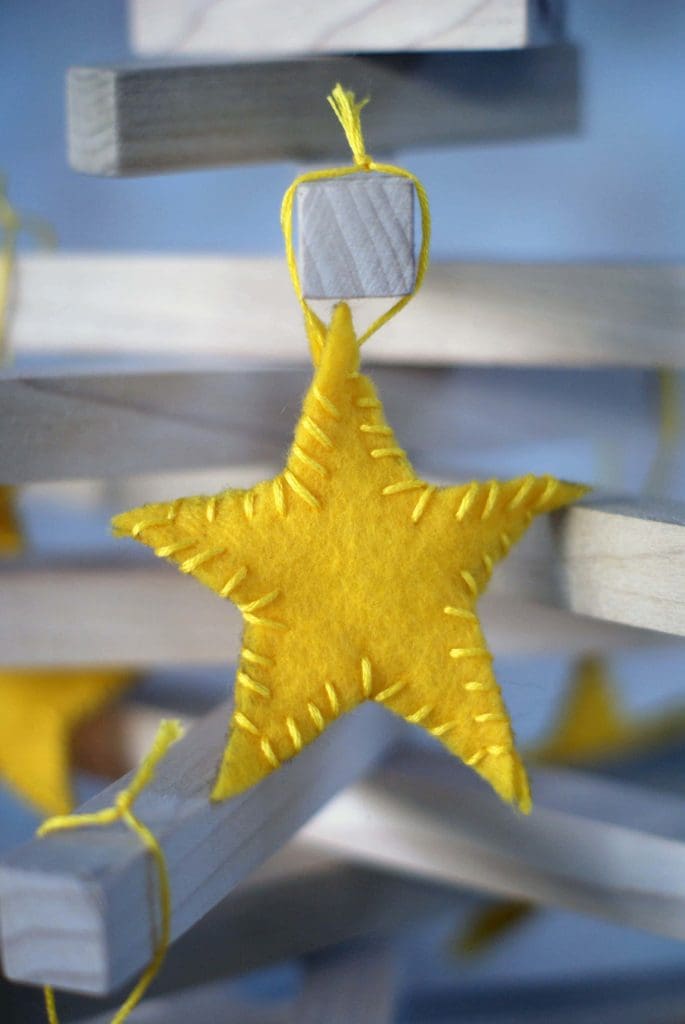 Supplies:

felt
matching embroidery thread
large embroidery needle
pencil
sharp scissors
Directions:
Cut out the template you want to use. Use pencil or chalk to lightly trace it on your felt at least twice (you'll need two matching pieces for each ornament). Cut out the felt shapes inside the lines.
For younger children, use the hole punch to punch holes around the edge of the first piece. Lay it on top of the second and draw a dot inside each hole to align the holes. Punch holes on the second piece. Put the pieces together and begin sewing at the top.
For older children, simply place the two pieces together and begin sewing at the top. If the needle gets stuck, try moving your needle over just a little; sometimes, there are thick spots in the felt.
Continue sewing all the way around the edge. When you get to the top, tie the ends together to form a loop.
P.S. Make a whole bunch to hang on your wooden tabletop display tree!
Projects from the archives:
Join us as we celebrate 101 Days of Christmas with new DIY projects, gift ideas, traditions, and more every day from now through Christmas!