There are many benefits to owning your own home. You know you are investing, should you ever decide to sell. You also have the freedom to paint, decorate, do DIY projects, and improve any way you choose because the house is all yours.
Over time, the home you fell in love with may begin to seem outdated. There may be fixtures you once thought were beautiful that now seem like an eyesore because styles change over time.
Luckily, there are simple DIY projects you can tackle that can completely revamp the look and feel of your home, taking it from old to new.
Before starting any home improvement project, you should be sure you have some type of home insurance, like ho7, that you may need if anything should happen during your renovations.
There are many ways you can choose to improve your house through DIY projects. Most of them are relatively simple but can have a massive impact on the look of your home.
You don't need to be an expert to do many small home renovations. If there is ever a project you feel unsure of your abilities, keep in mind that you can always look for directions and help through the many resources available online.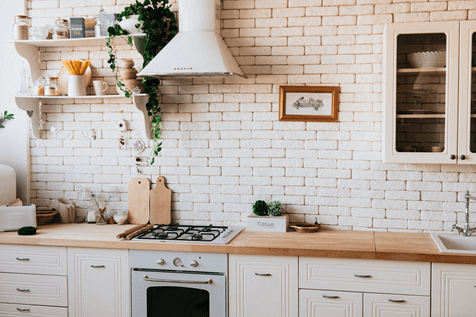 #1 – Change out Hardware for a Brand New Look
The hardware in your home is crucial to its overall look. Areas like your kitchen and bathrooms all have multiple hardware pieces in them that can really steal the show in the room. 
If this hardware is outdated, it's a sure way to make your home look older and feel outdated.
The good news is that it's not difficult to change up the hardware and give these areas a complete makeover. A simple step like changing the hardware can help you avoid a kitchen remodel pitfall.
Simply start by finding a style of new hardware you like and think will look good in your home. Then, head to your local hardware or home improvement store and look at your options. There will likely be many styles available in your selected color.
The key to making this DIY project as easy as possible is to ensure you choose hardware that lines up with the old ones you will be replacing. Some hardware is installed with only a single screw, while others have more. 
Be sure to check and find hardware that matches your installation needs. Otherwise, you will find yourself drilling or patching holes to make the new hardware work. This makes your renovation project more complicated than it has to be.
Once you have chosen your new hardware, remove the old and add the new. You will be amazed at the fresh look this can give your home. And for such a simple project, you should be able to get it done in no time.
#2 – Add Some Fresh Paint to Your Home
When most people think of painting, they automatically think of walls. But your painting doesn't have to be limited to just the walls in your home.
You can paint many things in your home to give it a refreshed and revitalized look. And an added bonus of painting is that it's a home improvement project that can reduce your stress.
Walls are at the front of the list. Adding fresh paint to walls, even if you don't change the color, can make your home look brand new again. You likely have lived with those walls for a long time, and life happens. They may have dents or scratches that could all be helped with a fresh coat of paint.
You could also switch up your wall color to give a room a brand new look. You can even opt for a simple accent wall if you don't feel completely ready to commit to a new color for the entire room. A nice accent wall can change and give you an entirely new space with just some simple paint.
Your painting doesn't have to be limited to your walls. Pieces of old furniture, built-ins, even your fireplace can all be entirely changed by painting them.
The options are endless for the facelift you can give your home with a few strokes of a paintbrush. No matter how you decide to use it, this upgrade can instantly take your home from old to new.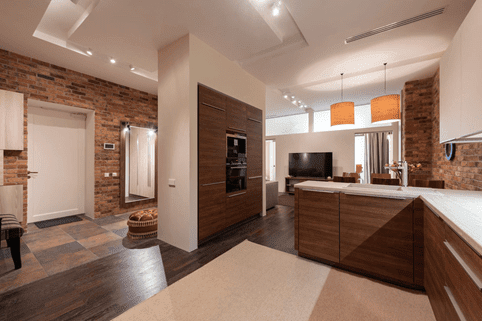 #3 – Switch out Fixtures for an Easy Update
Much like your hardware, the fixtures in your home can date it quickly. Old fixtures can make a house look its age, even if everything around them has been updated.
Items like lighting fixtures, faucets, outlet covers, doorknobs, and even curtain rods can be replaced fairly easily and allow you to give your home a whole new look.
Find a style of fixture that works well with the surrounding style of your home. You may opt for all the fixtures to have the same finish, or you may choose different ones for different rooms in your home. It all depends on your personal preference. 
If you decide to replace lighting fixtures, consider adding LED light bulbs to the new fixtures. They will not only save you money by conserving energy and keeping costs low, but they come in many different brightness levels so you can really personalize the lighting in your home.
If you want to update your fixtures without spending much money, consider combining tips 2 and 3. You can always paint your current fixtures for a brand new look for far less money.
There are many resources online to tell you exactly how to paint your fixtures and give them a makeover, taking your home from old to new before your eyes.
Simple Home Projects Can Increase Value
You might think giving your home a facelift is a difficult task. But it doesn't have to be. Take these three simple ways you can completely transform the look of your home.
DIY projects don't have to be intimidating or overwhelming. In fact, they may be a lot easier to accomplish than you think. 
The most important part of your home is that you love and enjoy it. Choose styles and items that will make you love your home more than you already do. With a bit of elbow grease, you'll see your home transform into a beautiful space you can treasure for years to come.
  Alexandra Arcand writes and researches for the insurance comparison site, ExpertInsuranceReviews.com and is always looking for new DIY projects to update her home.
Featured Photo by Nataliya Vaitkevich from Pexels