The following post is from Myra of My Blessed Life:
Old furniture is beautiful.  Many pieces are sentimental – passed down from generation to generation. Others are rescued from thrift shops, estate sales and antique shops. The quality and character that old furniture is amazing. Each piece was made with a finesse that the factory produced pieces made today just can't beat.
It is very common for older furniture to have water damage, a chipped finish and worn upholstery. Often, repairs and updates to old furniture can be done yourself.  Here are a few ways to update old furniture.
Re-finish
If you want to keep a piece's beautiful wood grain, but repair the dings, scratches and finish, then refinishing is your best bet. Whether stripping the old finish off, sanding and cleaning, or staining and waxing, the process can be very time consuming, but it's not a difficult process.
Paint
At this point in my life, I don't have a lot of time to spend in the process of refinishing a piece of furniture. So, paint is my furniture makeover tool-of-choice.  If you are a furniture painting newbie, then research is key to success. It is important to use an oil-based primer to block stain from coming through. You can use latex paint over the oil-based paint.  Distressing and waxing is always a nice touch to give painted furniture extra character and charm.  Another paint option is chalk paint which is becoming very popular because it is better for the environment and is very user-friendly.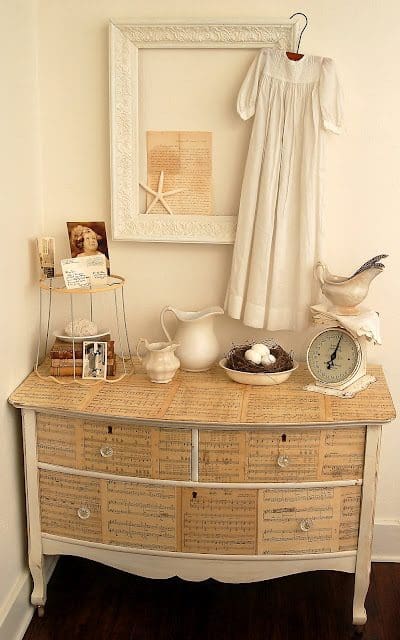 Decoupage
Besides painting, using decoupage on drawer fronts and table tops is a fun way to add extra interest and texture to furniture.  Sheet music, wrapping paper and scrapbook paper are great options for decoupage.  If you're looking for an easy way to cover up furniture blemishes, then decoupage is the way to go!
Stencil
One of my favorite details to add to a furniture makeover is a stencil.  Stenciling is easy and cheap because you just need a stencil, paintbrush and paint.  It does require a little patience, but the results are spectacular. Last Summer, I gave a laminate nightstand a makeover with spray paint, and I then added a decorative stencil to the top.
Re-upholster
Replacing the upholstery on a piece of furniture can completely transform it. Whether you choose to hire the job out or do-it-yourself, re-upholstering furniture is often a great option – especially if the furniture is well made.  Recovering dining chair seats is a simple process that I've done over the years.  Re-upholstering a chair or sofa intimidates me, but I know it can be done. I plan to try my hand at a chair re-upholstering project soon.
I hope you're inspired to look at older furniture in a different way.  Just imagine how great a piece can be with a little extra updating love.
Out of these five ways to update old furniture, have you ever tried any?
Myra has a B.A. in Interior Design and is currently self-employed. When she's not spending time with her little man, thrifting, creating, shopping or working on a project, Myra enjoys date nights with her husband and blogging at My Blessed Life.