Finding the perfect gift this holiday can be stressful. Not everyone wants a boring store gift card, especially someone looking out for the planet. Finding an eco-friendly gift should be fun and thoughtful. Here are some ideas if you have someone on your list this year and need to find an eco-friendly gift.
Doshi Bags
When it comes finding an eco-friendly vegan leather handbag can be challenging. Most vegan leather will crack and flake. But not Doshi; they have designed a tremendous vegan leather that does not crack or flack. With high-quality vegan leather and stylish fashion, it makes the perfect gift for animal and planet lovers. Doshi is eco-conscious and uses plant-based, recycled, and sustainable materials to save the earth and create a great product. Doshi even gives 5% of its revenue to charities benefiting animals, people, and environmental causes, making your purchase even better.
My favorite bag is the Little Camera Crossbody Bag. It is the perfect compact crossbody with tons of space. I am not into large handbags anymore; once your kids are grown, there is no need for a large bag. This crossbody has plenty of room for my wallet, phone, sunglasses, and reading glasses. I love the two large sections; I can carry a light sweater or book with all my personal belongings. Their soft vegan leather makes it feel link a high-dollar designer bag. With two different straps and belt loop options, I can dress it up or down depending on my day. The belt loop option was lifesaving; when I forgot my backpack hiking, I slipped it on my belt with two reusable bottles inside the bag and hit the trail.
Doshi also has men's wallets and paper belts to help you find the perfect eco-friendly gift.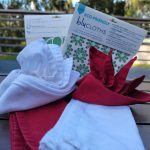 Reusable paper towels and napkins
Giving reusable paper towels and napkins might be strange. But if you have someone on your shopping list that is looking to decrease their waste and looking out for the environment. These are great gifts that will keep giving for months. I have always enjoyed using stylish cloth napkins at home. Why not make every meal feel like a holiday and use your cloth napkins all year? They are so easy to clean; throw them in your regular laundry; that way, there isn't an extra load for them.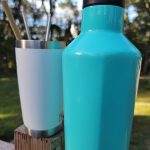 Reusable cups, bottles, and straws
There is no better gift than reusable cups, bottles, or straws. With millions of plastic cups, bottles, and straws in landfills, this makes the perfect gift for everyone in your life. I live in an area that is moving to paper straws, which is a bigger waste. I hate pulling out my straw after every sip to make sure the straw lasts the whole drink. I decided to start carrying a straw in my purse. These small items are great stocking stuffers or additions to a gift basket. Make your own DIY cloth napkins.

Plants or seeds
What better way to get back to a green plant than by gifting the perfect plant? I was just at a wedding and was given wildflower seeds as a favor. I loved it; it was the perfect little gift when we left. I was so happy to plant the wildflowers in my backfield to help the butterflies and bees for years to come. Last year I gave one to my cousin who loves plants. A simple Ginger Rhizomes plant, she loved it and using the soap it provides. Next time you buy someone a plant, take a little extra time to pick a plant that will provide for years.
I know finding a gift is hard, especially ones that are eco-friendly. I hope I made your holiday gift buying easier this year.