While designing a playroom for your toddler, always remember to use such a theme to help your kid imagine more. Add colors, fun, and interesting objects in his/her room to make their playroom a real fun place. A colorful, contrasting theme for every dimension of the room_ it just seems like heavenly fun for your kid, right? For the floor, you can place beautiful playroom rugs. You can use ceiling stickers to glitter the room for the ceiling, and a pile of stuffed toys will add more fun! 
Although you need to place a beautiful area rug to provide the basis for your theme, to take the guesswork out of decorating your child's fun space, I have enlisted five ideas on making the basis of the playroom's theme with beautiful playroom rugs. 
Don't bind yourself to a short budget:
Most of the parents stress about their small home remake budget. It always happens because they don't realize the key areas that need improvements. While thinking about a home redesign, just focus on key areas, and create a new style plan. Then estimate your budget according to your plan. Believe me, once you will create a plan for redesign, you will realize that the actual amount needed for the home makeover is much lesser than the price you predicted earlier. A small improvement on a humble budget can help wind up greater ideas. 
Therefore, when you are thinking to add playroom rugs or carpets, you can estimate the budget after considering the following factors;
Size of your room.

Quality of the area rug.

The theme of your playroom. 
The foundation of your room is the floor. Similarly, the foundation of your room theme is a beautiful rug. After considering the factors mentioned above, decide the size, budget, color, and design of the playroom. 
Design a Single Theme:
It is another big challenge for parents to stick to a single style or inspiration. Although, they can get unlimited visual inspiration for beautiful area rugs online. Once I asked a mother, "What was the greatest challenge for you to style a theme for your toddler's room" and she replied that "color, scheme, quality brand, and my budget held me back for so long to decide a theme for an area rug" I was wondered with the fact! As she could have simply searched for online rugs, read the reviews about those rugs on different platforms, and easily make a decision.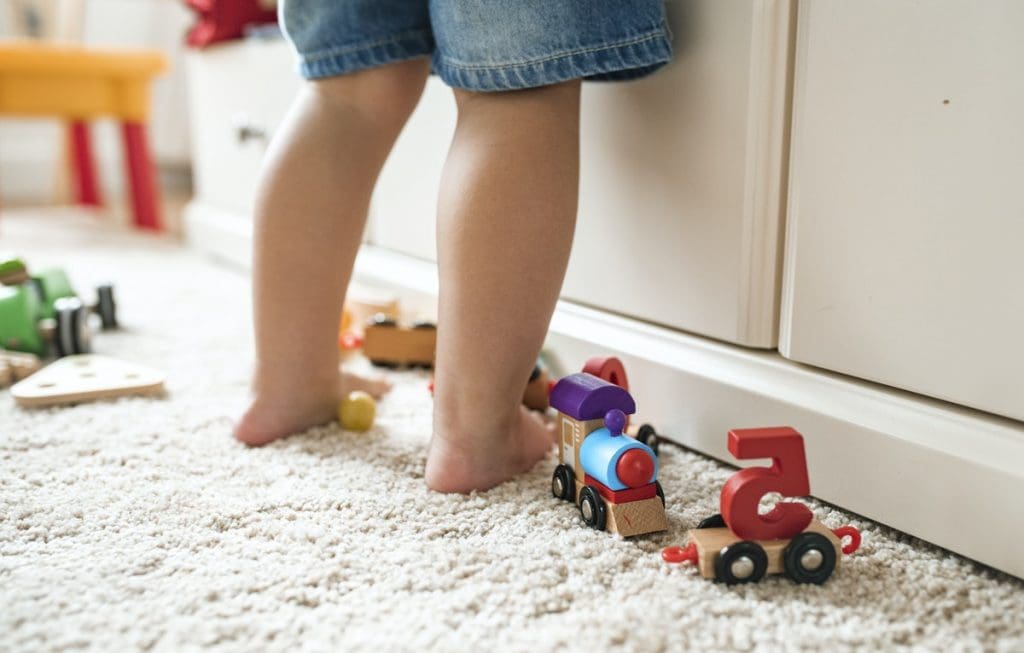 Ask Your Child's Interest:
Whether you are decorating a room for a boy or a girl, consider your child's interest first. Consider the activity your child wants to have in his/her playroom, whether for studying or homeschooling, sleeping, playing indoor sports, crafting, or getting ready. You should figure out the area rug's right theme to make the room a place they will want to spend time in. 
The easiest way to take care of the child's choice is to involve their suggestions as well. For instance, if you are looking for online playroom rugs, you should sit with your toddler and ask for their suggestions. 
Shop Carefully:
Online shopping has become more feasible to customers' needs as retailers have started providing swatches and samples. You should no longer act as a designer to deal with the puzzles of an area rug. If you don't find any online rug brands that offer samples, you can ask their customer service representatives or read their reviews. 
Buy Washable Rugs:
As far as the style and functionality of a rug are important, selecting a machine-washable rug is one of the most favorable parts of the kid's room design. Hence, parents should select an area rug that is easily washable and sustain its quality for a long time period.
Looking for the beautiful, highest quality, and colorful playroom rugs that best suites to your design theme? Click here to visit RugKnots and find the best traditional, formal, and beautiful area rugs. 
Featured Photo by Ketut Subiyanto from Pexels