Most homeowners use their new garages for two purposes – a parking spot for their vehicle and additional storage space. And if you do not have a car, your garage most likely will get cluttered with tools, off-season stuff, and items you cannot throw away, making it the most underutilized part of your house.
However, your unused garage can offer you much more than that, and the most beneficial way to put this space to good use is to turn your garage into a living area! Below, you will find ten garage conversion ideas, including home office, gym, indoor garden, hobby room, home cinema, playground, and so much more. Read on and turn your garage into a place you'll actually enjoy!
Home Office
What better way to utilize the space you have than turning it into a room where you can work remotely? If you are planning to start a new business or want to be able to work from home, the garage can be a perfect solution. 
However, you will need to make sure that the garage is well-ventilated, the garage door is insulated (make sure to find a service specialized in garage door installation in Phoenix, AZ or your area), and that there is enough natural light. And while you're at it, make sure to put up a partition between your workspace and the vehicle parking area to reduce distractions. You won't regret it!
Gym
If you plan to start an exercise routine, one of the most effective ways to do it is by converting your garage into a home gym. For your garage to function as a gym, you will need hooks for hanging weights, a bench for doing push-ups and sit-ups, and a treadmill or stationary bike.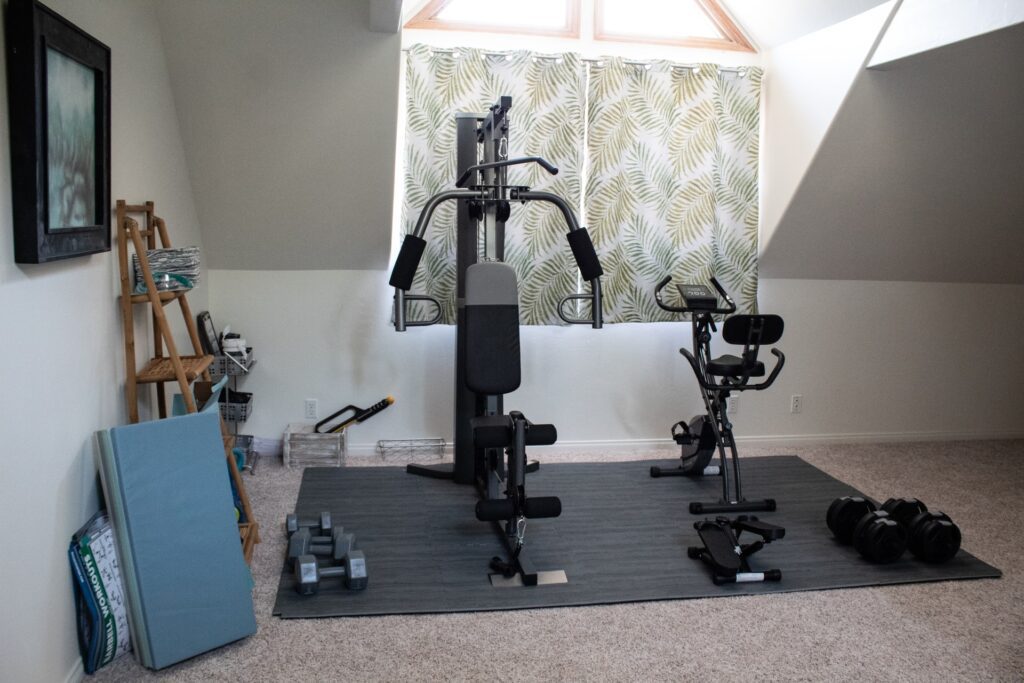 Indoor Garden
A lot of people have green thumbs, and growing plants is something they enjoy doing. If this sounds like something you would enjoy, you can turn your garage into an indoor garden. All you need is a small shelf or table where your plants can grow. 
There are many ways to grow plants inside your home – in a greenhouse, under grow lights, or with hydroponic techniques. Growing plants indoors is pretty easy, and you can enjoy it even during the winter months. Just make sure to measure the temperature in your garage before building a greenhouse there!
Hobby Room
Do you enjoy doing arts and crafts? Do you sew or paint? If so, you can convert your garage into a hobby room where you will be able to create pieces of art. This is actually an excellent way to utilize the extra space in your garage. You can use this space for creating new furniture, painting canvases, or making jewelry. You will definitely need some additional furniture in this room – probably a desk, an armchair, and a side table.
Home Cinema
If you love watching movies and TV shows but don't have space for a home cinema in your living room, why not turn your garage into one? All it takes is some comfortable seating for everyone (there should be enough for all your family members) and good lighting – but of course, a home cinema would be nothing without a projector and a large screen TV. 
Make sure to choose the proper lighting – LED lights are pretty cheap right now, and they don't require any additional wiring, so they are ideal for this purpose. Also, consider investing in soundproofing materials and movie chairs – they will ensure that no one outside will hear anything from inside your new home cinema.
Playroom for Your Kids
You've probably noticed that children tend to get bored easily when they are at home. Of course, they have their toys to play with, but sometimes they just want to do something different! 
You can convert a garage into an awesome playroom for kids, and it doesn't even have to take much time or money. You can fit it with colorful furniture, build shelves and storage units, hang colorful pictures and posters on the walls, and even install some cool lighting effects. Your kids will love this new playroom!
Home Library
Do you have a lot of books and just can't fit them all in your home library? Why not turn your garage into one? You will have to install several bookshelves, but you will also need a comfy armchair and a table, where you can lay your favorite book open and make some annotations.
Music Room
Is music your passion? Why not turn your garage into a music room where you can practice your guitar – or any other – skills? The room can be pretty small (you don't need much space for practicing), and it doesn't even have to be soundproof, as long as you won't disturb anyone outside. 
For this purpose, you can buy acoustic panels that will absorb sound and dampen it. Also, consider fitting the room with a guitar stand, a microphone, and a keyboard – that way, you'll be able to play any instrument you want!
Man Cave
If you enjoy spending time reading, watching movies, or playing video games in your spare time, why not turn your garage into a man cave? It doesn't even have to be a big room – just enough space for your armchair and a laptop. 
You will need a flat-screen TV to watch movies and a gaming system, plus some extra furniture such as a bookshelf and a small coffee table. You can even fit this room with a small bar! You can also make this room cooler by investing in a small air conditioning unit.
Playroom for Your Pets
If you have a cat or dog, you will undoubtedly appreciate this idea! You can turn a garage into an incredible playroom for your pets, and it will also give them some privacy – they won't be able to run around the house when you are not there. 
However, the room should only be accessible from inside your home, so consider building a door that can be closed at all times. You can fit the space with toys, beds, feeding bowls, and several scratching posts.
Final Thoughts
If you are looking for additional space and don't want to build an extension on your home, the solution can be right in front of you – your garage! While it is not the most beautiful part of your house, you can still convert it into a place where you can relax and enjoy yourself. 
A home cinema with an extra-large TV screen, a home library, a music room, or even a gym – choose whatever suits your needs best and have fun!
Featured