Most rooms in your home are fairly easy to decorate. There will be furniture made specifically for that space, and there will be ideas a-plenty. The bathroom, however, can be different. Because it's such a functional room, it's only recently that ideas of turning it into a luxury one have started to come to the fore. After all, the bathroom was once the room people spent the least time in and didn't really think about, whereas now that self-care and relaxation have become so important to combat burnout and stress, the bathroom has become one of the most important spaces we have.  You can give your bathroom a touch of luxury.
So how can it be made into a luxury room? What changes can be made and what décor can be added, bearing in mind bathrooms are usually small rooms with little room for maneuver. The showrooms and interior design magazines will give you a clue, but since the rooms depicted therein are big – much bigger than is realistic for most people – it's hard to take those ideas and run with them. Read on for some realistic and exciting ideas.   
 One Expensive Piece 
Whether your bathroom budget is big or small, you don't actually have to spend a fortune to get the luxury look. It's far better, for example, to buy one good piece of furniture than it is to buy a room's worth of less expensive stuff. That one good piece, whether it's your vanity unit, your bath, shower, a mirror, the tiles, or anything else, will draw the eye and give the room a luxury feel, and the rest will matter much less. 
You can even start with one piece and then, over time, as you get the money together, replace other items until you have an entirely new bathroom that looks stunning. Changing it all piece by piece might take a while, but it will be far less expensive and disruptive, and it's a fun way to redecorate too.  
Have Enough Storage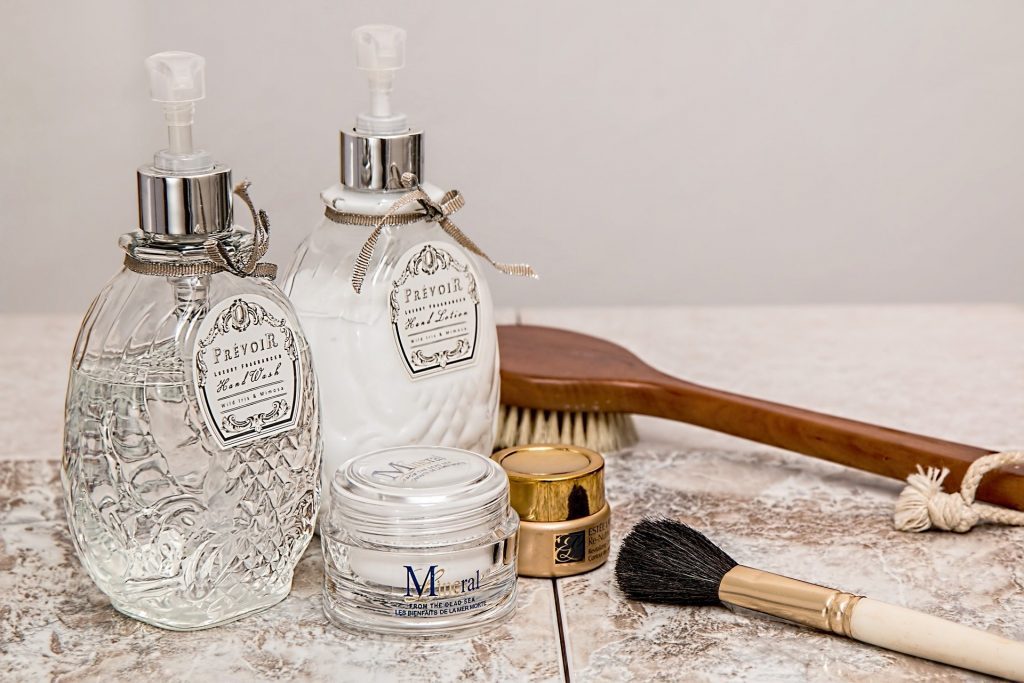 You can spend as much as you possibly can on a bathroom. Turn it into the most stunning room in your home. A room in which people gasp when they enter because it truly has the wow factor. But if you leave your lotions and potions, your shampoo bottles, your bubble bath, and your toothbrushes in clear view, that luxury feeling will be gone instantly.  
This is why storage is so important. Having enough storage means you can hide away all these things, and your bathroom will look beautiful again. It's true that everyone has shower gel and toothpaste in their bathrooms, but that doesn't mean your guests have to see yours. If you can't install any additional storage, then invest in some beautiful containers – perhaps antique or vintage ones – to store everything in. The products will still be seen, but they won't look quite so out of place. 
 Shutters 
You might think that a bathroom doesn't need any window dressings because it has privacy glass installed, but just because no one can see directly in, that doesn't mean that beautiful shutters by Shuttercraft wouldn't make the room look stunning anyway. Choosing the right shutters is something that you might need to take some time over since there are several lovely designs and styles, but whatever you opt for, it will be the perfect addition to the room.  
The great thing about shutters is that you can choose how to use them. They can either be permanently open to let in as much light as possible and still be a great addition to the décor, or they can be closed to make the room cozy and relaxing when needed. You might even choose to open the window and close the blinds, allowing fresh air to circulate but the room to stay private. The choice is yours. What's true is that shutters are key when it comes to a luxury bathroom renovation. Details make all the difference.
Add A Chair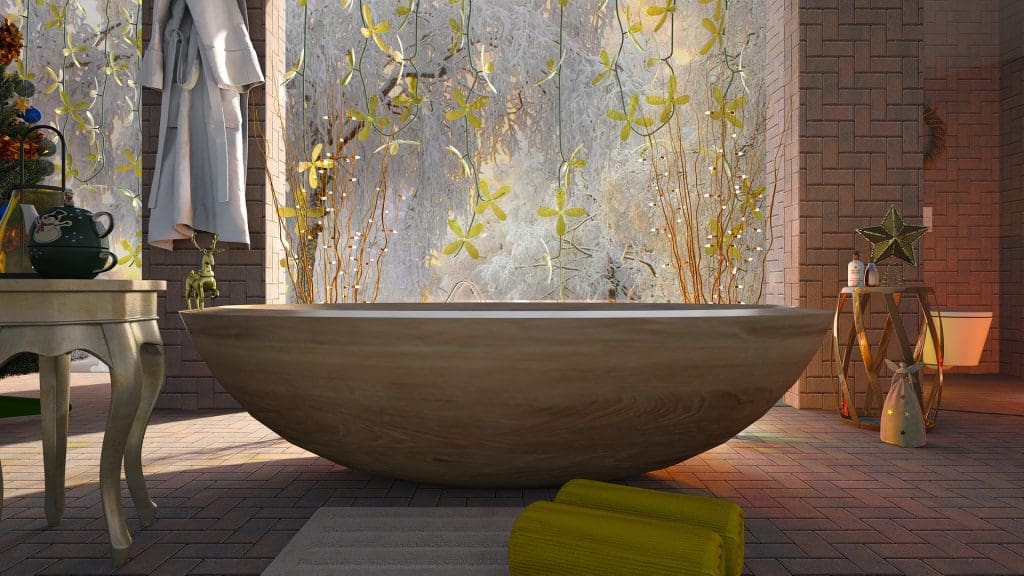 When you first think of it, adding a good, solid chair to a bathroom might seem strange. After all, who is going to use it? Yet the truth is, this doesn't matter. Maybe no one will ever sit on it. Maybe it will only ever be used to place your clothes on so they don't get wet when you're having a bath. The point is, a bathroom with a chair in it looks luxurious.  
There is something decadent about having a chair in your bathroom, which is certainly surprising. It's the kind of thing you might find in a good hotel or even a stately home, bringing a good splash of glamour to the room. Plus, you can find a great chair for a great price in an antique shop or similar. It doesn't need to match any other furniture, so you only need one, and it can be just the color and design you like. 
 Add Fragrance 
Usually, bathrooms don't smell of anything much, and of course, sometimes they don't smell so great at all. But when we're talking luxury, your bathroom should always smell beautiful. Whenever anyone enters the room, they'll find that it gives off a gorgeous scent of roses, coconut, ginger, or anything else you enjoy.  
Candles, flowers, or even some potpourri can all add this extra level of luxury to the bathroom, so shop around, and you're sure to find something that suits your tastes and your budget.  
Have Plants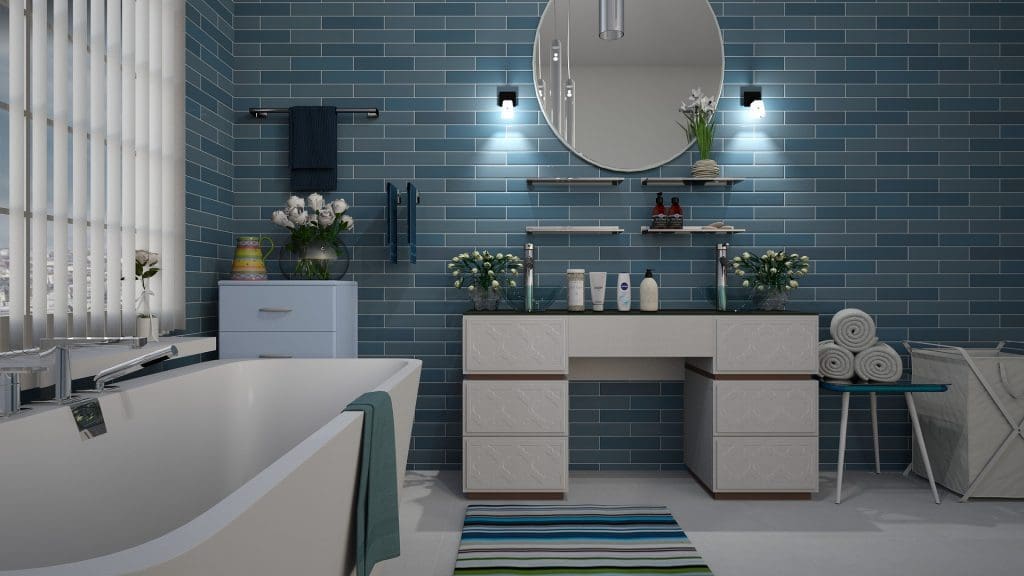 Plants inside offer a luxury look for a very small cost, so it's easy to do. Plus, you can choose some luxury-looking pots and urns to hold the plants, giving you a chance to add more design elements for a small price. 
If you do choose to add plants, however, be careful; not all indoor greenery will survive in a bathroom as it's a warm, damp space which, if it doesn't kill the plant, could cause mold to start building up within the pot. If you choose plants that love the humidity a bathroom brings and clean them out regularly, you'll find a much better result. Orchids, aloe vera, and Boston ferns are great examples of what to use. 
Featured Image by Jesse Bridgewater from Pixabay