It's incredible how much waste people collect over the years. It can be everything from broken toys to discarded electrical equipment. Added to that are the remnants of old hobbies and outdated fashion items.
When people prepare to move homes, it's wise to be organized with packing and travel as light as possible. It can be quite a job moving everything that is unwanted. Not everything should go to a landfill, and some items could be of use to other people. If you are in this situation right now, this article will provide you with some helpful tips and strategies to make life easier. 
Hire a dumpster
They are ideal when there are loads of things to discard and when some items are too big for you to take to the dump in your car. You can often keep them for several days while you declutter the home. If all waste types are accepted, you can use them to discard both your household and garden items. They can also help ensure you don't get prosecuted for sending things like batteries or chemicals to a landfill. A prime example of this is ewmdumpsterrental.com, which does almost everything from sorting and separation of waste before it goes to a designated place like a recycling center, compost sites, and landfill.
During 2018-19 Australia generated 75.8 million tonnes of solid waste. People who consult the experts at Freddy's Skip Bins are typical of those requiring free online quotes using companies that are approved by their local councils. Folk often check the Google ratings and customer reviews before they decide, and they like to have a selection of different sized bins from which to choose. 
Visit A Landfill Site
You could use your car or hire a vehicle (e.g., a van) to take some things away. The site may have specific areas for different items so that recycling can occur. This may include garden waste, wood, or metal. Glass, electrical items, and textiles may also have designated areas. 
This is obviously a cheap way of disposing of rubbish, but it may take lots of lifting and several journeys. 
Give To Charity Shops
It is a real tragedy that so many working items are thrown away in landfills when someone else could make good use of them. Why not consider giving some of your unwanted things to friends? You could use social media (e.g., Facebook) to let them know and provide photos of the items. 
Alternatively, donate to a local charity shop. Some larger warehouses may be prepared to collect things like furniture from your house, making life easier. The items can then find a new home while raising money for a good cause in the process. Charity shops often check furniture labels in terms of fire safety before they accept, and they may not want electrical items unless they can check them before they are sold.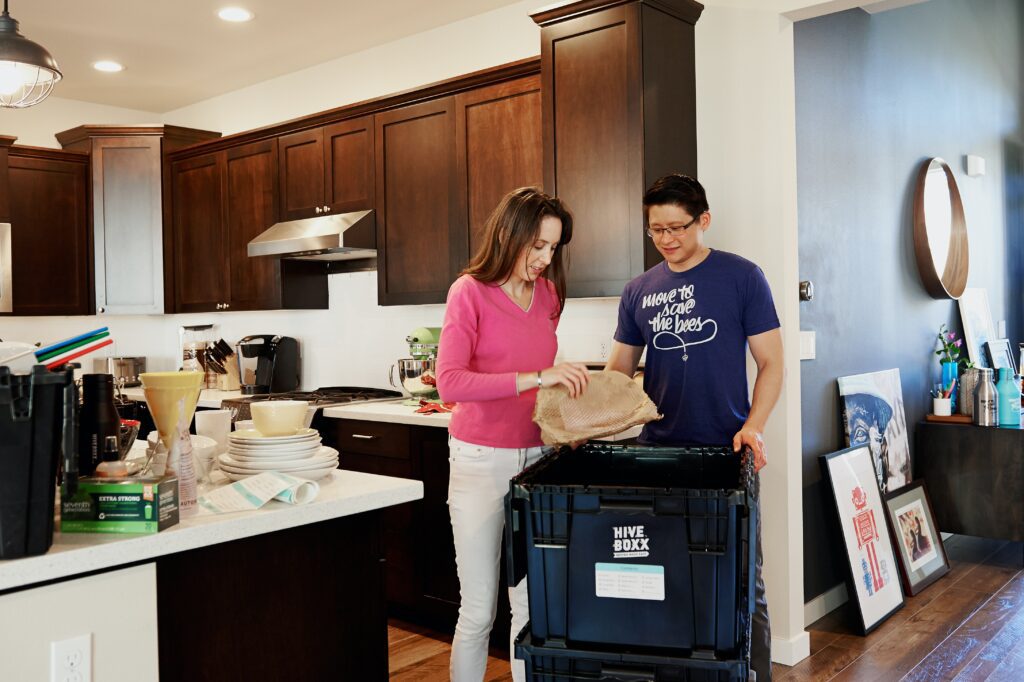 Sell Things
There are websites some people use to give things away. While they won't make you any money, at least you'll be able to get rid of some unwanted stuff. 
Moving home is a costly experience, and you may be glad to make a bit of money by selling. You could advertise locally or have a yard sale. There are also websites like eBay that allow people to advertise and sell items online. 
Recycle Your Food Waste
No doubt, this will only be a small fraction of your trash. Nonetheless, it's worth installing a compost bin in your garden if you have one. While you can't use it for general household items, you can safely put food there. The new homeowner will then hopefully continue this practice, which will benefit the environment. 
Over time the waste will break down and become compost that can enrich the soil in your garden. Whether it's coffee grounds or newspapers, fruit or vegetables, you can recycle it all this way. 
Upcycle Your Household Items
Rather than throwing some things away, you may be able to breathe new life into them, ready for your new home. Consider restoring your furniture using things like stain or varnish. If it is made of wood, a coat of paint may help it match the decor of your new home. 
If you have sofas and chairs, consider buying new covers and pillowcases. These items could all look as good as new and save you needing to spend money replacing them. 
Hopefully, you now feel more empowered to clear your stuff. It can either be responsibly disposed of, given away, or be upcycled. You can then focus on the house move and beginning this new chapter in your life. You'll have less junk in your new home, and the environment will have been protected during the process. 
Featured Photo by Michal Balog on Unsplash