Springerle is a flat, white, crispy cookie traditionally made in Germany, Bavaria, or Austria. The designs are added before baking using a carved springerle rolling pin or flat mold. Traditional springerle are made from just eggs, powdered sugar, and flour and flavored by sprinkling a surface with anise seed and placing the cookies on top for 24 hours to dry and absorb the flavor before baking.
While this year's unofficial theme is traditional cookies from around the world, I decided to try this "easy" springerle cookie first. This shortbread dough can still be rolled or pressed with the traditional molds but doesn't require muscle power to roll out and doesn't need to sit for 24 hours before baking. The butter gives it a pale yellow color as opposed to the pure white of the traditional recipe.
And — hello — shortbread, one of my favorite cookies!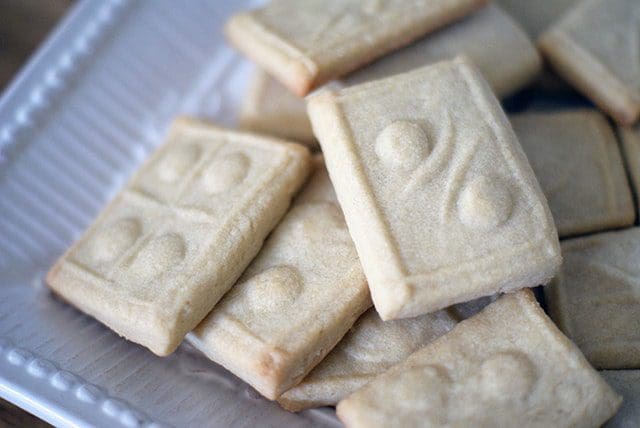 Ingredients:
1 cup (2 sticks) unsalted butter
1/2 cup light brown sugar
2 teaspoons granulated sugar
1/2 teaspoon salt
2 large eggs
1 teaspoon flavored extract*
Directions:
In a medium bowl, cream together butter, sugars, and salt until light and creamy. Beat in eggs and extract. Fold in flour.
Divide the dough in half and form each half into a disk. Wrap the disks in plastic wrap and refrigerate for at least an hour.
When you're ready, preheat the oven to 400 degrees F. Remove one disk from the refrigerator. Roll out on a lightly floured surface to 1/4″ thick.
Lightly flour your springerle pin or mold, then tap to remove excess flour. Slowly roll the pin over the dough or press the mold in place (pressing firmly to create a good design). Cut out the designs with a pastry wheel.
Transfer the cookies to a baking sheet or stone and bake for 10-12 minutes, until the edges are lightly golden.
Remove from the oven and cool on the pan.
Yield: 3 to 4 dozen cookies
Flavor variations:
Use 1 teaspoon of vanilla or almond extract for a delicious cookie.
For a citrusy cookie, use 1 teaspoon of lemon or orange extract.
For traditionally flavored springerle, use 1/8 to 1/4 teaspoon anise oil in place of the extract
Use 1/4 teaspoon Fiori di Sicilia flavor for a creamy orange flavor.
Click here to add this recipe to your Plan to Eat account.
Recipes from the archives:
Join us as we celebrate 101 Days of Christmas with new DIY projects, gift ideas, traditions and more every day from now through Christmas!