The following post is from Shaina of Food for My Family and Olmanson Photography: 101 Days of Christmas: Gingerbread Snowflake Creams
I love ginger. Beyond marinating chicken, spicing up my fried rice, and making salad dressing zing, ginger is great for baking. It makes me instantly think of the holiday season, curled up in front of my *imaginary* fireplace (someday, someday) with the warmest booty slippers covering my toes to stay warm from the winter wind and drinking a hot cup of spice. No, I don't really care if it's spice cider, a gingerbread latte, or a cup of hot spiced milk. I'll take them all, please.
These Gingerbread Snowflake Creams are just like your favorite gingerbread men, chewy in the center with crisp edges, but they have a secret ginger-spiked surprise inside.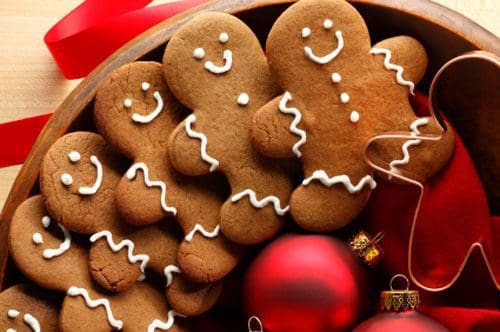 Supplies:
For the gingerbread
3 1/2 cups all-purpose flour
3 teaspoons ground ginger
2 teaspoons ground cinnamon
1 1/2 teaspoons baking soda
1/2 teaspoon ground cloves
1/2 teaspoon freshly grated nutmeg
1/2 teaspoon salt
3/4 cup packed dark brown sugar
1/2 cup butter, softened
2 large eggs
1/4 cup molasses
Whisk together flour, ginger, cinnamon, baking soda, cloves, nutmeg, and salt in a large bowl. Set aside. Cream together brown sugar and butter. Add in eggs and molasses and blend until combined, scraping down the bowl halfway through. Mix in flour mixture until a soft dough forms. Split the dough into two balls and chill in the refrigerator for 1-2 hours.
Preheat the oven to 350º F. Lightly flour a flat work surface. Roll out gingerbread dough and cut it into snowflakes or other holiday shapes using a 1-2″ cookie cutter. Bake on a parchment-lined sheet for 8-10 minutes until edges just start to brown. Allow to cool completely.
For the ginger buttercream
1/2 cup unsalted butter, softened
1 3/4 cups confectioners' sugar
1 tablespoon fresh ginger, smashed and squeezed for juice (optional)
1-2 tablespoons heavy cream
1/4 cup crystallized ginger, minced
Cream together butter and confectioners' sugar. Mix in extracted ginger juice. Add in cream, 1-2 teaspoons at a time, mixing well after each addition and stopping when the frosting is a spreadable consistency with no lumps. Stir in the minced ginger pieces.
For decorating
White decorator icing or royal icing
Outline half of the snowflakes with white frosting, if desired. Spread a small amount of ginger buttercream on one cookie and top with a decorated cookie. Repeat until all pairs are matched.
Is gingerbread a tradition in your family, whether in the house, man, or any other form?
Join us as we celebrate 101 Days of Christmas with new DIY projects, gift ideas, traditions, and more every day from now through Christmas!
Shaina Olmanson is the freelance writer, photographer, and home cook behind Food for My Family. Cooking daily with and for her four kids and husband, Ole, drives her desire to inspire other families to do the same. Shaina is also the author of Desserts in Jars and contributes regularly to a variety of online sites and traditional print magazines.