Loungewear is any piece of clothing that brings the utmost comfort to the wearer. Most people like to be in loungewear when at home. However, thanks to the pandemic and the resultant lockdowns, people have been stuck at home longer than usual. 
This has given new life to the loungewear industry. People are always on the lookout for comfortable loungewear when at home and good enough to wear when leaving the house to run errands or buy essentials. 
The sale of loungewear has increased by around 10% in just one year, which is seen as a very high increase. The latest fashion trends make this category more enticing. There are so many options in the market that consumers are spoilt for choice when picking loungewear. That's when you need to explore the collections at a boutique store offering a comprehensive range. 
The varieties may range from hoodies to cute pajamas and shorts. Here are some loungewear trends you are going to see in 2021.
Hoodies
Hoodies are all-time favorites for everyone. People like to wear hoodies in their homes as well as when they are heading out. As hoodies are baggy and comfortable, their demand is rising continuously for the new-age, work-from-home professionals. 
Hoodies go well with any bottom, be it shorts, leggings, or even jeans. Styling a hoodie can never be a problem. It is effortless. Moreover, hoodies are incredibly comfortable. The best thing about hoodies is that they are as comfortable to wear inside the house as they are outside. 
House Footwear
House footwear can be of different types like slippers, flip flops, slides, and even sandals. Wearing footwear in the house helps keep your feet warmer during extreme seasons.
Most people love wearing slides in the house as they are easy to walk around in. However, increased demand for such footwear has led to the development of new trendy styles. Now slides and slippers come with insulated materials designed to keep your feet warm. 
Boutique stores are now designing trendy house slides with fur attached to them. Such pieces are highly comfortable to wear and even look good on everyone.
Track Pants
Track pants are great if you are looking for loungewear that keeps you covered. Track pants are often considered the most comfortable loungewear piece. Pairing a hoodie with track pants is the ultimate level of comfort one can achieve. 
Some people like baggy track pants, whereas some prefer tighter ones. Whatever your choice, this piece of loungewear is indeed trending, and you can just as easily wear it out. Track pants even come with pockets so you can keep your phone, wallet, car keys, etc., with you wherever you go. 
Track pants are often considered sporty and activewear but work well as loungewear because of their comfortable material. 
Oversized Shirts
Oversized shirts can prove an excellent choice for people working from home. This loungewear piece can give you a sense of dressing somewhat formally as it is a shirt. Oversized shirts come in many different fashions and prints.
Although a boutique store offers many varieties of oversized shirts, the plain ones are the most popular. They can be paired with baggy pants or even shorts. The best part is that they are unisex. Women like pairing oversized shirts with shorts for a chic look. 
Shorts
Shorts have emerged as the best loungewear. Since its inception, this clothing piece has been ruling the market, and the demand has been rising continuously. Shorts are great companions at home as they provide the utmost comfort.
The demand for shorts has been pretty high throughout the year, and consumers are pairing them with oversized t-shirts and shirts.
Ribbed Knits
Ribbed knits are great loungewear items for women. Women love it as it is made of great fabrics that provide comfort. Ribbed knits are a good choice for summers and look exceptionally great.
Ribbed knits mostly come in simple designs and have simpler colors. This makes it look great on every person who wears it.
Flared Pants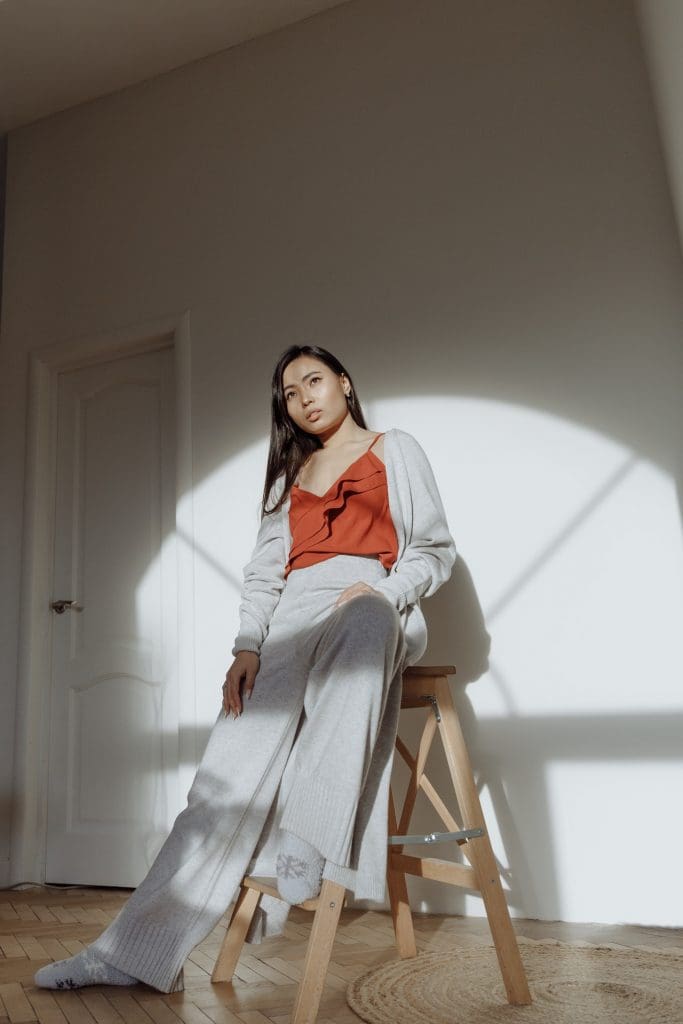 Flared pants used to be the trend in the 1970s before they were phased out of the market by tight pants and jeans. However, they are now well and truly making a comeback as people prefer their comfort more.  
People from the latest generation are demanding comfortable clothes and always looking for new ideas. One such idea led them to the reinvention of the flared leggings. 
Flared Pants and leggings are tighter around the hip area and pretty open at the ends. This helps make the clothing comfortable. Flare pants were once called yoga pants Due to the comfort they provide. You can style flare pants easily with a crop top or a tight t-shirt.
The pandemic has left people yearning for comfortable clothes, and the rise in such clothes is increasing rapidly. Consumers have loved wearing loungewear throughout the year so much that they are looking to wear them outside their houses now. 
Featured Photo by Thirdman from Pexels