Gone are the days when sleepwear was merely functional; today, it is a statement of style and personality. The sleepwear industry has undergone a significant transformation, offering many fashionable and comfortable options. From cozy women pyjama sets to elegant nightgowns, women can express themselves through their bedtime attire. This article will take you on a delightful journey into the enchanting world of women's sleepwear fashion trends. 
Embracing Loungewear:
Loungewear has emerged as a prominent trend in women's sleepwear fashion. The beauty of loungewear lies in its versatility, as it effortlessly transitions from the bedroom to casual outings. Comfort is key in loungewear sets, which often feature soft and breathable fabrics like cotton or modal. Stylish joggers, cozy tops, and cardigans create an ensemble that exudes both comfort and fashion. Loungewear has become a favorite choice for women seeking an easy-going and trendy look for lounging at home or stepping out for quick errands.
Ethereal Nightgowns:
The allure of ethereal nightgowns has withstood the test of time. These dreamy and elegant sleepwear pieces boast flowing silhouettes, delicate lace accents, and silky fabrics that evoke a sense of romance. Soft pastel hues and floral patterns are common choices, adding a touch of vintage charm to the overall look. Women are embracing nightgowns not only for their comfort but also for the enchanting aura they create. Whether it's a quiet night in or a special occasion, slipping into an ethereal nightgown promises grace and sophistication.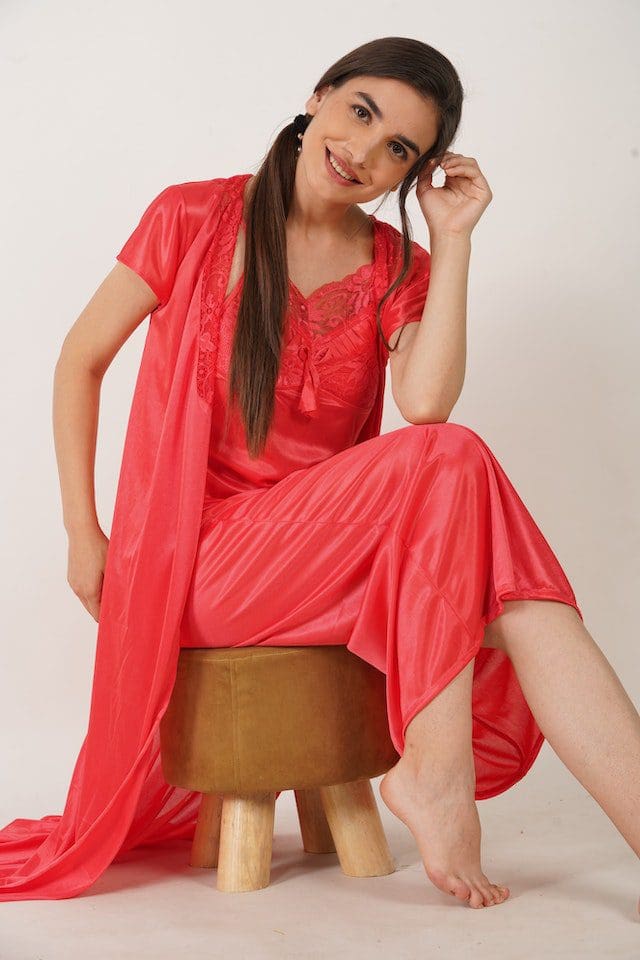 Satin Sensation:
Satin sleepwear has taken the fashion world by storm, and it's easy to see why. The luxurious sheen and smooth texture of satin add an air of luxury to bedtime attire. From satin camisoles to shorts sets and robes, these pieces exude elegance and sophistication. Satin sleepwear is a popular choice for those special nights when a woman desires a touch of glamor and allure in her nighttime routine. It's a delightful way to make bedtime feel like a lavish affair.
Playful Prints:
Incorporating prints into sleepwear has become a captivating trend that adds a playful touch to bedtime attire. Whimsical polka dots, adorable animal prints, and quirky motifs inject fun and excitement into sleepwear designs. Women are embracing these playful prints, which come in various colors and styles to suit different preferences. A playful print sleepwear set is a delightful addition to any woman's wardrobe, bringing joy and cheer to bedtime.
Oversized Sleep Shirts:
Nothing spells comfort like oversized sleep shirts. These loose and laid-back shirts offer a sense of ease and freedom, making them a popular choice for lounging around the house or winding down after a long day. Pairing an oversized sleep shirt with cute shorts or leggings creates an adorable and effortless ensemble. Embracing the coziness of oversized sleep shirts is a wonderful way to create a relaxed and carefree bedtime look.
Sustainable Sleepwear:
As environmental awareness grows, sustainable sleepwear has become a trend among women. Many choose sleepwear made from organic and eco-friendly materials like bamboo, Tencel, or recycled fabrics. Not only do these sustainable choices prioritize the planet, but they also offer softness and comfort for a peaceful night's sleep. Embracing sustainable sleepwear is a conscious decision that aligns with a woman's desire to care for herself and the environment.
Matching Family Pajamas:
The heartwarming trend of matching family pajamas has become a beloved tradition in many households. Coordinating sleepwear sets create delightful photo opportunities and strengthen the sense of togetherness during special occasions and holidays. These matching women's pajama sets often feature festive designs and themes, adding joy and excitement to family celebrations. It's a beautiful way to create lasting memories and cherish the bond between family members.
Athleisure Sleepwear:
The athleisure trend has made its way into sleepwear as well. Athleisure sleepwear combines the functionality of activewear with the comfort of sleepwear, resulting in stylish and practical pieces. From tank tops with built-in bra support to jogger-style sleep pants, these pieces offer a sporty and chic alternative to traditional sleepwear. Athleisure sleepwear is perfect for women leading active lifestyles who want to stay comfortable and fashionable even during their downtime.
Conclusion:
Women's sleepwear fashion trends have evolved beyond mere bedtime attire; they reflect a woman's style and personality. From loungewear sets that blend comfort with fashion to ethereal nightgowns that evoke romance, the sleepwear industry is brimming with choices that cater to diverse tastes. The allure of satin, the charm of playful prints, and the appeal of sustainable options add to the richness of the sleepwear landscape. Embracing oversized sleep shirts brings a sense of ease and relaxation to bedtime, while athleisure sleepwear combines style and functionality seamlessly. The tradition of matching family pajamas fosters a sense of togetherness and joy during special occasions. Women can choose sleepwear that speaks to their individuality and enhances their bedtime experience. So, whether it's lounging around the house or celebrating with loved ones, let women's sleepwear fashion trends redefine bedtime and make it an exquisite and fashionable affair.
Featured Image by Niels Zee from Pixabay