Medium-Length Hairstyles and Haircuts for Ladies
Ladies take time to groom themselves, and a lot of time goes to styling the hair. To save on time, most of them turn to medium-length hairstyles because it's not too long or too short, making them easy to style. Besides, mid-length hairstyles are the best styles for women who do not want to rock long hair and, at the same time, do not want something too short.
Most of these hairstyles are collarbone or shoulder-length, and the style is not picky with hair textures and type. However, one crucial thing to consider is your head's shape. A significant advantage of mid-length hairstyles is that they take less time to style and are low maintenance. Take a look at some medium-length hairstyles you should try before the year ends.
1. Medium Hair With Layered Bangs
The layered bangs flatter your face as it gives a shine to your hair. To make the style more pronounced, add some waves to the style for a beachy look. You can also add some texturizing products like sea-salt spray and hair cream to hold the hair together. 
2. Blunt Bangs For Medium Layered Hair
Your medium-layered hair will be too silent and cold without an add-on like thick bangs. This style is standard among French models, and influencers seem to have influenced each other into wearing blunt bangs. If you have always been insecure with your thin hair, this is a hairdo to try because it makes the hair look thicker. 
3. With Wispy Bangs
Have you ever tried a fringe? The wispy bangs resemble a fringe combined with medium-length hair, but this fringe is thin and does not cover your entire forehead. According to LoveHairStyles, they give a lighter, softer, and relaxing effect. You can make the hair wavy for a better pop. 
4. Medium Length Styles For Fine Hair
You might not like your thin hair, but there is a lot you can do with it, like giving it a medium haircut. Long lengths do not suit this kind of hair. Get a mousse from the hair store to add volume to the thin hair. Texturizing sprays after a blow-dry will also help. 
5. With Long Layers
Everyone will want to know the products you use on your hair once you add some layers to your medium length. The layers make the hair look healthier and stylish. Besides, waves on thick hair make it easy to maneuver, wash, dry, and style again. 
6. With Short Layers
The length of your hair is determined by the difference between the longest and the shortest pieces. However, not where the longest strands end. Having shorter layers to your medium-length hairstyles gives the hair more volume, hence adding light to people with thinner hair and those whose hair falls flat. 
7. Medium Length Straight Hair
The most trending style for medium-length hair is straight hair. This style is mainly for people who fancy straight hair and those that want a more professional look. The easiest way to achieve this is by blow-drying the hair. You can make the style look better with a bun or a side part. 
8. Curly Medium Hair
Curly hair looks good most times when they are medium length because the length allows you to show off the curls better. However, curls are more high maintenance because you should use creams and retouching to maintain the curls. These will give you an easier time as they reduce the styling time too.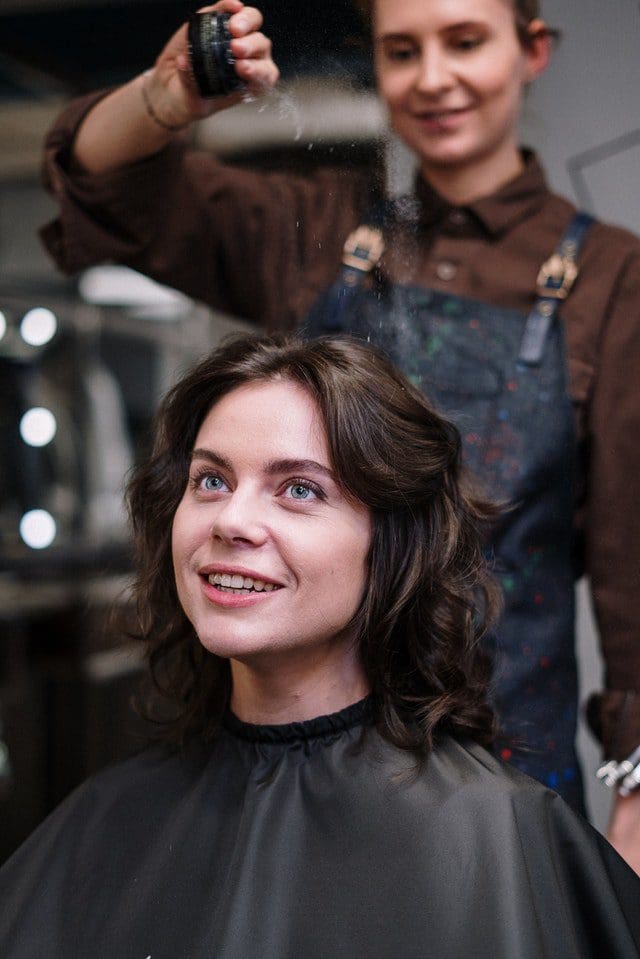 9. Wavy Hair
People with naturally wavy hair can easily style it without worrying about going back for a retouch to maintain the waves. Keeping it medium length will give you an even easier time. If your hair is straight, you can use curling tools that heat like a flat iron. 
10. Medium length hairstyles With Short Bangs
A short bang also resembles a fringe, but this one covers only half of the forehead. It creates attention to the eyebrows and eyelashes, and this will be a perfect style for ladies who want to show off those parts of their face. If you're going to try short bangs for the first time, try them with a shoulder-length or collarbone-length hairstyle. 
Featured Image by kaleido-dp from Pixabay