We all want our children to feel happy in their rooms. After all, it's their safe space, the one place that is truly theirs. Why else would people spend so much time making sure their nurseries are beautiful? However, as children grow, they may start having their own interests, which usually means it's time to redecorate. Decorating your child's bedroom can be fun for both of you, and it's also a really great bonding experience. Not to mention the fact that you'll gain a deeper insight into what your child likes. So, if you're looking for some creative ideas for decorating your child's bedroom, you've come to the right place. 
Bulletin boards
Chances are that your child is going to want to redecorate their room more than once, especially as their style and interests change. But redecorating an entire room once a year can be quite a costly endeavor. A good way to get around this is to have a bulletin board or something similar, where it's very easy to change decorations without any of the hassles. You can invest in a few bulletin board supplies to decorate the board according to your child's liking, and then just switch it up if they get bored. 
Glow in the dark
If you want to make, your child's bedroom feel extra magical, glow-in-the-dark decorations might be the way to go. This way, your child's bedroom will feel like a magical sanctuary even once the lights are out. This is also a good idea to help children who are afraid of the dark. It's quite simple:
Buy a pack of glow-in-the-dark stickers (they're not too expensive).

Stick them on the walls.

Switch off the lights.

Watch the room come to life.
Another fun idea is to get glow-in-the-dark stars and planets and stick them on the ceiling.
A cool bed
Most kids spend the majority of their time in their room, in their bed. As you know, sleep is very important, especially for growing children, so it's a good idea to make their bed comfortable and inviting. These days, there are loads of unique and fun children's beds to choose from. From princess beds to racecar beds and everything in between, a fun bed is sure to make a huge difference in the room. As with any bed, be sure that you take proper care of the mattress.
A chalkboard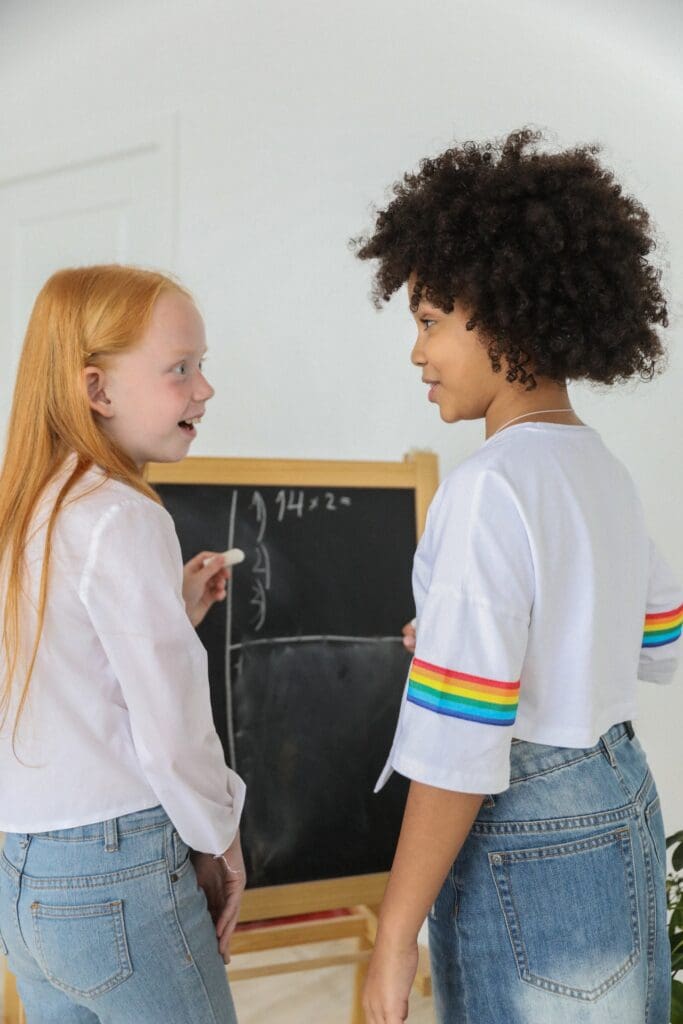 A great way to allow your child to express their creativity is to have a chalkboard in their room. This way, they can draw whatever they want, and it can act as a type of decoration. Another option is to get a whiteboard, as these are easier to clean. However, the benefit of a chalkboard is that some places offer chalkboard wall tiles, meaning your child can have an entire wall to have fun with.
A mural
One way to liven up your child's bedroom is to have a mural on a wall. This will make such a huge statement that you likely won't need much else to decorate. Murals used to be very popular, especially for younger children's rooms, but recently people have stopped doing them as often, likely because of the time and effort it requires. Of course, if you're not artistic, you may also be hesitant – what if you make a mistake? Luckily, these easy DIY murals are so simple that you can try your hand at them even if you don't have an artistic bone in your body.
Fun lights
Lights are a great way to make a room stand out, and it's something that can last many years. The great thing about using lights as a decorative tool is the fact that there are so many different options. You can use cool hanging lights like Edison bulbs for a more mature feel, or you can use things like fairy lights or lava lamps to make things a bit more youthlike and fun. Most lighting options are also relatively inexpensive, and the good thing is that they are actually a type of decoration that serves a purpose. 
Bright colors
It's important to keep in mind that you're decorating your child's bedroom, so what's pretty to you may not be appealing to them. As we grow older, we tend to lean more towards neutral shades that work well together, but children prefer bright colors. So, while a room that's decorated very brightly may seem a bit overwhelming to you, it will likely make your child incredibly happy. Studies have shown that babies and young children tend to be especially fascinated with bright colors, so don't be surprised if your toddler wants a bright purple room. You can learn more about the colors kids prefer here. 
Have a theme
Does your child like dinosaurs? Or Barbie? Or horses? Use these things as inspiration. It helps to have an idea of what type of look you're going for, and a theme will make all the other decorations work well together. This theme can even be a color, or a broader theme, like superheroes, marine life, or animals in general. Either way, if your child is a big fan of something, you can't go wrong by incorporating that into their room decoration. Plus, it makes gift-giving much easier; you can just get them posters that fit this theme.
Value their input
Finally, it's important that you remember that this is, after all, your child's bedroom. While you do, of course, get a say in how it's decorated, you need to put aside what you find pleasing and listen to what your child wants. This is likely a big step for them, and they will appreciate feeling involved in the decision-making process. If you don't like an idea that they have, don't just dismiss it outright. Instead, offer some alternative suggestions, or try to compromise. Remember that your child will spend much more time in this room than you will, so their opinion should count too.
Featured Image by Ruslan Gilmanshin from Pixabay