Similar to the French macaron, alfajores are a South American treat. While the specifics vary by region and country, the basic idea is a sandwich cookie with a sweet filling in the middle. This version incorporates a rich dulce de leche between two melt-in-your-mouth cornstarch cookies!

The alfajores cookies are easy to make, using just a few ingredients and an easy-to-work-with dough. Next time (and there will be a next time!), I will roll my cookies even thinner and put even more dulce de leche in the middle.
Be sure to read to the end for a ton of variations of this classic Alfajores South American cookie!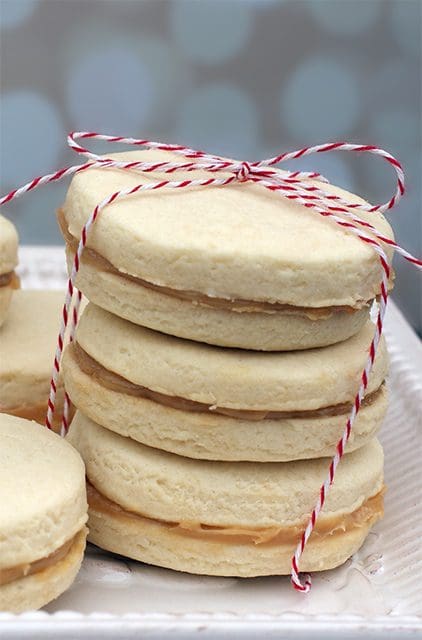 *Adapted from Nook & Pantry.
Ingredients:
Dulce de leche
1 can sweeten condensed milk
Cookies
Directions:

Dulce de leche
Split the can of sweetened condensed milk between two jars. Fill a medium saucepan with water and place the jars inside. (The jars should be taller than the pan; we don't want water to spill into them.)
Bring the water to a boil, stirring the jars every 30 minutes and adding more water to the saucepan as necessary.
The sugar in the sweetened condensed milk will begin to carmelize, and it will get thicker and darker over time. Cook for at least an hour and a half or up to three hours. The longer it cooks, the richer the filling will be!
Cookies
Preheat oven to 350 degrees F.
Whisk together the flour, cornstarch, salt, and baking powder in a medium bowl.
Using a mixer, cream the butter and sugar together. Add eggs and vanilla and beat well.
Slowly add the dry ingredients to the wet ones, stirring gently until fully incorporated.
Lay dough on a lightly floured surface and roll out to 1/8″ thick, flouring your rolling pin as needed. Using a 2″ cookie or biscuit cutter (or glass or jar rim!), cut circles from the dough and transfer them to a cookie sheet or stone. Repeat with the remaining dough.
Bake for 13-15 minutes until the edges are just starting to brown. Let sit for 5 minutes before transferring to a cooling rack.
Once your dulce de leche is done, add a spoonful to the center of a cookie and then press a second cookie on top. Repeat until they've all been filled.
Variations:
Fill with jam, Biscoff spread, or Nutella instead
Roll the edges in coconut or sprinkles
Dust with powdered sugar, as is traditional in Peru
Dip the finished cookies in white or semisweet chocolate
Customize with your own sugar cookie or flavored dough
Great with a dish of rice pudding
Click here to add this recipe to your Plan to Eat account.
Recipes from the archives:
Join us as we celebrate 101 Days of Christmas with new DIY projects, gift ideas, traditions and more every day from now through Christmas!