The following post is from Shaina of Food for My Family and Olmanson Photography: Grilling Wild-Caught, Frozen Fish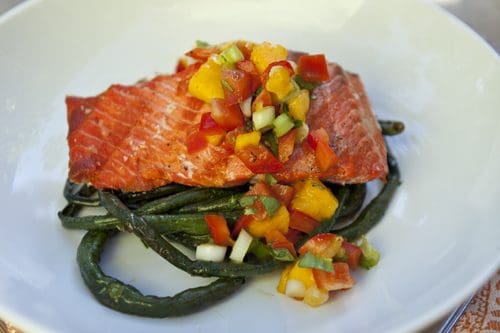 When I was growing up, my dad would spend some time in the early autumn on a fishing trip. He'd head north with his uncle and cousins, searching for cold, clear water right on the border between Canada and Minnesota. I always looked forward to his trips, but not because it meant that he'd be leaving. Instead, I looked forward to the return, when he would show up with coolers full of fish on ice. For the next half-year at least, the monthly treat would be when he'd pull out those flash-frozen fish filets and serve them up alongside a bit of butter for dipping. It was my favorite meal and one that I looked forward to indefinitely.
My parents never purchased fish from the supermarket, like fish sticks or any other variety. It always came from fishing trips that my dad would take instead, or it would be gifted when my uncle would head to Alaska for a larger trip. While plenty of seafood is available in the supermarket today, I try hard to make sustainable and healthy choices for my kids. If we want to enjoy fish in the coming months, we need to set aside a few in the freezer for then. We buy Alaska salmon direct from a fisherman who comes to our local farmers market from Alaska every year around this time. In the past, we've received a few here and there from friends and relatives who go on fishing trips.
But if you have a stock of fish in the freezer, there's the business of thawing and then cooking, which I'm not very good at. I tend to forget to take them out beforehand, and then I'm left with partially frozen fish or, worse, completely frozen, and I need a quick meal.
This is where cooking fish from frozen comes in handy. It does away with foretelling the future, allowing you to spontaneously plan a meal. Just pull it out when you're ready to cook, toss it on the heat, and you'll have a meal in a matter of minutes.
One of the best options is to grill the fish in an outdoor kitchen with a high-quality built-in grill. Take a look at this guide to find the best options on the market.
Author:
Ingredients
2 6-ounce frozen fish filets
olive oil
1/2 lemon, juiced
minced fresh herbs
salt and pepper
Instructions
Preheat your grill to medium-high. Rinse the fish and pat with a paper towel to remove the ice glaze. Using a grill pan or a large piece of foil and coat it with the oil. Spray both sides of the fish with the oil and place in the center of the foil, skin side down if the fish has skin on it.
Wrap the fish by bringing the sides up and rolling to seal the fish in and create a packet. Place the fish on the grill, seam side down, and cook for 8 minutes.
Flip the fish, open the seam and season the fish on the flesh side by covering in the lemon juice and sprinkling the herbs, salt, and pepper onto the fish. Loosely close the packet again and cook seam side up for an additional 8-10 minutes, just until the fish is cooked.
Remove the packet from the heat. Allow to rest briefly, and then serve warm.
2.2.8
A few resources on the fish you eat:
What are your favorite ways to eat fish?
Shaina Olmanson is the freelance writer, photographer, and home cook behind Food for My Family. Cooking daily with and for her four kids and husband, Ole, drives her desire to inspire other families to do the same. Shaina is also the author of Desserts in Jars and regularly contributes to various online sites and traditional print magazines.