Are you a travel nurse looking for comfortable yet affordable accommodation? Finding perfect accommodations that fit both cost and comfort requirements can be tricky. Fortunately, there are some ways to ensure your stay is enjoyable while maximizing your budget. 
We've got five tips to help you find suitable lodgings on assignments so that you can focus on what's important – providing care for patients with excellence and compassion! Read on for our top five tips for finding an affordable and comfortable place during your travel nursing assignment.
Research the Area for Hotel, Hostel, and Airbnb Options Available
Travel nursing accommodations can sometimes take a lot of work to come by. Unless you start researching the area around traffic and transportation, nearby amenities and cost of residence can help narrow down your selection. 
Several options are typically available, including hotels, hostels, and Airbnb rentals. Some may offer a variety of critical features, such as complimentary breakfasts or gyms. In contrast, others may have more straightforward furnishings but provide easy access to public transit lines or entertainment spots. 
Consider all the options available to ensure you get the best possible choice for your needs – after all, an enjoyable stay will keep you fresh and focused during work days and give you time to explore your new city.
Ask Your Travel Nursing Agency for Accommodation Recommendations
Your travel nursing agency can provide essential information and recommendations to ease the process, so try asking them for options! They can guide you with a list of options close to your work location and within your budget. In addition, your agency will also inform you of any deals or discounts that may be available. By relying on your agency's recommendations, you can focus on providing quality patient care without stressing about your temporary living situation.
When traveling nursing, places to stay can be tough to find. But it doesn't have to be, as your nursing agency will have the resources to help you get started. 
Use Websites Such as Expedia and Hotels.com to Compare Prices
Finding the best deals on flights and accommodations is essential. That's where websites like Expedia and Hotels.com come in handy. These websites allow you to compare prices easily and find the best options for your budget. With a simple search, you can see various options across multiple airlines and hotels, allowing you to choose what works best for you. 
Many websites offer additional perks like loyalty rewards and discounted member rates. So whether you're planning a weekend getaway or a cross-country adventure, take advantage of these helpful resources to save time and money.
Read Online Reviews Carefully Before Making Any Decisions
In the internet age, we can access countless reviews on products and services. However, it's essential to approach these reviews with a critical eye. Not all reviews are created equal, and some may even be fake. 
Look for reviews that provide detailed, specific information rather than vague generalizations. Be wary of overwhelmingly positive or negative thoughts, as these may be biased or paid for. It's also good to check multiple sources for reviews to get a well-rounded understanding. By reading online reviews carefully, we can make more informed decisions and avoid any potential regrets.
Consider Other Types of Accommodation Like Furnished Apartments or House-Sitting Opportunities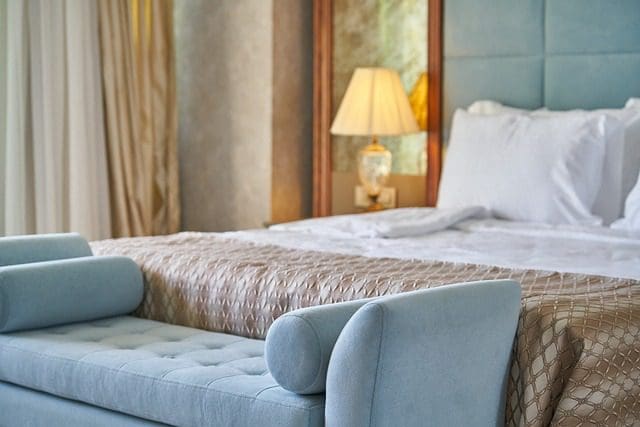 Furnished apartments offer the convenience of having all your basic needs met without the hassle of moving your furniture. Plus, they often come with amenities like a gym or pool. House-sitting opportunities allow you to stay in a home for free in exchange for watching over the property while the owners are away. 
Not only can this save you money on accommodation, but it also gives you a chance to experience life in a new environment. Exploring alternative types of accommodation can provide unique and affordable travel experiences.
Finding accommodation for travel nursing assignments doesn't have to be daunting. Even the most budget-minded traveler can find affordable and comfortable accommodations in any location with some effort and research. Take some time to explore your options, ask questions when necessary, and book ahead for the best rates available. 
When finding suitable accommodations for travel nurses, many choices depend on individual preferences and budgets – from hotels and hostels to Airbnb and furnished apartments. Remember these five tips while researching to make an informed decision that fits your budget and requirements. With accessibility and affordability increasingly essential in modern travel, using these strategies is a meaningful way of optimizing your overall experience as a travel nurse – so why not get the most bang for your buck?
Featured Photo by Zach Vessels on Unsplash