As a dog owner, the last thing you'd want to go through is not finding your beloved pet. According to Ashley Garrett, this is why dog owners across the globe are today embracing the use of GPS trackers to ensure their dogs are safe and for them to enjoy peace of mind. But like many curious dog owners, the question of how a GPS dog tracking collar works must have crossed your mind at some point. 
As a curious dog owner, understanding how a dog tracking collar can help you determine whether this technology actually works or is purely hype. Without further ado, let's get right to it. 
How Does The GRP Tracker Work? 
The big question among concerned dog owners is the functioning of the Global Positioning System (GPS), which allows you to monitor your dog's real-time location. As a result, you get to know right away when your dog goes missing. This is why the GPS dog tracking collar is very popular among field trailers, coon hunters, lion hunters, upland bird hunters, or pig hunters. This gives you peace of mind even when you can't see your dog due to distance or terrain. 
The GPS dog tracking collar typically works by communicating with the satellites and passing on the exact location coordinates to a mobile app installed on a smartphone. However, this information is only available if you're connected to the internet. Many GPS dog tracking collars feature communication networks that send information either to your smartphone or computer. Others combine radio signals and GPS during the transmission of information to the wished-for receiver. 
The GPS dog tracking collar only carries out an effective search when it's within your network's coverage area. This technology also allows you to monitor your dog's movements. Some GPS dog trackers will enable you to pre-set a virtual fence or geo-zone. But for optimal effectiveness of this gadget, you'll have to install an app either on your laptop or smartphone. You can also get a transmitter through which you can monitor any information you want. 
Several distinct features help ensure the GPS dog collar is effective, and this includes; 
A rechargeable battery 

A downloadable smartphone app through which you can easily monitor every movement your dog makes. 

The ability to establish a "home zone" where you're certain your dog is safe and won't get lost. While in this zone, you won't get any notification, and the GPS enters into battery-saving mode. But immediately, your dog goes beyond the home zone, and you'll get notified instantly, giving you ample time to start tracking it to ensure it doesn't get lost. 

Water-resistant capabilities. 

Real-time monitoring of your dog's precise location, and this typically is on Google map.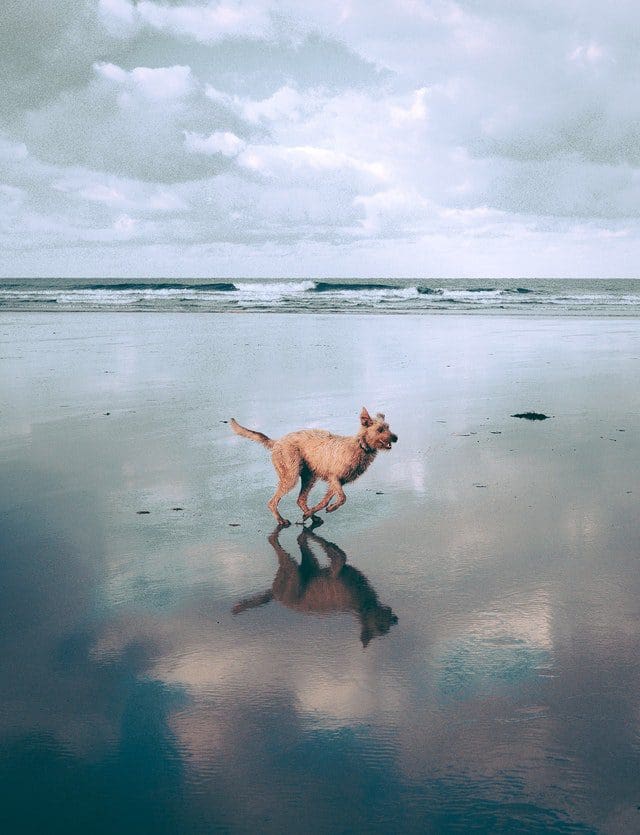 Which Dog Should Wear The GPS Dog Tracking Collar?  
The GPS dog tracker, which is usually positioned around the neck of your beloved pet, is ideal for every type of dog. This way, you'll always know your dog's exact location by giving you the physical addresses and coordinates. Getting your dog this device is recommended even if your dog is well-trained. This way, even in the event of an accident, for example, your backyard gate opens by mistake, your home gets robbed, or your home's door opens, and your dog finds a space to go outside. 
Therefore, the GPS dog tracking collar is worthwhile because you can never be too sure when an accident might happen. But getting this gadget is especially crucial if you often travel with your dog. This is because your dog can easily get lost while in a new area after it goes off exploring. The tracker is even more critical if your dog from time to time escapes the geo-fence by opening doors, digging out your lawn, or climbing the fence to go out exploring. 
The GPS collar is also helpful if you often leave your dog all alone, thereby allowing you to check its location by simply monitoring your app. This means you can have peace of mind knowing that your dog is safe even while you're away from home. In addition, the GPS tracker is also helpful in the winter months as dogs are more likely to get lost during this season. This happens because dogs find it hard to get back due to the snow. 
You also should consider getting the GPS dog tracking collar if your dog is deaf or has a hearing impairment due to old age. This is essential because the dog can't hear you calling it should it wander away and get lost. The collar also comes in handy when your dog doesn't recall ability and ensures you can easily locate your dog. 
Featured Photo by Helena Lopes from Pexels