For the modern gentleman, a marriage proposal is a must. But how do you make it perfect? First of all, pay attention to the unique and well-known engagement jewelry. Here are eight steps to follow if you want your girlfriend to be thrilled with your proposal!
1. 
Be prepared
Plan ahead and know where you're proposing. This will make the whole experience special for her and less jittery for you. Make sure you choose the right time and place for your proposal. This will be important for your partner, but it will also be important to be mindful of your surroundings and what is socially acceptable. Never propose in an emotional state or during a stressful time. These are not ideal circumstances for you both.
2. 
Pick the Right Moment
Don't propose during an argument or when it's muted. Choose a time when you are both relaxed and happy, such as after a romantic dinner or on a beautiful day outdoors. Pick a moment when you and your fiancé are both excited and ready to commit.
3. 
Choose the right place
Choose a place where you will be comfortable, and your fiancé will be delighted. Some couples propose in unique places like near a waterfall or on top of a mountain. Others like to do it in front of a romantic setting, such as candlelight in the garden.
4. 
Get ready
Make sure you have everything you need, like flowers or candy. When making a marriage proposal, it is very important to have a well-thought-out plan. Even if something goes wrong, it will make the proposal more memorable.
5. 
Don't be afraid to ask
Don't let your nerves get in the way! Just take a deep breath and go! The most important thing is that you and your partner are excited about the upcoming wedding and the future birth of children. Do not get too excited when choosing the right moment!
6. 
Choose the perfect ring!
For example, this unique engagement jewelry by Tacori. There is no better way to impress than a beautiful ring on your finger. 
7. 
Make the moment count
Make sure your engagement rings are amazing! She will appreciate the effort you put into choosing her and remember it long after the proposal is made.
8. 
Be prepared 
for a yes! 
If she says yes, make sure you schedule a date to get married soon! Express your love with words and actions.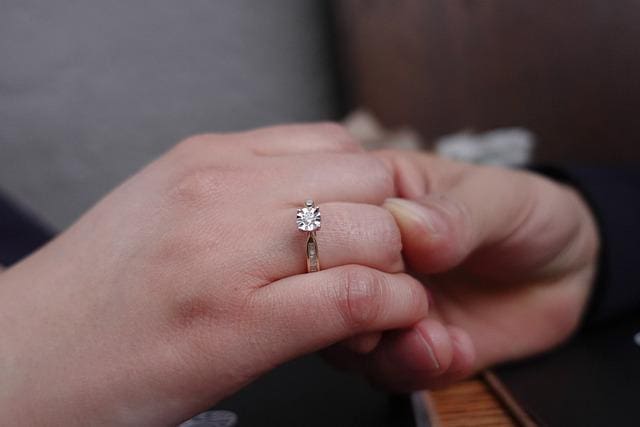 How to write the perfect marriage proposal
When you want to propose to your significant other, making it as romantic as possible is very important.
1. Start with a sincere apology 
Then say how much you have loved and admired your partner all these years and how much you can't wait to spend the rest of your life with him.
2. Start with a romantic gesture 
For example, giving a card with sweet words or simply taking her to dinner will show her how much you care about her. Then share your thoughts on what an ideal marriage should look like and explain why you think this is the perfect time to commit to it fully.
3. Don't be afraid to get down on one knee. 
A speech sentence that begins on an emotional high is likely to fail unless the moment is captured on camera or audio. So keep things low-key and straightforward by kneeling instead of standing up.
4. Be sincere 
If you sincerely want to marry this person, show it with your words and actions.
5. Be romantic
 The proposal speech should be full of love and emotions – after all, this is the most crucial moment in their life!
6. Make a statement 
Whatever offer you choose, make sure it stands out from the rest – something you'll remember for a long time!
Conclusion
In conclusion, the perfect marriage proposal is a delicate and special moment that should be carefully planned and executed. When planning your proposal, there are a few things to consider, including figuring out what the couple's favorite activity is, finding the right time and place, and being prepared for any response. Ultimately, a successful proposal is about comforting your partner and making them feel loved and cherished for intentional and creative living.
1. Make sure your proposal is original and memorable.
2. Plan a special day and time for the proposal.
3. Choose a romantic and memorable location for both of you.
4. Use heartfelt words and gestures to show your love.
5. Follow through with your proposal, and enjoy the moment!
Be prepared, be subtle, and most importantly, be romantic. Whether it's a full-blown proposal or something more simple, following these tips will help make your perfect marriage proposal a reality.
Featured Image by Alec White on Pixabay