Social media marketing without Instagram is like a cake without frosting. Instagram is a powerful element of your online marketing strategy as it is one of the most widely used platforms and can help your brand drive more customers common way to expand your brand's outreach is visiting the best site to buy followers Instagram. To get started with your brand marketing on this platform, you need to choose between the three types of Instagram profiles: Personal Account, Business Account, Creator Account. Now in this article, we are going to compare personal vs. business Instagram accounts. Wondering which Instagram account is best for promotion? Just keep reading, and you will find out.
But before that, let us first develop a little understanding of both the Instagram profiles and discover their pros and cons. Knowing the pros and cons will help us to reach a better conclusion. 
What is an Instagram Personal Account? 
First, we are going to discuss a personal account. This account is the standard account you set up on Instagram and is used for personal use. 
Setting up an Instagram personal account is very easy; you need to sign up and fill in the required details. Once you are done, you can only change it into a business or creator account if you want. 
Here are some of the advantages and disadvantages of using an Instagram personal account.  
Pros of Using a Personal Profile
If you are a beginner, start with a personal account, as you can develop a clear understanding of the platform before going into more complex features. 

Through your Instagram personal account, you can access all of the music options for your Instagram stories and reels. 

You can also set your account to private and filter out your followers; this helps you avoid bot followers.

With personal accounts, you have a more organic reach.

You can also connect with multiple Facebook pages with a personal account, whereas you can only connect with a single Facebook page with a business account. 
Cons of Using a Personal Profile
In personal profiles, you don't have access to Instagram analytics or API. 

With this type of account, you cannot schedule your Instagram posts in advance.

You also can't get access to analytics and other features offered by third-party platforms. 

Instagram personal profile users cannot use Facebook Creator Studio that helps you manage your Instagram.

You also can't use the swipe-up option and delivery stickers in your Instagram stories.

Personal accounts do not allow you to add contact buttons on your Instagram profile.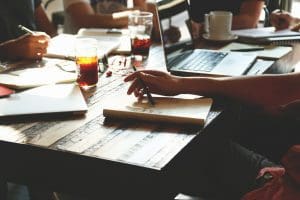 What is an Instagram Business Account?
The business account comes under Instagram professional account as the name suggests it is used for professional purposes and comes with more premium features. 
The Instagram business profile offers various tools like Instagram analytics, contact and call-to-action buttons, and many more. You can switch your profile into the business profile and enjoy additional features to promote your business.  You can also use a private Instagram viewer app to be ahead on Instagram.
Now, here are some of the advantages and disadvantages of switching your Instagram into a business profile. 
Pros of Using a Business Profile
Instagram business profiles offer various options to 

gain more likes on Instagram posts

 by boosting your posts with Instagram ads. 

It also provides access to Instagram analytics and API so that you can analyze which type of content is getting more attention. 

You can now schedule your Instagram posts in advance and save yourself some time to focus on other marketing strategies. 

For third-party integrations, you need to have an Instagram business account. So, if you switch to a business account, you can enjoy various services offered by third-party platforms. 

It also provides various other features like the swipe-up option that helps you add a link at the bottom of your Instagram story posts. So, now you can add your website link to your Instagram stories. 

You can add various buttons to your Instagram profile while using a business account. You can set contact buttons so that customers can directly contact you via mail or call. 

With a business account, you can keep your Instagram inbox more organized with quick replies, as you can use a pre-drafted message to reply to people asking similar questions. 
Cons of Using a Business Profile
While there are lots of advantages of using an Instagram business account, there are some limitations too. 
In the Instagram business account, you cannot limit the direct messages like the Instagram creator account in which you can restrict who can message you and who cannot. 

Several Instagram users claim that their reach on business accounts is limited. However, no proof supports this claim, but users believe that using a business account restricts organic reach as it compels users to pay for ads and get higher reach. 

If you are running a business on Instagram, you don't want your account to be private. If you're going to make your account private for any reason, you don't have the option to set your account to private while using an Instagram business profile. 
Personal Vs. Business Instagram Accounts
From the above-detailed pros and cons of personal and business accounts, we can say that if you want to promote your business on this platform, then the Instagram business account comes with various advantages. It is the best option for you to generate more target audiences with the help of different lead generation tools and Instagram analytics. 
Using a business profile will help you reach a new audience and build a solid presence on Instagram, ultimately leading to a better marketing experience on this platform. You can also buy Instagram followers to increase your engagement rate. 
However, with an Instagram business profile, you can also beat the ever-changing Instagram algorithm and get noticed in the feed of your followers without spending any money. 
With access to Insights tools, you can find out what content is working for your profile and create similar content for the future. 
You can also promote your best-performing posts with the help of Instagram ad tools and gain more engagements and boost up your sales. You buyers can also interact with your business directly with the use of the contact button on your business account.
From the above comparison, we can say that Instagram business profiles increase growth potential for brands and businesses. And with access to additional features, you can convert your Instagram into a fantastic tool for marketing. 
Feature Image by Photo Mix from Pixabay