There are several different interior design styles to choose from, and it can be hard to decide which one you want to incorporate into your home. Some styles are a better fit for certain types of houses or floor plans, while other styles can be incorporated into just about any type of home. Here are six of the most popular interior design styles of 2022.
#1: Bohemian/Boho/Boho Chic
The Boho style is characterized by many natural, earthy tones (browns and greens), but it also utilizes bright colors. You can use whatever colors you choose and fit them together uniquely. Mixing textures is also characteristic of the Boho decor style— there are a lot of hard and soft textures and hand-woven fabrics. Another important aspect of the Boho design is adding natural elements to go with the natural tones, such as plants and small trees.
Boho chic also uses a lot of natural colors but not as many bright tones. Colors are much more toned down, but many other decor aspects are still the same. There may also be some soft gold accents on the furniture.
#2: Farmhouse/Modern Farmhouse
Like Boho and Boho chic, Farmhouse and Modern Farmhouse decor uses a lot of natural elements, but Farmhouse is much more rustic than Boho. The key to properly executing the Farmhouse decor style is to choose an element for each room to be the theme of the entire room. For example, wood can be the ruling element of the kitchen, choosing wooden countertops and twigs, and other natural wood elements as decor pieces.
Modern Farmhouse keeps the idea of using natural materials but also uses more whites. It's not quite as rustic as Classic Farmhouse, and each room may not be themed around a particular element. This style is for those who love the Farmhouse look but aren't fans of the rustic aspect.
#3: Industrial
The Industrial decor style is also very rustic, but not in the sense of nature like Farmhouse. Instead, brick, pipes, and other industrial elements are a part of the design. Exposed brick walls, visible pipes on the ceiling, and Edison bulbs are all key elements of the Industrial decor style— think factories and warehouses. This is another design style that uses a lot of neutral colors.
Another key aspect of the Industrial decor style is to have an open floor plan, meaning there are no or minimal walls separating the main rooms, such as the living room, kitchen, and dining room. Many actual factories are converted into homes that utilize the layout and elements already present.
#4: Mid-Century Modern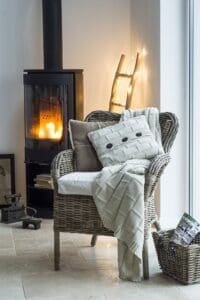 This is a design style that focuses more on bright, vibrant colors rather than natural colors. However, this style doesn't mix too many colors as Boho does, focusing on crisp lines and clean finishes. In fact, a colorful piece of art, an artifact, or even a furniture piece is the focal point of a Mid-Century Modern-styled home.
This interior design style was actually very popular from the 1940s to the 1960s— the middle of the 20th Century. During this time, homes were focused on social gatherings and spending time with family and friends. A good focal point would be a colorful Mid-Century fireplace, a perfect gathering place.
#5: Minimalist
As the name suggests, the Minimalist design style is for those looking to live simply. Clean lines and minimal furniture are key aspects of this design style, and so is a neutral color palette. You won't find bright, vivid colors (except for maybe a vivid white), and you also won't find more than what is necessary for simple living.
Another thing to focus on is utilizing the space you have. For example, the Minimalist style would use floating shelves instead of a big, bulky bookshelf instead. This takes up less space yet uses a new space at the same time.
#6: Shabby Chic
Shabby chic can be described as a mixture of Boho and Mid-Century Modern: it combines comfort and elegance. You don't have to mix textures as much as you would with Boho, but you'll definitely want to incorporate natural elements, such as plants. Key aspects of Shabby Chic include:
Distressed surfaces

Mismatched time periods

Neutral backgrounds

Rustic furniture

Vintage lighting
Shabby chic is very similar compared to Boho Chic, yet more attention is given to comfort. It also mixes Boho and Modern with Contemporary elements.
You can always try different interior design styles in each room of your house, especially if you don't have an open floor plan. Even if you do, many of these styles are similar, meaning that they can blend well together.
Featured