Whether it is the weekend or a long-awaited vacation, people sometimes get bored and look for fun things to do to fulfill their time. While some choose to engage in physical exercises or go shopping, others turn to more creative craft activities.
The truth is that arts and crafts are no longer only reserved for kids but can be a very exciting activity for adults. Besides being an excellent boredom buster, crafting lets people take advantage of the opportunity to create something beautiful and unique, which will give them a great sense of satisfaction and pride.
In addition, it benefits people's state of mind as it forces them to be concentrated on doing something with their hands. This certainly allows them to enter a state of relaxation and improve their overall well-being.
So, if you are new to the whole crafting idea, here are five cool and easy activities you can do to relieve stress and rediscover your creative spark.
Wall decorations
If you are looking for ways to bring more life and vibrancy to your empty wall spaces, you should certainly engage in some wall art crafting. This way, you will be able to add color, patterns, and other unique touches that will easily transform your home decor's appearance.
One of the most original wall art decorations you can opt for is jigsaw puzzles. This traditional board game isn't just a pastime activity, you can turn it into a beautiful work of art. The puzzles are very versatile as they come in various sizes and colors, allowing you to choose the best fit for your interior. All you have to do is assemble it and hang your completed piece in a colorful frame.
If you are looking for custom jigsaw puzzles for adults with stunning prints designed by independent artists, make sure you check out Pixels to find the puzzle that best suits your preferences.
Candle Making
Another creative craft idea you can indulge in is candle making. While commercial-scented pieces add warmth, light, and a calming scent to every space, they don't last very long and can be a bit costly. If you want to save money and enjoy a fun crafting activity, this is the perfect option.
The best thing about candle making is that it is endlessly customizable because you can choose what kind of scented candle you want. Whether you are into vanilla, lavender, or apple and cinnamon fragrances, you have the opportunity to make a candle that will suit your personal tastes and preferences.
After you get familiar with the process, you can be more experimental and try making different types of candles to advance your creative craft skills. Fill them up in different containers and decorate your home with beautiful aromatic pieces.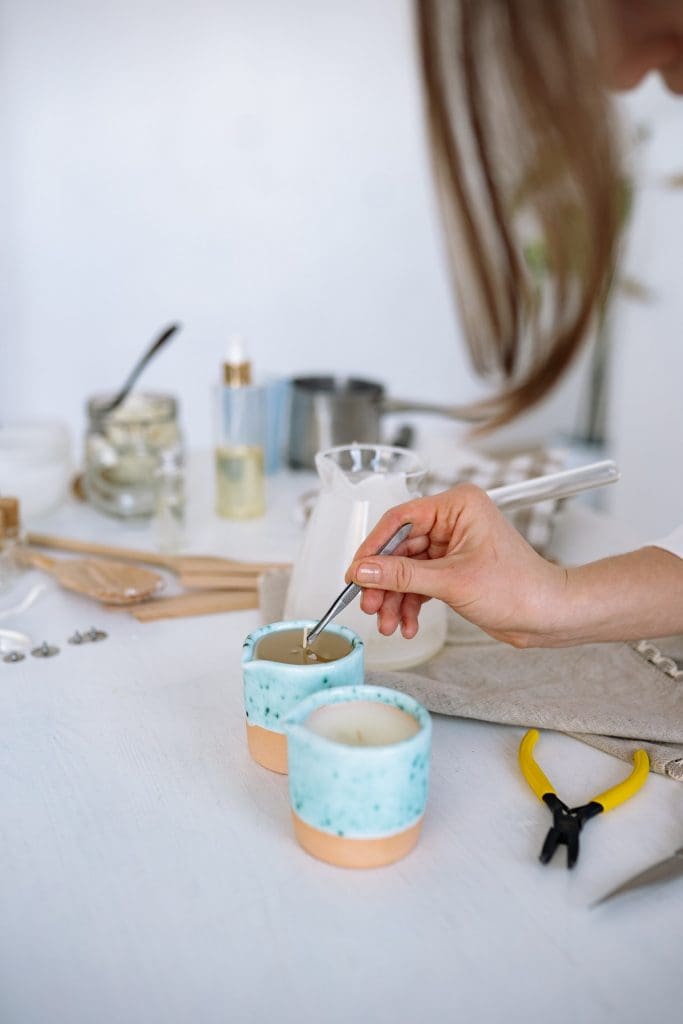 Hanging shelves
If you want a clutter-free home that looks elegant and functional, you should participate in some shelf crafting. This fun activity helps you express your originality and advance your design skills by turning household objects into an amazing display.
The most important thing you should remember about designing shelves is that they must be stable. In other words, they should be precisely hung on the wall and withstand the decorative pieces you place on them.
For example, one popular shelf crafting idea involves a wooden plank, some hooks, and a rope you can mount on the wall for convenient and decorative storage. Some of the most common places where you hang your shelf are above your desk or in your bedroom.
Decorate it with a personal photo, some candles, and a plant, and you got yourself a beautiful multipurpose shelf.
Gardening
With springtime around the corner, it is high time that you get your garden ready for the upcoming sunny days. No matter the size of it, you can certainly engage in some unique garden crafts that will bring more life into this part of the house.
The easiest project you can do is garden pot crafts. You can decorate the pots however you want using paint and other decorative tools to express your creativity. If you want to be even more innovative, you can take some old tires, boots, or wine barrels and turn them into original garden pots that amaze you.
To top off your crafting project, add some garden markers and other adorable decorations to add more playfulness to your outdoor area. For example, you can paint over plastic spoons or rocks and add them into your pots as a charming decorative piece.
Clay crafting
Probably the best and most exciting home activity you can take part in is clay crafting. It is very therapeutic and can easily bring out your creative craft talents. Besides, it is an excellent social activity you can do with your loved ones and create things that you will both cherish.
The best thing about crafting with clay is that you have endless options to design anything you like. From flower planters and plates to jewelry and candle holders, you can make something that will enhance the beauty and originality of your home interior and be functional.
For example, if you are making a jewelry holder, you can either make it in the form of a dish where you will keep your rings or a cone to stack your bracelets. You can color, paint and decorate your finished pieces according to your preferences and place them on your bedside table or on top of your vanity.
Final thoughts
If you are looking for a relaxing home activity that gives you the opportunity to express your personality and creativity, then crafting is the best way to go about it. Not only will you be able to fulfill your free time productively, but you will also have a chance to create something that will be both beautiful and functional for your home. From wall art decorations to scented candles and garden pots, you have plenty of options to choose from to partake in some DIY projects.
If you need inspiration along the way, make sure you borrow some of the ideas mentioned in this post and get crafting with ease.
Click here for paper plate craft ideas for kids.
Featured Photo by Pixabay from Pexels