When the pandemic happened, everyone realized how much time was spent doing nothing outside when you can do many things inside. Many have discovered new hobbies and interests, and one of them is delving into arts and crafts. Arts and crafts are not just for passion, but they can also remove the stress and worries that this pandemic has brought to everyone. It's good to have a designated craft space or room to get the creative juices going. But as you make your masterpieces, it's sometimes hard to keep everything neat and orderly.
So, in this article, we'll give you four awesome storage ideas for your craft area. Here, we include an awesome craft cabinet, storage cart, and two organizers to keep your space neat. Keep reading to find out more!
 Rolling Storage Cart by Honey-Can-Do
This semi-transparent rolling storage drawer and organizer with 12 plastic drawers are ideal for storing and organizing items because you can easily see your things. You have to keep your things in order or according to their use for easy access. It has wheels with locks, so you can easily move it around or keep it stable. You can put all your arts and crafts materials inside. And you can even use it for paper documents if you are going to put this in your office area. You can also put labels on the drawers to make it easier for you to find your things. You can make your own rolling storage by putting wheels on an apple crate.
 Wooden Desk Organizer by Marbasse
A wooden desk organizer is very useful to professionals and kids, students, and teachers. This easy-to-assemble organizer is perfect for storing pens, coloring materials, paper documents, and so much more! It comes with an easy-to-understand manual for assembly. With 12 multifunctional compartments, it has a lot of uses. It's also very safe for children to use because of its non-toxic and environmentally-friendly wood materials. This organizer is very durable and space-saving because of its multiple compartments.
 Folding Craft Cabinet by Best Choice
This all-white craft cabinet offers a lot of storage which makes it multifunctional. It can store arts and crafts materials, organizing small to medium-size trinkets and other personal items. It can also be used as a work desk. It is made of MDF wood with five lockable wheels for stability and door locks for security. It has two rows of pegs—making it 20 pegs in total, two bins, and one interior shelf, so it has a lot in store to place your things.
 Craft Organizer by ArtBin
Craft organizer by ArtBin is perfect for people whose craftsmanship is all about sewing because of its 30 small compartments where you can place beads, threads, inks, and other small tools for sewing. You don't have to worry about its size because it can easily fit on your countertops. Its compartments are semi-transparent for easy viewing of the materials inside. It's a good idea to organize them first so that you can place them in their compartments box accordingly.
Keep Everything Organized!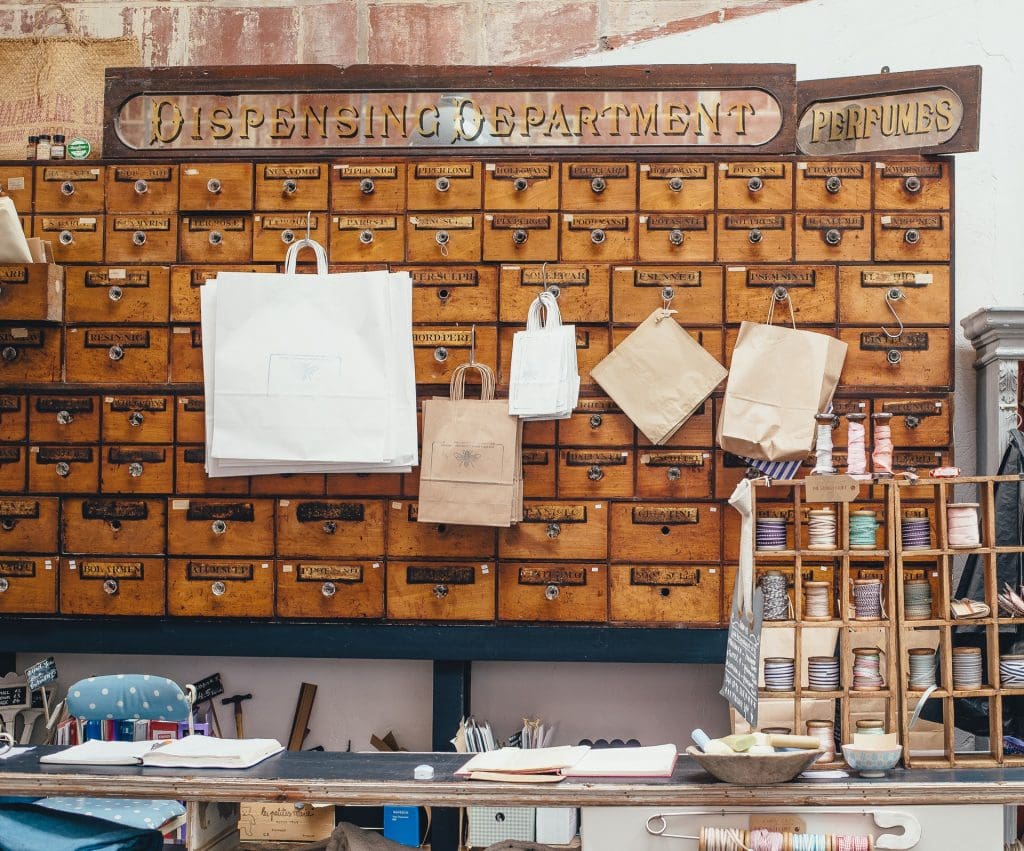 We have listed some of the best craft storage ideas for your craft room. Print labels for your storage boxes. But other than that, you also have to keep in mind that you should decide what you want to do and where you want to place your craft room or space for you to have that craft room. Keep things in order so that you know where to place them when you start organizing them in their places. You should also have a list of the things that you need so that you don't have to waste time and effort. As long as you have the things that you need, you're good. Also, you can utilize your walls to place some of your art storage to save some space. You must have good craft room organization so that you can easily access your materials. Create your DIY paper box for storing art supplies.
Takeaway
Despite your busy days, take some time for leisure once in a while. It doesn't have to be just all about cooking or baking. Know your heart's passion for unlocking the art within you. Have that space for art to free your mind from worries. And knowing these craft room ideas will help you seek what you want to do. We've featured four awesome storage ideas in this article, but you can see more options from Storables.com. On their website, they have the latest storage ideas with the best price offers. You will surely find the perfect storage for your arts and crafts materials which will suit your needs and preference. Their website also has many articles for tips and tricks on organizing small items in your house. We hope our article helps you out. Go and release your inner artist, and make masterpieces right at the comfort of your own home!
Featured Image by L Gould from Pixabay