Are you a school administrator looking for unique school assembly program ideas? This post dives into excellent assembly ideas to engage and excite students and give an all-around fun experience. These creative ideas can be tailored to fit different needs, budgets, and student interests. With the right preparation, these assemblies will surely give students timeless memories they'll never forget.
Theme your assembly around a classic children's story, movie, or TV show
.
Bring the joy and wonder of your favorite childhood stories to life with a themed assembly. Recruit creative volunteers to dress up as characters and reenact excerpts from classic children's stories, movies, or TV shows. Alternatively, ask students to participate in performing short skits inspired by the chosen character or story. Not only will it keep them entertained, but it will also encourage them to be more interactive and appreciate the story even more. 
Furthermore, you can use the story arc of your choice as a framework for imparting important life lessons or inspiring messages related to academics, relationships, bullies, and school spirit – making for an enriching and full experience for your students.
Bring in a guest speaker to talk about their career and the importance of education
.
Going beyond traditional school assembly programs and ideas, inviting a guest speaker to talk about their career and the importance of education can be a great idea. This type of school programming can help students gain insight into new professions and develop an understanding of the relevance of their studies to their life goals. Furthermore, it is a great way for educators to demonstrate to their students the value placed on learning skills and exploring new topics – even those that may be far removed from what they encounter in school. 
Students may also engage in Q&A with experienced speakers, allowing them to gain unique perspectives on relevant topics such as career paths, school choices, internships, or life after graduation. Whatever career structure or educational approach your school chooses, bringing in guest speakers is a fantastic school assembly idea that everyone will love.
Put together a short skit with the school mascot as the star
.
Why not get creative and put together a short skit featuring the school mascot as the star? Gather a few students, figure out a funny script or storyline, grab some fun props or costumes, and create a show-stopping performance that will be the talk of the assembly. You can even draw inspiration from popular TV shows or stories for your skit and engage student creativity through brainstorming sessions before putting it all together engagingly and entertainingly. Your school mascot has never been so funny.
Hold an art show with student artwork displays
.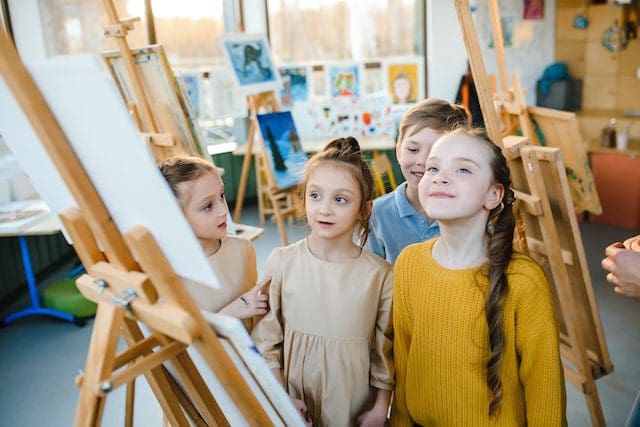 Showcasing student artwork is a great way to build school spirit and encourage creative expression. Holding an art show at your school assembly allows students to share their artistic visions with the entire student body. Not only will students feel proud to show off their work, but they will be able to marvel at the diverse range of talent in the school community. From pencil drawings to watercolor paintings, the artwork is manageable for this special occasion. It's a time for everyone to appreciate and recognize each student's creativity.
Host a mini talent show featuring students singing, dancing, and playing instruments
.
Hosting a mini talent show at school assemblies is a great way to showcase your students' talents. Everyone loves the opportunity to express their creativity, and this is especially true for kids. Letting their performing abilities shine bright in front of their peers can be nerve-wracking and thrilling. 
Whether it's singing, dancing, playing an instrument, or all of the above, what better way to liven up a school assembly than providing a platform for your students to let their inner star come out? Not only will it supply entertainment. It also encourages positive participation and engagement. It's sure to be an assembly all your students will remember with joy.
Competitions between the schoolhouses
For a school assembly that will bring out everyone's competitive spirit, have each of your school houses compete against one another. Encourage students to join the house they identify with and become part of the fun. You can create competitions such as trivia quizzes, cheers, audience participation games, and more. With some organization, you can make it an event filled with positive energy, exciting moments, and a great opportunity for kids to build camaraderie. Moreover, it will certainly be something that everyone will love participating in and look forward to.
End of the Year school assembly
An end-of-the-year school assembly is a great way to celebrate your students' successes, memories, and achievements. Whether it's the last week of classes or just before summer vacation, everyone will be sure to enjoy imaginative assembly ideas like an outdoor movie night, a slideshow featuring student artwork, or even a circus-style performance for students and staff. Give your students something to remember with one or more of these top ten amazing school assembly ideas to make their last day memorable.
Positive behavior reward
Encourage positive behavior in your student body by offering incentives during school assemblies. Consider rewarding students with small prizes or special recognition for following the rules, displaying good sportsmanship, participating in class activities, and demonstrating exemplary behavior. 
Acknowledging such efforts can go a long way in presenting that doing the right thing is appreciated and valued both in the classroom and outside of it. You'll be amazed at what a little motivation can do to create an atmosphere of respect and civility within your school's population.
Reading challenge/reward
Encourage students to read more with a Reading Challenge/Reward school assembly. Give a goal that can be achieved both individually and as a group. It might be 30 books in a month, or it could even be 100 pages per week. Once they reach the goal, offer rewards such as special snacks, extra recess time, certificates of achievement, or even small prizes if your budget allows it. 
Kids learn best through positive reinforcement. Let them know their hard work will pay off with a special reward. Increase their excitement at achieving the goal by hosting an assembly where you can celebrate reaching the milestone. Add games and activities to make reading fun again for everyone.
Organize an interactive science experiment that everyone can participate in
An interactive science experiment is an exciting way to engage students in the classroom. Not only can everyone participate in the experiment, and it is an excellent opportunity to learn and understand scientific concepts. By creating an atmosphere that encourages participation, sharing, and collaboration between students, teachers can effectively facilitate learning and demonstrate how science works in a real-world setting. 
It's also important to keep safety in mind when planning an experiment. Consider starting with simple experiments or demonstrations requiring minimal supplies and limited movement to ensure everyone is always safe.
Everyone can enjoy numerous fun and exciting school assembly ideas, from a classic children's story assembly to hosting an art show or science experiment. The key is to engage the students in something interactive and entertaining that will leave them with a positive and lasting impression. 
With these ten amazing school assembly ideas, each student will have the opportunity to learn more about the career paths available, participate in some friendly competition between House teams, get rewarded for their good behavior, appreciate different areas of art, practice and showcase their talents, and be involved in a hands-on science experiment. It's no surprise why these top 10 assemblies are loved by students everywhere.
Featured Photo by Mikael Kristenson on Unsplash