Do you feel that? Summer is almost in the air. Families all over the country are flocking to their backyards and outdoor spaces. As the weather gets warmer and the days get longer, many of us suddenly remember how wonderful it is to spend time outdoors. If you're looking to transform your backyard landscape this summer, there's nothing better than creating your very own outdoor kitchen.
An outdoor kitchen allows you to bring the fun and creativity of your cooking space to the freedom of your backyard. You can design an outdoor kitchen to fit any outdoor space or cooking needs. From a simple grill and patio furniture to a complete outdoor kitchen with cabinets, countertops, and outdoor kitchen appliances, there's no limit to what you can create with an outdoor kitchen. 
But with so many options, where do you possibly begin? To help give you some inspiration, we're looking at some of the top summer backyard kitchen ideas to get ready to grill and enjoy the warmer days and longer nights. After reading this, you'll be prepared to start the summer off right with your new outdoor kitchen. 
Bring the Heat
It just wouldn't be summer without a little sizzle in your backyard kitchen. Grilling outside is practically synonymous with summer as the smell of hot dogs and barbecues brings to mind all the fun and flavor of summer. You can install an outdoor grill as the centerpiece of your outdoor kitchen and build out your countertops and cabinets around it. You could also opt for the more mobile option to wheel your grill wherever needed. Keep in mind the smoke coming off your grill regarding where you're setting up. Additionally, if you're connecting your grill to a gas line, you'll want to keep it closer to your house and patio. 
But nowadays, there are multiple ways to bring heat to your outdoor kitchen. If a grill isn't your style, consider including a slow cooker that offers an unparalleled taste for all your favorite Mahogany Smoked Meats. Many outdoor kitchens now include an outdoor pizza oven that lets you create your favorite pizzas without ever leaving home for the pizza lovers out there. With so many options, you'll have no trouble bringing the heat this summer. 
Outdoor Kitchen Appliances 
Sure, a grill is great if you're looking to cook up some burgers and hot dogs. But what if you want to bring the complete functionality of your kitchen outside? That's when you're going to need a few outdoor kitchen appliances. With such a wide range of options, you'll be able to create any dish or drink you can imagine. 
An outdoor refrigerator can free you from constantly running back and forth between your kitchens. Store your food, keep ingredients nearby, and keep leftovers fresh with an outdoor refrigerator. You can even opt for a smaller mini-fridge if you're trying to be conscious of space in your yard. Including a sink in your outdoor kitchen is another great way to keep all your cooking needs in one centralized place. 
Outdoor Bar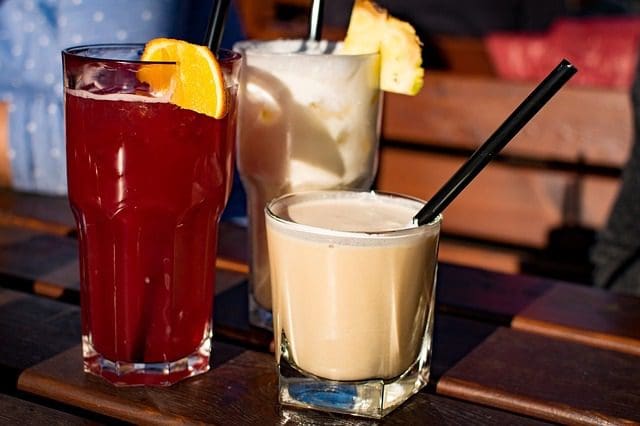 Creating your favorite dishes outdoors is fun and relaxing, but what could make this experience even better? What about if you had your favorite adult beverage in hand? Incorporate an outdoor bar to keep the drinks flowing while you're cooking and enjoying your meals. There are many ways you can do so. A bar cart can be an easy and functional (not to mention mobile) way to bring your favorite drinks outside and create a portable bar on the go. A bar cart is a great option when you don't have too much room to work with. 
To truly transform your outdoor kitchen into the hottest place to be in the neighborhood, you can dedicate an entire space to your outdoor bar. Keep some countertop open as a bar area and a small sink and room to store glasses and all your cocktail accessories. Become a top-notch mixologist in your own backyard by crafting an outdoor bar. 
Backyard Entertainment
Okay, so this idea doesn't technically involve any cooking, but it is a surefire way to keep everyone happy while you're putting the finishing touches on dinner. Including some backyard entertainment options will be the icing on the cake for your new outdoor kitchen space. 
If you have a patio area, installing a flat-screen television can provide endless entertainment through those summer nights. But if you're worried about the wiring and electrical issues, you can always opt for more traditional options, such as adding a horseshoe pit or buying a bocce ball set. Depending on the size of your yard, you could even throw up a volleyball net or some soccer goals to turn your backyard into a recreational playground this summer. 
Conclusion – Top Summer Backyard Kitchen Ideas
An outdoor kitchen is a fun and practical way to transform your outdoor space. Your indoor kitchen can often get crowded and messy. But with an outdoor kitchen, you'll have the freedom and space to create exciting new culinary masterpieces. Whether you're looking to install a complete outdoor kitchen or create a space for grilling, countless outdoor kitchen designs match your space, tastes, and budget. 
Bring some heat to your outdoor kitchen with a grill, slow cooker, or even an outdoor pizza oven—who could say no to a backyard pizza party? To make your new kitchen space fully functional, don't forget to include a few outdoor kitchen appliances, such as a refrigerator, side cooker, or outdoor sink.
Incorporating cabinets and countertops will help open up more room for meal prep and storage, which becomes even more important when you want to protect your dishware and utensils from the elements. And to top it all off, think about some backyard entertainment options to keep the whole family entertained. Once you've created this outdoor kitchen, you may never want to cook indoors again.
Featured Image by toddpharistx from Pixabay