Have got the green signal for your next office party?  if yes, then it's time for you to start with the preparations for the event. Getting down to planning and executing the event can be challenging as you have this fear of hosting a lackluster event. This is why It would be better for you to take help from a reputed corporate event management firm to execute the event successfully.
Before moving forward, it is time for you to pick a great theme for the office party.
Choosing the right theme for your office party is important because it sets the entire event's tone. Clicking with the right theme and all your planning decisions will be right in place.
The right party theme builds your brand and even attracts attendees. On the contrary, a tacky and boring theme puts the reputation of the company on the line. The corporate planner should pick a theme relevant to the occasion and fun at the same time.
But most significantly, ensure it is something that appropriately matches the event, the company culture, and the setting. 
9 Tips For Choosing An Office Party Theme
Some tips to help you choose a memorable but professional office party theme are as follows:
1. Nail Down the Most Basic Things
Of course, just like all the other projects and events, you will have to create a good plan. Your plan should identify the details of the event. These include time, venue, theme, guest count, date, food, and décor. Considering the event agenda is vital before starting with the execution.
Party invitations make a core element of any event, and to set them in stone, you can use an invitation maker free download. Getting creative with the invitations always works. You also have the option of writing in a specific voice or using certain email headers. 
But not all the details need to be locked in place. Working on different ideas is best done with the entire team coming in with its decisions.
2. Review Objectives
Always work on clarifying and reviewing your objectives. This includes finding answers to questions like what is the purpose of the party, why you are hosting it, will it be bringing the clients together with for a huge training or is it the annual conference organized for attracting new prospects.
Getting the purpose of your party penned down on a paper helps you identify the big ideas.
3. Consider The Audience
Many corporate party organizers do not work on this point, considering it to be quite obvious. But they hardly understand that coming up with a guest list works. 
After all, a theme chosen for a party where only the clients are invited might not match up with a party where even the prospects are present. Consider not only the invitees but even their age range and whether families would also be present. 
Are the attendees coming from the same region, or are there individuals coming from varied regions? Getting an answer to these questions will make things easier for you.
4. Themes Incorporating Videos Always Work
There can be nothing more entertaining than a party where videos take center stage. Yes, slow-mo videos can help in elevating the theme you have chosen for the party. 
These are way better than arranging for photo booth games that have become obsolete. You need to ponder which is the best free video editor without watermark so you can capture slow-motion videos like a pro. 
The guests can use their smartphones to achieve desired effects. But in case the smartphones do not offer good fun, there's InVideo to look up to.
5. Fun For The Sake Of Fun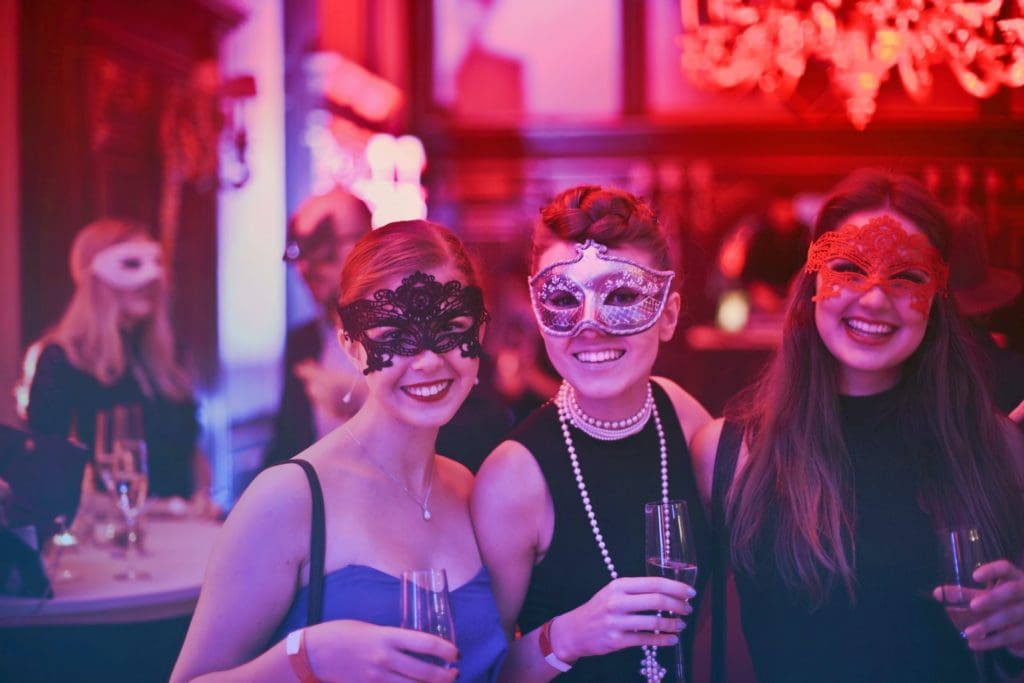 Parties, no matter whether they are casual or official, are conducted for fun. So, it's best to go for fun-themed parties. And yes, there is a specific term for these events, and that's "carnival." 
If in doubt, arrange a carnival and break the ice with different festive activities. Planning on activities that help the employees in loosening up and getting to know one another helps. You can help this process even more by supplying your employees with themed masks, balloons and other party accessories like these.
Such themes help in building team spirit. You can have movie trivia contests, play charades, and set up tables with linen and tablecloths where the guests get to decorate cookies or ornaments.
6. Work On Entertainment
Now, it's challenging to achieve success by throwing an office party if there's no entertainment therein. How about getting a face painter or a magician on the floor? Good quality entertainment will give next-level success to your event.
Bookings for entertainment sources like bands and professional artists need to be made way ahead of time. This way, you won't be scrambling to get hold of someone just a day before the event.
7. Budget! Budget! Budget!
There's a reason why the term 'Budget' has been repeated here! It's because the budget you have put aside for the event will help you choose the right theme. 
After all, you cannot dare to cross your budget limits by going for a theme that will cost you more. There is no point throwing a lavishly-themed party with a black suit dress code, casino, and champagne fountain when you do not have the money to meet these expenses. 
So, always be realistic with the office party budget and shortlist ideas accordingly.
8. Look For New Trends
Considering everything that is popular for your office party theme will help you plan a successful event. This can be a specific color scheme coming straight from the catwalk podium or a specific film breaking the box office records. Going for an on-trend party theme makes the event current and up-to-date.
9. Always Remember: Seasonal Is In!
Linking the party theme with the current season always works. Halloween, Christmas, New Years', and Easter are well-known themes. Nevertheless, you can even go for icy winter wonderlands and summer garden parties.
Parting Thoughts
Your office party doesn't need to have a particular theme. But then again, having one will make the event more memorable and fun. Finally, work on the theme in such a way that it does not appear to be forced. If all the members put in hard work, it's got to increase the level of productivity at the workplace.
Featured Photo by Antenna on Unsplash